Meet Ashley Harris of Ashley Harris Design
Born and raised in Southeast Michigan, fashion designer Ashley Harris swoons us with her romantic designs and couture gowns. It's not surprising that everyone wants to wear her dresses. She not only has her own collection (she releases a new collection each year) but she also creates custom pieces for local celebrities and businesswomen who love whimsical designs that are one-of-a-kind.
I had the opportunity to interview Ashley and had a great chat with her regarding how Ashley Harris Design came about and where she sees herself in a few years. Harris has a knack for dressing women, especially those that want to feel beautiful, and has a natural talent we can't deny.  Read on to learn more about Ashley Harris and Ashley Harris Design.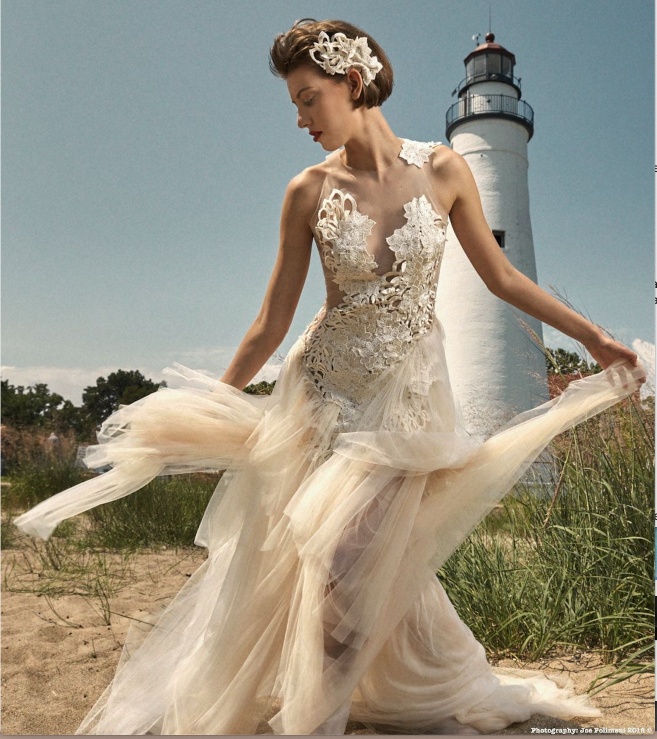 Ashley Harris: Ashley Harris Design
DFN: Tell us a little about how Ashley Harris Design began:
Harris: I would hand sew clothes for my American Girl dolls in middle school and then in high school they had a fashion design course you could take, and we would take clothes from the Salvation Army and put our own spin on them and we would add tulle and beads and when we worked them into different pieces for projects for class. That's when I was like," Wow, I really love this.  This is what I want to do for the rest of my life." Because, I never had dreams of going into medical and never really knew what I wanted to do in high school until I started doing this and I was like, "I love this. This is what I want to do". So then I went to college and went to Western Michigan University and learned fashion design there. I got my Bachelors and then went to FIT. I did their one year program and that's when I started making more couture gowns.
DFN: What type of fabrics do you love to work with and what type of fabrics do you hate to work with?
Harris: Obviously, you can tell I'm big on lace. I'm big on tulle, I'm big on mesh. Anything sheer. I love lightweight fabrics. They are super hard to work with, I mean its always a challenge, but that's what I use mostly. And, what I don't like to work with is wools.  I don't really do Fall clothing.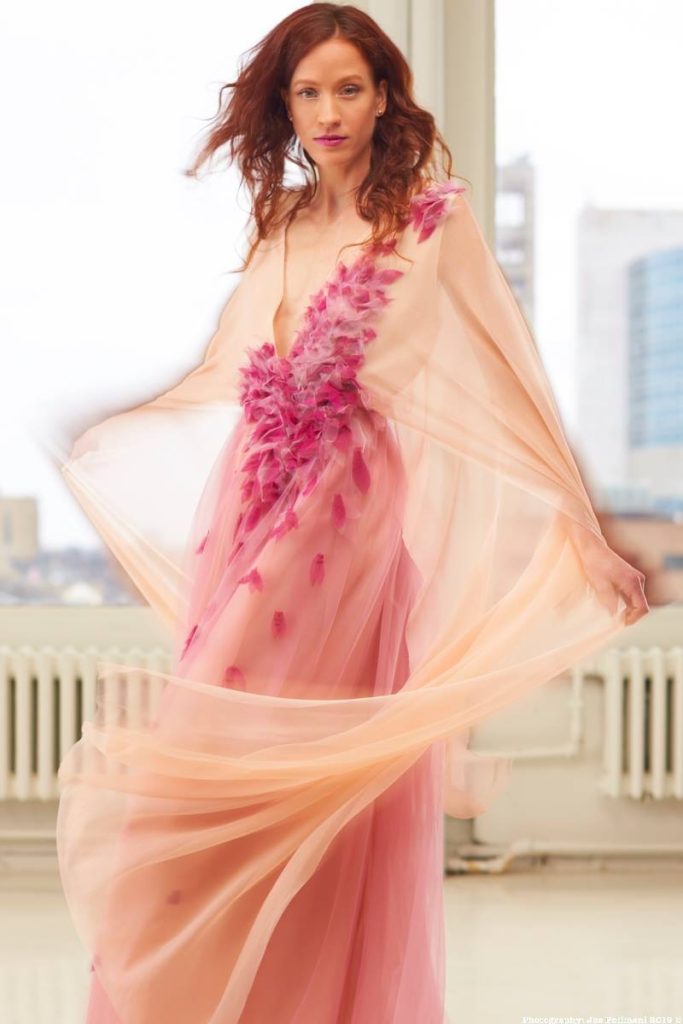 DFN: Would you say your designs reflect your own style?
Harris: Yes, I design things that I would wear. I mostly do evening wear. So, it's a little bit different. When I go to work, I'm typically always wearing a dress and heels. Something a little flowy or a drapey jacket and tee. Everything I design is something I would wear and something that definitely is me. I kind of mix other styles to make my own style. But yes, I always design something that I would wear.
DFN: Have you worked on any large projects recently?
Harris: My recent projects are my custom pieces. They are a little bit more challenging than just making whatever I want. I do custom work for clients around the city. I've done one for Kelly Brackenridge, store manager for John Varvatos, for Fash Bash 2019.  We collaborated on the whole style. I designed the whole piece but we collaborated and picked out the fabric and we really made something great. So, my custom pieces are probably my biggest projects outside of my collections. I do one collection a year that I do for fashion shows as well. I also do media night for the auto show.  That is usually my big show for the year where I will show a completely new collection.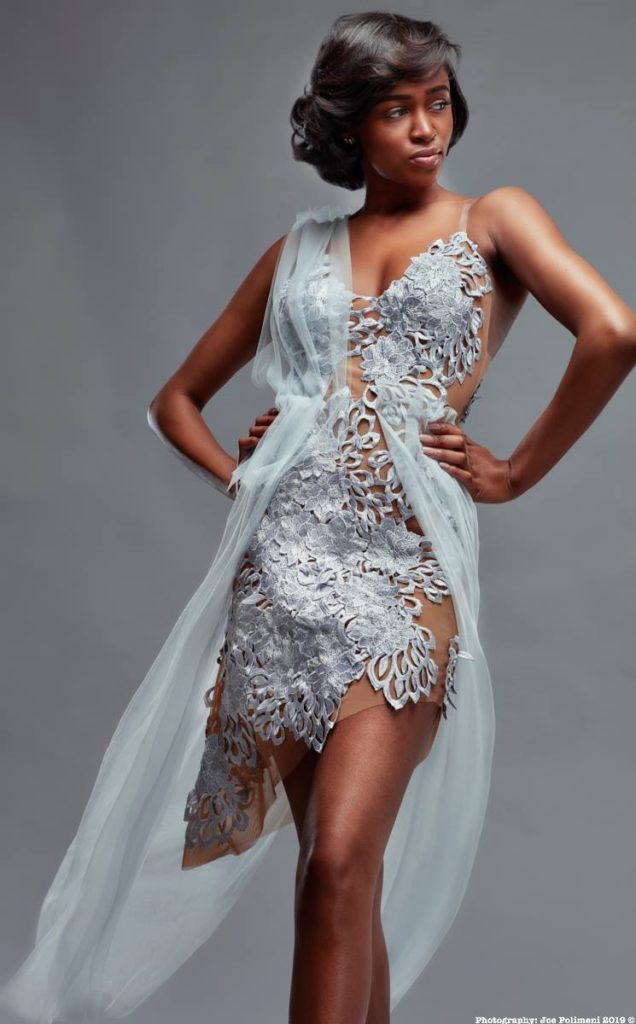 DFN: Where do you see Ashley Harris Design in the next couple of years?
Harris: My goal is to launch a ready-to-wear collection and open an online boutique within the next few years. I'm finally at a place in my life where I'm ready to do it. I do want my line to be manufactured here in Michigan. I'm a huge supporter of our city and I think it would be great to have it manufactured here in Detroit because you may see a lot of streetwear collections here but you don't see a lot of cocktail dress collections. So that's my five-year plan.
DFN: Have you thought about opening a boutique? If so, what city would you call home for your designs? 
Harris: I definitely am going to start out with an online boutique. I don't know if I will open up my own brick and mortar store. I hopefully will get into some store that carries Detroit designers. So, I'd like to stay in Detroit. I also like Royak Oak, Ferndale, Birmingham areas as well.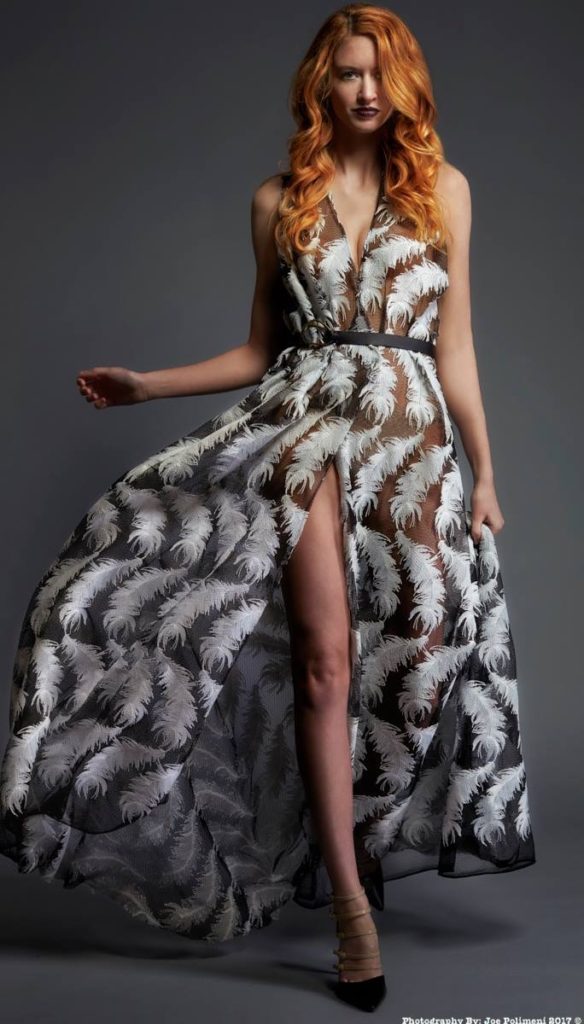 DFN: What price range is your collection?
Harris:  Ideally, a ready-to-wear piece is medium price ranged. Like a day dress for instance. As far as evening wear, it really depends on what we are doing. I tie in consultation and hourly labor rates so its a little hard to say the price range for evening wear.
DFN: Who wears Ashley Harris Design?
Harris:  My target market is women in their late 20s to mid-60s.  I want to design pieces that can be worn at any place in your life. My line is definitely more for women who are more established in their life and who want a piece that lasts a long time. I feel like women at that age buy quality pieces as opposed to quantity. Basically, women who want to stand out in a crowd and who are confident and comfortable with themselves and who love to get dressed up wear my designs.
DFN: Who inspires you?
Harris:  I'm inspired by a lot of people but I design on my own. I just have been evolving on my own with many great teachers along the way. I've also had people in my life that have pushed me but mainly my inspiration is from within.
DFN: Thank you for your time, Ashley.
Harris:  Thank you.
Ashley Harris Design can be found on Instagram and Facebook @AshleyHarrisDesign. Click here to view the collection on the Ashley Harris Design website.
Photos – Joe Polimeni
Disclosure – This post may contain affiliate links. By clicking and shopping, you help support Detroit Fashion News and allow us to keep reporting on all things fashionable.