Meet Abby Stybel of Rebel Soul Apparel
Abby Stybel loves Detroit and we love people who love Detroit. Stybel also loves fashion and well, you know how we feel about fashion! Stybel is the owner of Rebel Soul Apparel and she's got a passion that supports both the environment and vintage finds at the same time.  Abby Stybel takes second-hand vintage pieces and cuts them, bleaches them and reworks them to give them a new life and a new meaning.
"I think there is a lot of waste in the world with fast fashion", Stybel explains to Fox 2 reporter, Ingrid Kelley.
I recently met up with Stybel at the 2019 FashionSpeak + Verge event held at Twelve Oaks Mall and after speaking to her, I knew our readers had to meet her.  Check out our interview below to learn more about Abby Stybel from Rebel Soul Apparel.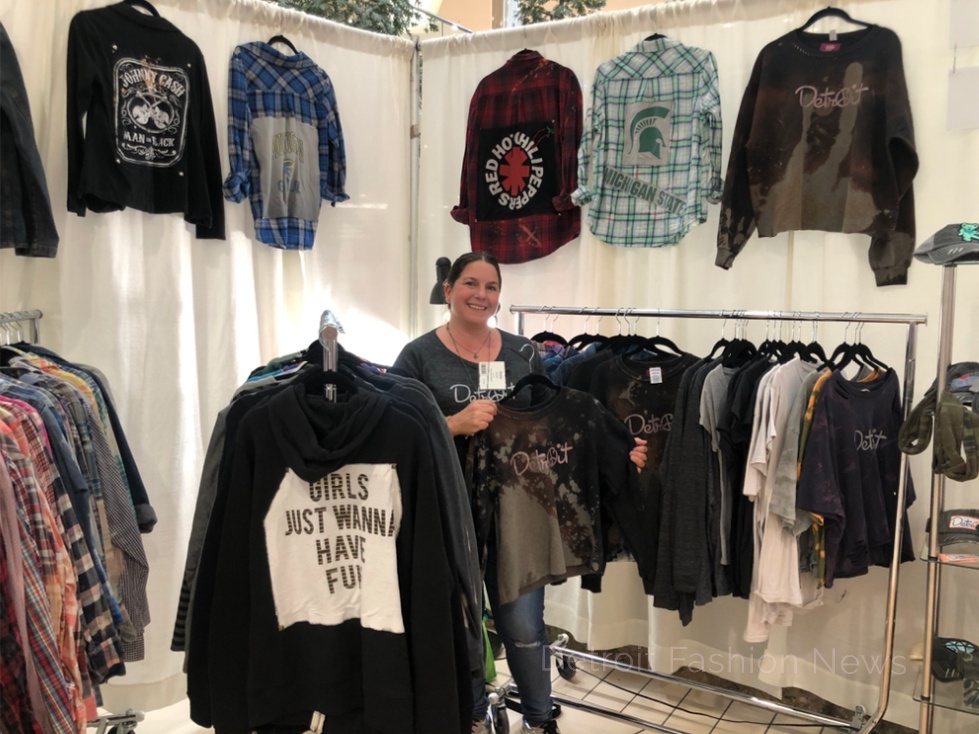 DFN: How and why did you start Rebel Soul Apparel?
Stybel: I started Rebel Soul Apparel because one day, I was staring at the piles of t-shirts in my closet, most of which were either too big, too small or just out of style but yet couldn't get rid of them. They represented treasured memories in my life and I couldn't bear to part with them but knew I wouldn't wear them in their current state. Then, the idea occurred to me that I could do something with them to make them wearable-cut them up and put them on the back of flannels. That's where it all began.
DFN: Explain your designs and how you create them.
Stybel: I find pieces of clothing that are used and unwanted or undesirable in their current form. I then use different techniques of bleaching, dyeing, cutting, and sewing to give them new life and match current trends in fashion. I hand make every piece that I sell using the various techniques, creating.
DFN: What inspiration is behind your designs?
Stybel: When creating each piece of clothing, I think about what Rebel Soul Apparel means to me. Rebel Soul Apparel is not just a piece of clothing. It's an experience, a vibe, a memory, an expectation, a promise. It's for girls and women of all ages who are a hint of hippie, a little bit boho and love rock & roll. We appreciate bold colors and soft fabrics. We are environmentally aware and want to do our part to make a change for the better. We were at Woodstock or wish we had been. We work hard yet know the value of mindfulness and relaxation and just having fun. We travel the world, whether in reality or in our dreams. We love music and treasure our memories that a certain song or musician can trigger. We are wild yet controlled. We are free yet responsible. We are optimistic, yet nostalgic. We want to be comfortable yet follow trends.  We are inspired by the world around us. We are strong confident women who want our clothing to express our soul.
DFN: What motivates you in the fashion industry?
Stybel: I love fashion and I love watching the trends that come and go. I do not love, however, the idea of fast fashion because of it's negative impact on the environment. In this country, we have a 'throw-away' attitude. We buy inexpensive clothes and discard them when they go out of style or we just get bored with them. We don't think, however, about what the impact of these actions are on our environment and the world we live in. Fast fashion contributes to pollution, poor workmanship, and poor working conditions in developing countries, where many of the clothing is manufactured. I am doing my part to create apparel that means something to the person wearing it. Not only are my pieces upcycled- made from second-hand fabrics-but are timeless and more importantly, they mean something to the one wearing it. My customers relate to each piece in one way or another and will therefore not be as inclined to discard them so quickly.
DFN: Where do you see your brand in 5 years?
In five years, I would like to move out of my home studio and have a production facility in which I employ local women to help create the pieces. I am also developing a program where I join with local fashion brands, taking their unused fabrics and scraps and incorporate them into my pieces.
Stybel: Explain your clientele. What type of individual wears your designs?
My clients are extremely diverse. The majority are women between 30-55. However, with my new Peace Detroit line, I am drastically pushing those boundaries to incorporate teens, men, and everyone else who loves to wear unique apparel.
DFN: Tell us something about yourself that no one else knows.
Stybel: If I could go back in time, I would go back to the '60s and would DEFINITELY have attended Woodstock.
DFN: Do you have other passions that inspire your love for creating clothing?
Stybel: I love creating anything and everything. I've got a craft room filled with supplies for every type of art and craft possible from sculpting clay, to scrapbooking to jewelry making. Clothing is one of the many mediums love working in.
DFN: Name three fashion designers that you admire and are inspired by.
Stybel: The vintage and distressed look is very on-trend right now. I make pieces that are comfortable and cozy, yet trendy and unique. I am inspired by brands such as Free People, Vintage Havana, and Anthropologie, to name a few.
DFN:  How can someone buy merchandise from Rebel Soul Apparel
Stybel:  My pieces can be found at www.rebelsoulapparel.com, on Etsy at www.etsy.com/shop/rebelsoulapparel and the many pop-ups and vendor shows I do in the metro-Detroit area. I am always making something new and you never know what you'll find on my racks.
DFN: Thank you for taking the time to do this interview and thank you for your talent.
Styble: Thank you!