Evan Sparrow: CCS Graduate and Detroit Designer
Evan Sparrow is a Detroit creative that respects and understands sustainability and the importance of upcycling. A graduate of the College for Creative Studies, Sparrow recently graduated with a BFA in Fashion Accessories Design and is already making a name for himself.
In the interview below, read how this fashionable skateboarder took the lifestyle of skateboarding to a whole new level. He has style and industry knowledge and most importantly he already has the right contacts. Enjoy.
Evan Sparrow Interview: CCS Graduate and Detroit Designer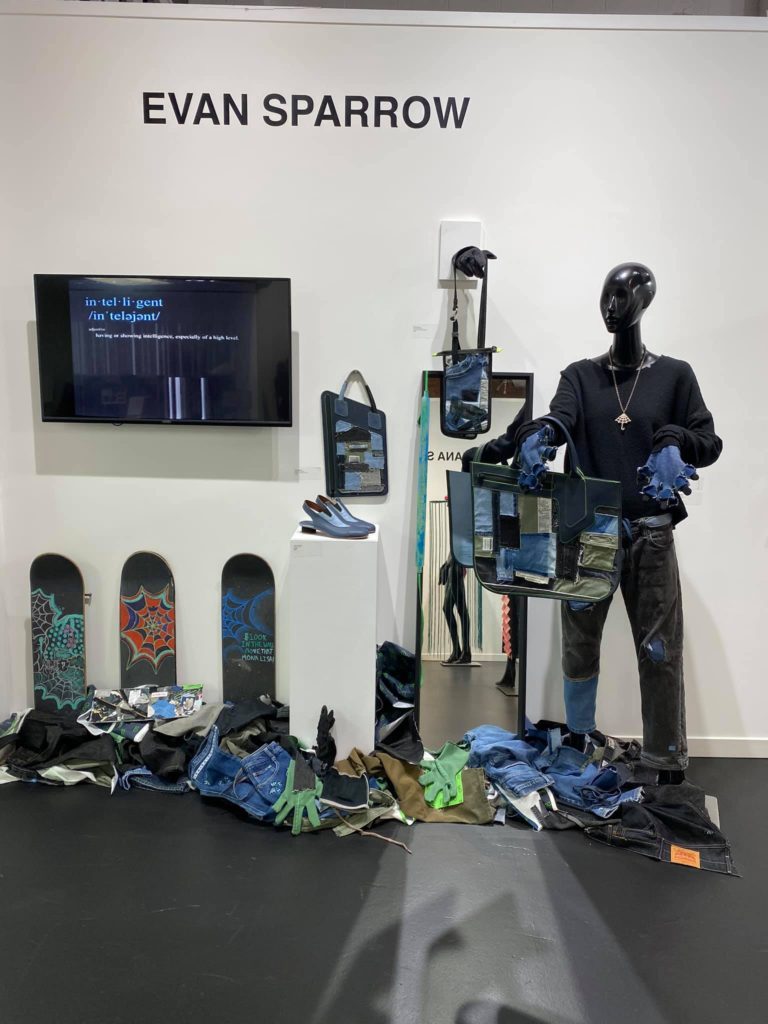 DFN: Tell us about your studies at the College for Creative Studies and why you chose CCS. 
Sparrow: I've always been into fashion and I actually started studying fashion at Wayne State University focusing on merchandising and the business side of things. I had two Wayner State teachers that also taught at CCS and they encouraged me to check it out. They said, "I think you might have something here", and it just so happened that it was the same year the fashion program was born at CCS. So, I went to check it out. I toured the facilities and met some of the faculty and I was thinking, "This is where I need to be".
It happened pretty organically and once I got there, I soaked everything in. I experienced an immense amount of growth and got exposure to all aspects of fashion, from finding inspiration, research, narrowing down a concept, sourcing, and actual pattern making. I gained an appreciation for the whole process. I grew up a skateboarder and fashion to me was really just streetwear… in the beginning.
DFN: I noticed the skateboards and your denim designs at MM-O-DD's sourceFORMATION exhibit at Collected Detroit. Do you specialize only in skater fashion and denim?
Sparrow: No, I do a bit of everything. I want to have an aspect of sustainability in my collection but sustainable materials can be really expensive so I thought that I would go more for upcycling instead of new sustainable materials. Denim is a storytelling fabric. When people wear denim, they fall in love with it and they keep their denim for a long time.
In terms of skateboarding, I don't want to be put into that box but skateboarding does have a huge influence on pop culture right now. Louis Vuitton just made their first skate shoe and are sponsoring their first pro skateboarder. I just want to show that skateboarding is more than flipping a piece of wood. It inspires a lot of trends and styles in fashion and it's also a lifestyle. Skateboarding got me into fashion because skateboarding encouraged me to travel and learn the landscapes of big cities and that opened my eyes to the world of fashion.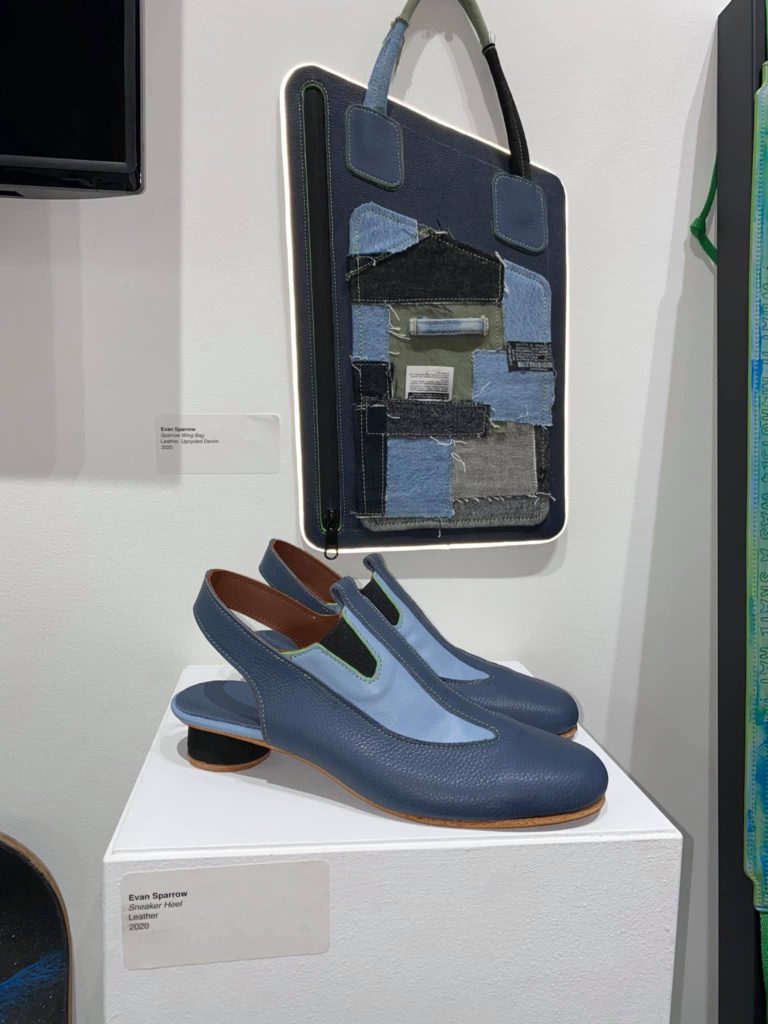 DFN: Going back to the sourceFORMATION exhibit, your handbag on display is made with reflective piping. What brought you to make that decision? To create garments and accessories with reflective trim?
Sparrow: The shape of the bag is what you will see throughout the collection, which is "abstracted sparrowing" (my last name is Sparrow). So, I use that abstracted sparrowing as a form of inspiration. I put that reflective trim around the bag because when people take pictures at fashion shows, they use a flash and they watch through their phones and I thought it would add a cool factor and draw people in. That is what I try to do with all of my pieces. I like to create hype or catch your attention and once I draw you in, then you realize there is real depth to it. I thought it would be a cool element to create conversation.
DFN: Is it easy to work with?
Sparrow: That is the first time I've used that reflective piping material but I plan to use it more in the future.
DFN: Is this your first collaboration (speaking of MM-O-DD's sourceFORMATION) or have you worked with other brands before?
Sparrow: I really haven't. This is my first collaboration which is really inspiring and it inspires me to do more.
DFN: If you could choose anyone in the fashion or the music industry to work with, who would you choose?
Sparrow: One would be Virgil Abloh, the Creative Director of Louis Vuitton. Second would be Marine Serre, and third, would be Martin Margiela.
DFN: Great choices. Why would you choose those three?
Sparrow: I choose Marine Serre because she is so inspiring and she is very young. She ignores, or blurs the lines rather, between streetwear, athletic wear, and luxury. A lot of her pieces are very functional and she's really into upcycling. I like what her brand stands for, I think it's a really good example of the direction a lot of these luxury houses should be headed in. Martin Margiela is a big inspiration for me because he challenges tradition. I'm really inspired by his signs of the process. He was my inspiration for my collection in terms of showing the process and deconstruction.
I'd like to work with Virgil Abloh because he grew up with the same interests as me such as music and skateboarding. He educated himself on the industry as a whole and didn't just focus on the streetwear side of things. He's doing a good job implementing streetwear into the luxury sector. In his first-ever collection, he bought Ralph Lauren shirts and just screen printed on them. And, now he is the Creative Director of Louis Vuitton. That shows the potential and shows that as long as you're creative, you can make anything happen with limited resources.
DFN: What are you currently working on? Are you working on a new collection at this time?
Sparrow: Yes, right now I'm designing for Genusee eyewear company based in Flint, Michigan. It's the first circular economy eyewear company. Each frame is made with 15  recycled water bottles.  I'm doing design for them, and I'm personally working on my first collection for my label which I hope to have out in the next four to five months.
DFN: Can you give us a teaser on what your new collection will entail?
Sparrow: Yes! I'm hoping to work with ISAIC here in Midtown for the production. And, I want to keep the supply chain as close as possible. I want to be really transparent with the supply chain because that is a big part of the brand. Full transparency on how it all comes together. The new collection will consist of belts, a bag, a winter hat, and hopefully shoes. There will also be upcycled garments.
DFN: Will your collection be created for a specific age group?
Sparrow: I'd say the collection is more so for people that think a type of way rather than limiting it to a certain age group. It's for people who aren't afraid to express themselves and who have a style with a type of edge and not so polished.
DFN: What type of materials will you be using in this collection?
Sparrow: I will be using reject leather. Which is, leather that has abrasions in which companies throw out. Also, I'm going to use denim. I'd like to use recyclable materials for the hat and its weave.
DFN: This sounds great, Evan. Please keep us posted once the collection launches.
Sparrow: I will definitely. I appreciate it.
DFN: Are there any Michigan designers you would like to collaborate with one day?
Sparrow: I'm Inspired by Karissma Yve. She owns Gildform which is a jewelry manufacturing company and facility in Detroit. I also am inspired by Jordan Atkins. His label is called Destroy World Save Earth, which is also rooted in sustainability and raising awareness of our impact on the planet.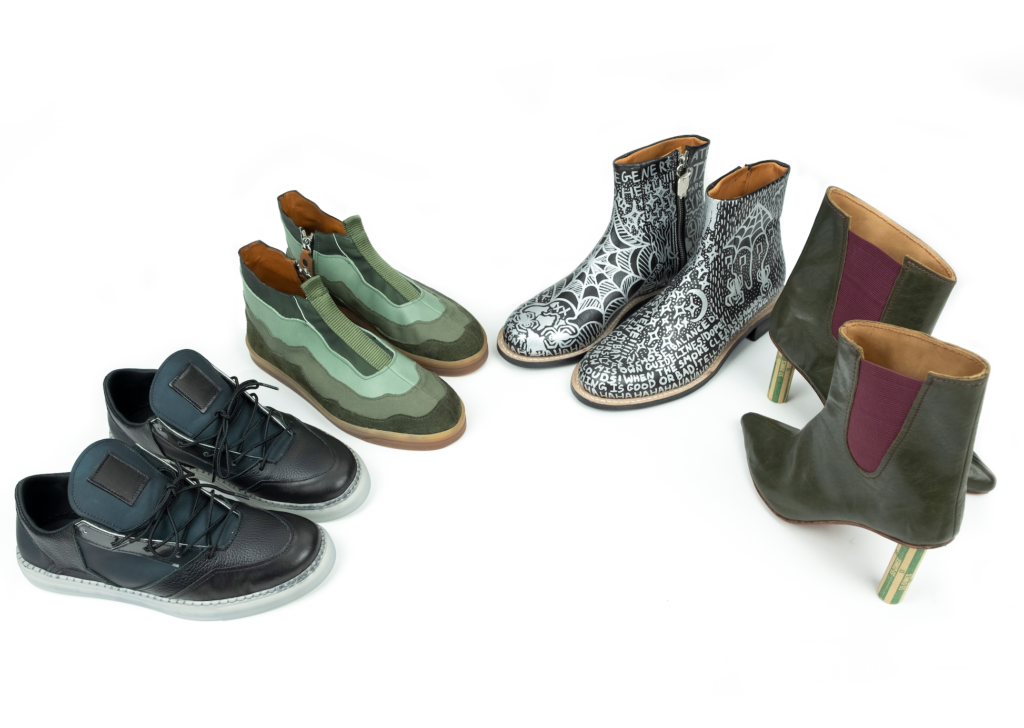 DFN: Do you have specific instructors at CCS that went above and beyond to help you with your degree?
Sparrow: I can not just pick one. But, definitely in the fashion department, Tom Carbone. Tom Carbone taught me everything I need to know about shoemaking. He always went above and beyond to help me. He definitely is one of the backbones of the department. Also, Darrin Brouhard. He taught me everything I know about bag making, pattern making as well as construction techniques. He's a very good teacher. He definitely helps to elevate the quality of all of the prototypes coming out of the department.
DFN: Where do you see yourself in five years?
Sparrow: If I learned anything during this pandemic, you just never really know. Nothing is guaranteed but ideally, I'd like to continue working with Genusee. They are experiencing some great growth right now and I really stand behind what the company stands for. Allie Rose is another professional that has left a great impression on me. She's the founder of Genusee. I'm also now on the Design Council for the Metropolitan Museum of Design Detroit so I'd like to continue bringing awareness to the museum. I plan to also start my own label and stay open-minded. My dream is to have my own label and collaborate with other companies.
DFN: Thank you for your time and honesty, Evan. It was a pleasure speaking with you. We wish you the best of luck!
Sparrow: Thank you for the opportunity.
Evan can be followed on Instagram @sparrow_wip. His new website URL will be shared once it's up and running. CCS can be followed on Instagram @ccs_detroit. Evan currently has an installation at sourceFORMATION: CCS SENIOR FASHION ACCESSORIES SHOWCASE at Collected Detroit.
The CCS Fashion Accessories Graduate Showcase presents the class of 2020. The work on display consists of footwear, bags, and other accessories. The exhibition will show the themes and research behind the collections, as well as the final pieces from each graduate listed below. A large range of themes is represented, including some very current topics.
DESIGNERS
Heron Robinson with Astro//Black
Evan Sparrow with Intelligent (1)Degenerate(2)
Mariana Sanchez with Lovour
Amineh Ahmad with Arabesque
Tori Abrahams with Metamorphosis.
Click HERE for event info.
Disclosure – This post may contain affiliate links. By clicking and shopping, you help support Detroit Fashion News and allow us to keep reporting on all things fashionable.