Indian Fashion Week: A Virtual Fashion Show 
Get ready to witness the alluring concepts and creativity of 4 talented Indian Fashion Entrepreneurs from Michigan, who will showcase their designer collection first time together on one platform.
When fashion entrepreneurs navigate through tough times by embracing partnership or collaborative techniques, it creates an unambiguous journey. This, in turn, gives certainty, hope, mental comfort, and assurance that the whole community and beyond, is there to support when unforeseen circumstances knock on the door.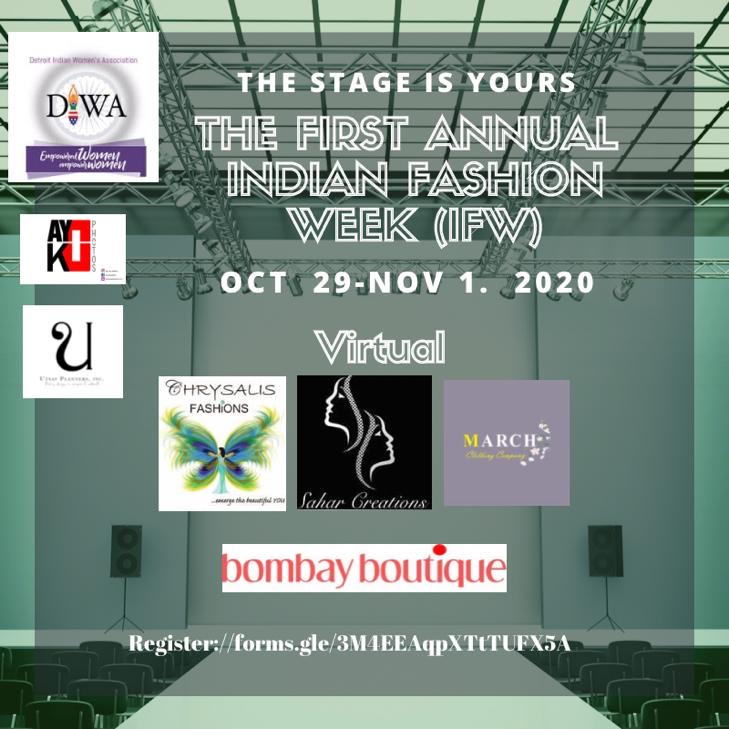 Who are the Designers?
It is a 4-day event for a great cause, organized by the Detroit Indian Women's Association (DIWA). Their mission is to empower Indian Entrepreneurs in fashion, beauty, and creative Industries. The designers for the show are:
Where to watch?
To watch the virtual fashion show, make sure you register via this link: https://forms.gle/3M4EEAqpXTtTUFX5A
The daily duration of the virtual fashion show will be of 30 minutes, approximately.
When to watch?
The virtual event will start on Thursday, October 29th, 2020, and end on Sunday, November 1st, 2020. Thursday and Friday- the show starts at 8:00 PM EST  and Saturday and Sunday – the show starts at 11:00 AM EST.
What to expect as a viewer?
The presentation will be based on specific themes, depending on which the outfits are curated by each designer. So expect to get bedazzled by the riot of colors and styles catering to both traditional and modern wear. 
Goal of this show
Unfortunately this year, the small business owners in Michigan have been negatively impacted to a great extent. So supporting local women entrepreneurs has been one of the key agenda of DIWA this year.
   "Empowered Women Empower Women" – DIWA
Their noble initiative is cohesively bringing designers together, helping to work as a team in presenting the first Indian Fashion Week in Michigan. And, the great aspect of this show is that it is virtual! So you can watch it at your own convenience.  Life has completely turned topsy turvy this year, and the retail or entertainment sector has seen no end to the obstructions. But what is fascinating is how new opportunities have also arisen and people have learned the art of endurance.


Disclosure – This post may contain affiliate links. By clicking and shopping, you help support Detroit Fashion News and allow us to keep reporting on all things fashionable.