An Interview with Rachna Chandra: Fashion Designer, Boutique Owner, and Philanthropist
Rachna Chandra, the owner of the Indian bridal boutique Taj Cottage, is no stranger to Indian ethnic and Indo western fashion. A former soft trim designer for the automotive industry, Chandra has made quite a name for herself in
Michigan's fashion community
over the past fourteen years and has been wowing us left and right.
Chandra's boutique,
Taj Cottage
is an Indian Bridal boutique specializing in Sarees, suits, gowns, men Kurta/Sherwani, kid's wear, jewelry, and accessories. Chandra hand stitches and creates special occasion pieces and Indian wedding outfits perfect for those who want to shine and stand out on their special day. Her Lehnga Choli and Saree designs are one-of-a-kind designs and are always made with fine fabrics and are layered in gems and jewels.
During the Spring of 2020, Rachna and I worked together to support the Pontiac and metro-Detroit communities for immediate Covid-19 relief efforts. She helped many by supplying over 11,000 handmade cotton masks free to anyone who needed them with her Mask Mission. Rachna led a volunteer team of over 50 home sewers and delivered FREE masks to local hospitals, businesses, families, individuals, and nonprofit organizations. She and her team even supported the Glamorous Moms Foundation and Detroit Sewn by donating over 1,000 masks to the Michigan Mask Donation Center in Pontiac.
The Mask Mission is over but Rachna's dedication to others hasn't stopped. When she has free time, she dedicates her time and talents to local nonprofit organizations. She continues to think of others to make sure Michigan citizens are thought of and taken care of.  Wherever help is needed, she's usually there. Rachna is a new Board Member of the
Glamorous Moms Foundation
, a 501 (c)(3) nonprofit organization that supports women, children, and families who are suffering from homelessness, poverty, domestic violence, illness, and human trafficking. She's also the Co-Founder of DIWA (Detroit Indian Women's Association) and is currently the
Zaman International – Hope for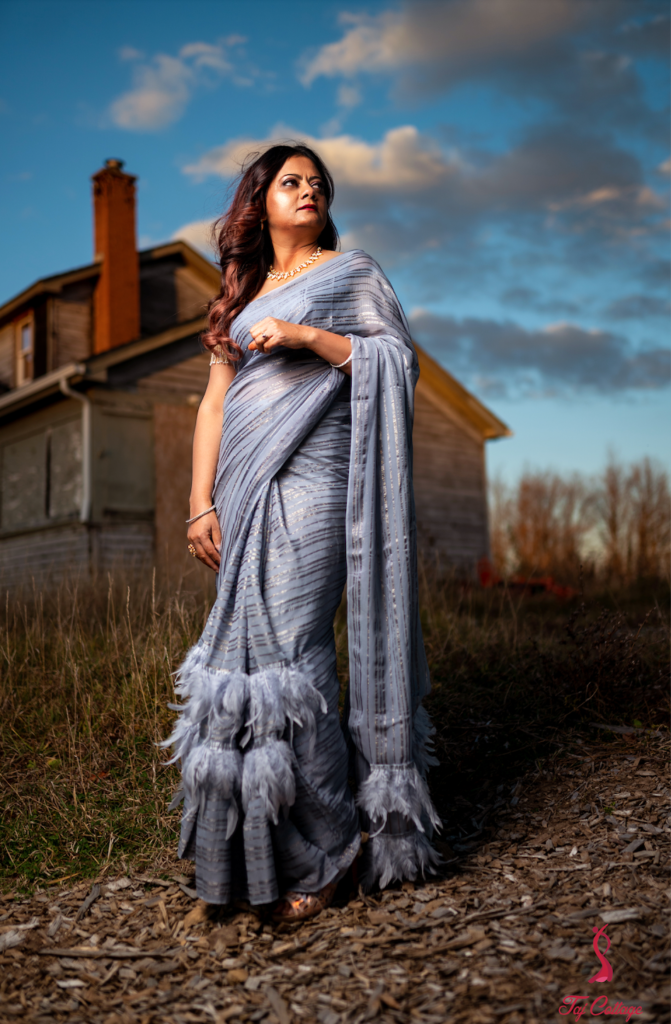 Rachna Chandra: Fashion Designer, Boutique Owner, and Philanthropist Interview
DFN: When did you know you wanted to be a fashion designer?
Chandra: I always had an interest in designing and sewing/making my own things since elementary school. I thought of it as a career when I was in high school and wanted to pursue my degree in fashion design.
DFN: How did you come up with the name Taj Cottage?
Chandra: The name Taj means a beautiful monument, one of the seven wonders of the world "Taj Mahal" in the city Agra, India. I was born and lived there 22 years of my life and grew up looking at this symbol of love from my terrace. I wanted to have a feel of my roots and my culture in my brand. I  wanted my customers to find everything under one roof for the whole family, that's where Cottage comes from.
DFN: Please tell us about your designs and how you got started.
Chandra: My designs are a mix of Indian ethnic and Indo western styles. They are a fusion of rich Indian fabrics and hand embroidery with western cuts and styles. I started the business in 2005 from my basement, after I quit my day job. At that time, I just had my 1-year-old daughter and was carrying my son. I always wanted to be an entrepreneur and have my own brand and I was able to achieve that while I was a stay at home mom.
DFN: Describe the perfect customer and who you like to design for.
Chandra: Anyone who is confident in their own skin is my perfect customer. As you can see in my fashion shows, all shapes and sizes of women are included because I want them to feel confident and happy regardless of their size. I would love to design for Jennifer Lopez if given the chance.
DFN: How do you like your clients to feel when they wear your designs?
Chandra: I want my clients to feel happy, comfortable, and beautiful when they wear my designs.
If they are happy and feel my designs are worth investing their money in, they are the best advocate of my brand.
I believe in good customer relationships.
DFN: How is working in fashion different today than when you first began?
Chandra: When I started in 2005, things were different, resources today were not easily available back then. And, technology was not so advanced. Now you can share anything across the globe with just one click.
DFN: Does social media play a role in your fashion business? If yes, how?
Chandra: Yes,
social media
plays a very important role in my fashion business. I can easily connect to my audience and the reach is worldwide when it comes to expanding my audience. I can engage with my customers very easily and quickly through social media. Especially during the pandemic and lockdown time.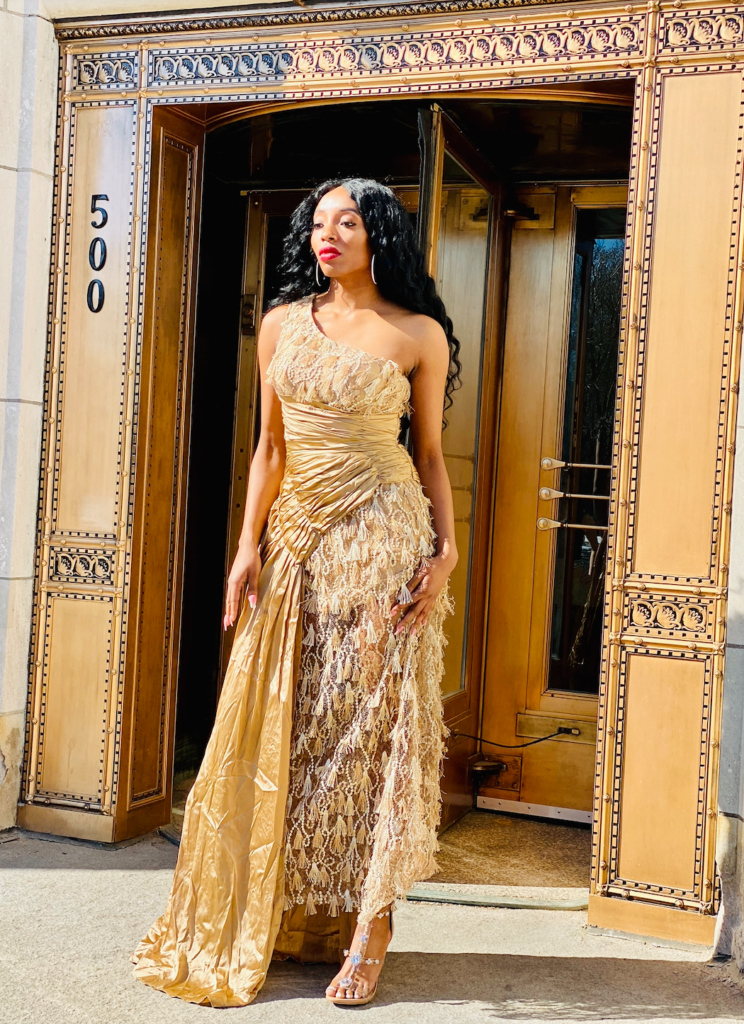 DFN: What inspires you to create new designs?
Chandra: The ongoing trends and future trends inspire me to create new designs. I design specific collections for my fashion shows, two to three times a year.
DFN: Tell us something no one knows about Rachna Chandra. Do you have any hidden talents or hobbies? 
Chandra: I am an open book. Everyone knows fashion and designing are my talents, but only a few people know about my cooking skills. I love to cook a variety of foods and love to try new recipes. I don't find time for that more often nowadays though.
DFN: Who is your biggest supporter? 
Chandra: My family and my girlfriends are my biggest supporters.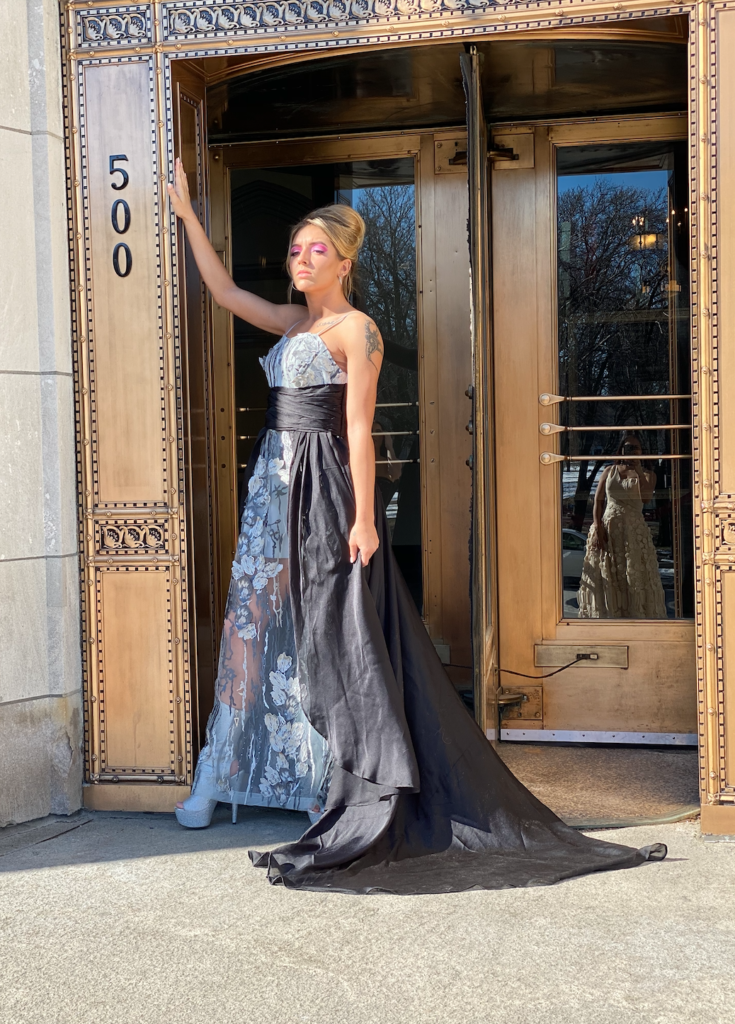 DFN: Has the COVID-19 pandemic hurt your business? If so, please explain.
Chandra: Covid-19 has hurt my business big time. All the social activities, gatherings, and weddings are either canceled or narrowed down to only close family members. If people have nowhere to dress up and go, they will not shop. The year 2020 has been a very stagnant year in the fashion industry and also for me.
DFN: What advice can you give young designers out there who may be eager to start their own business?
Chandra: My advice to young designers is to stay focused, be proactive, and be honest with your customers. Think outside-of-the-box to stay unique.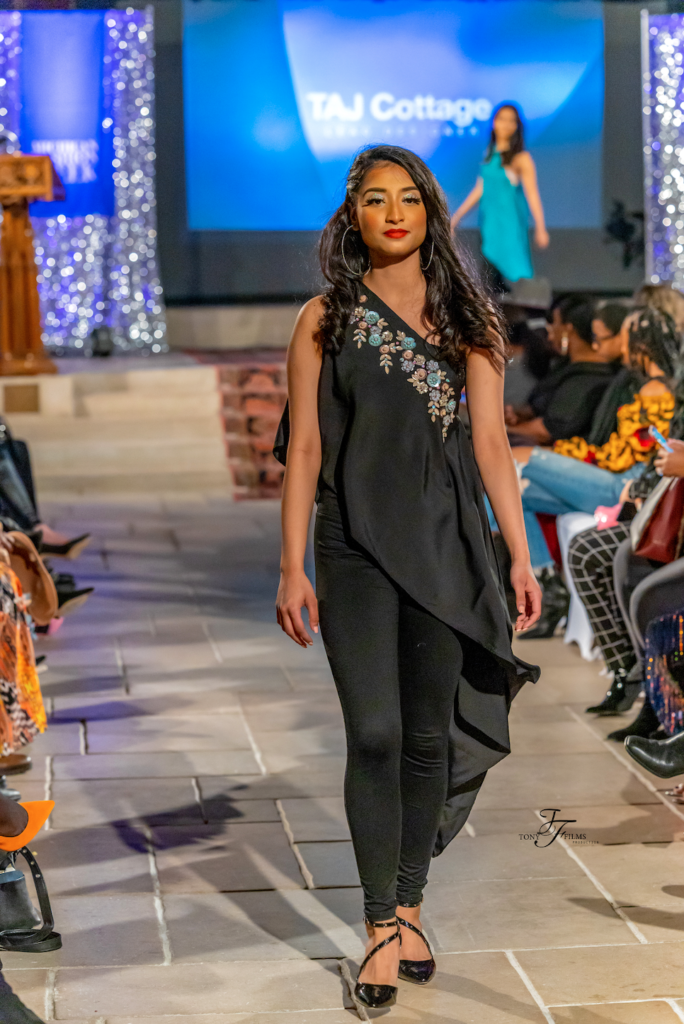 DFN: What is your favorite part of your business? Is it designing? Being a boutique owner?
Chandra: My favorite part of my business is being an entrepreneur and designing dream outfits for my clients. It gives me immense satisfaction to see a happy customer.
DFN: What does the future hold for Taj Cottage? Anything exciting coming up?
Chandra: We have an exciting fashion show coming up this February. Taj Cottage is going to New York Fashion Week to present the new collection "Illumine" which will be featured on Amazon Prime on February 14th, 2021.
DFN: That is amazing!  Congratulations! It's no doubt you have amazing perseverance. Where would you like to see Taj Cottage in five years? 
Chandra: In the next 5 years, I would like to see Taj Cottage as a bigger brand and open more stores.
DFN: Thank you, Rachna. We wish you the best of luck with Taj Cottage and can't wait to see your Amazon Prime feature.
Chandra:  Thank you so much for having me and for your support.
Disclosure – This post may contain affiliate links. By clicking and shopping, you help support Detroit Fashion News and allow us to keep reporting on all things fashionable.