Detroit Fashion News 10 Year Anniversary Networking Event
We've been told Detroit Fashion News is one of the hottest fashion ezines in Michigan. Not a bad label if you ask me! DFN was created to not only educate and inspire but to also celebrate fashion and the many talented individuals in the Michigan fashion community and beyond.
We aim to please with educational articles, personal interviews, and product favorites & suggestions with local brands & professionals in mind. It all started in December of 2010 with a quick post about Michigan designer, Joe Faris. Back then, Joe was a board member of Fashion in Detroit and just came off of the hit TV show Project Runway. He was diligently building his brand at the time and posting a teaser about a future interview with him, was just the beginning for DFN.
Click here to read Detroit Fashion News' first post back in December 2010:
https://detroitfashionnews.com/2010/12/10/joe-faris-a-detroit-favorite/
If you do the math, yes, we have been around a little more than 10 years. During the pandemic, we reached our 10 yr milestone. Due to Covid-19 and the importance of social distancing, we were unable to celebrate with a fun community gathering at the time. We so badly wanted to celebrate with our readers and contributors but decided to postpone the plans to keep everyone safe.
But now the time has come, where we can come together for a fun networking event to celebrate DFN's anniversary and all of you!
Please join us Thursday, November 11, 2021 from 7:00 pm – 9:30 pm for networking fun which will include models, fashion, free prizes, live music, and drinks & food for purchase. The event will be held at Hotel St. Regis, 3071 E. Grand Blvd., Detroit, Mi.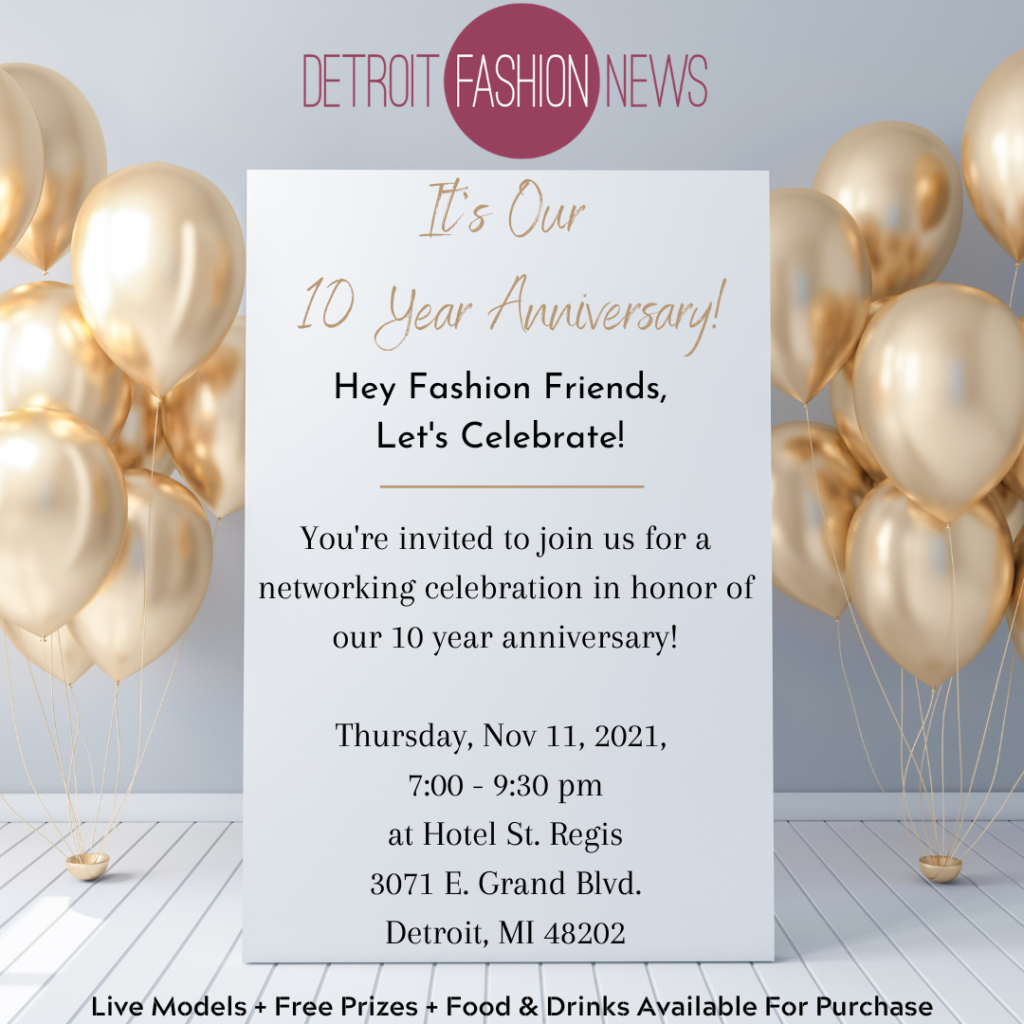 Featured Designers & Michigan Fashion Brands:
Please RSVP by clicking this link to our FB event page:
Also, be sure to "like" us on Facebook, and follow us on Twitter & Instagram @DetFashionNews.
Hotel St. Regis is located at 3071 E. Grand Blvd., Detroit, Michigan, 48202.
See you there!
Disclosure – This post may contain affiliate links. By clicking and shopping, you help support Detroit Fashion News and allow us to keep reporting on all things fashionable.