EDUCATIONAL FASHION RETAIL NETWORKING and MENTORING HUB: The National Fashion Technology Mentorship Series (NFTMS)
The National Fashion Technology Mentorship Series (NFTMS) is a community for all avenues of fashion retail. The mentorship series offers brand buyers and merchandisers, e-commerce advisors, social media professionals, fashion technology developers, esteemed authors, image development professionals, vendors, and more: All on a mission to prepare fashion retailers for the evolving industry.
With a focus on discussing educational strategies and solutions based on first-hand experience, NFTMS provides fashion retailers of all experience levels with the tools they need to succeed in 2022 and beyond.
On that note, we are happy to share NFTMS is now offering two online sessions open to everyone.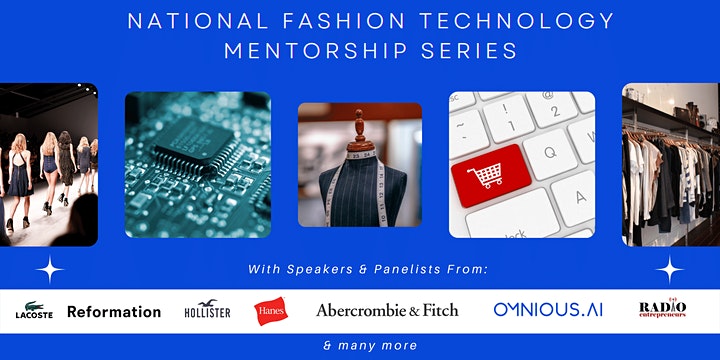 The National Fashion Technology Mentorship Series (NFTMS) Upcoming Online Sessions:
Session 1 – West Coast: February 3, 2022, from 4:30 pm – 6:00 pm PST/ 7:30 pm – 9:00 pm EST.
Session 2 – East Coast: March 3, 2022 from 6:30 am – 8:00 am PST/ 9:30 am – 11:00 am EST.
The goal of these sessions is to allow professionals country-wide to listen to the panel sessions by leading entrepreneurs and business leaders and explore the ins and outs of emerging tech disrupting the fashion industry.
100% of the donations from NFTMS events will go to young fashion entrepreneurs and organizations striving to create an impact in the fashion community
In one session you will learn how to:
Improve your fashion personalization experience from store to screen.
Increase visibility and awareness in terms of sustainable practices.
Avoid commercialization and partnership mistakes.
Navigate operational challenges, including supply chain disruptions.
Leverage AI to solve COVID-related business problems.
This year's NFTMS panelists include:
John A. Shumate – VP Global Brand Marketing for Champion for HanesBrasnds Inc.
Ken Farfan – Digital Wholsesale Assistant at Locoste
Lisa Chin – Senior VP – Reformation
Jeffrey Davis – CEO Mage LLC
Alice Leigh Yuan – Social Media Specialist, Gilly Hicks at Abercrombie & Fitch Co.
Emily Blumenthal – Creator of Handbag Awards, Professor of Entrepreneurship at FIT
Ilka Jordan – CEO of Jordan Alliance Group
Monica Singh – Creative Director at Apparels and Fashion
Jordan Stolch – Fashion and Styling Consultant
Elliot Carlyle – Creative Consultant at The Council of Fashion Designers of America.
Eugenia Pak – Head of Marketing, Sales, e-Commerce at Elliot Berman Textiles
Milton Putman – CEO – Complete Image of Manufacturing
Alyssa Couture – Author of Healthy Fashion
Blake Lopez – Growth Consultant at Carbon38
Art Lewin – CEO & Founder of Lewin Bespoke
Terance Coffee – TV Show and Podcast Host
Mike Colarossi – Vice President, Product Line Management at Avery Dennison
Jaeyoung Jun – Founder and CEO of OMNIOUS.AI
Boaz David – Founder & CEO of Human B.
Lizmarie Flores – Director of Marketing at Soft Shoe Company
Janice Dru-Bennet – Head of Marketing at Inkwhy
Participants may choose which session they would like to attend for just $10. Click HERE to purchase tickets via Eventbrite.
Disclosure – This post may contain affiliate links. By clicking and shopping, you help support Detroit Fashion News and allow us to keep reporting on all things fashionable.