Rags $2 Riches 4th Annual Thrifted Fashion Show & Gala is a Black Tie Affair
Are you ready for a night of thrifted fashion? Well, ladies and gents, it's time to plan your attire because the Rags $2 Riches 4th Annual Fashion Show and Gala to be held at The Jam Handy is right around the corner.
 The fashion collective group, Rags $2 Riches Detroit, will present its highly anticipated 4th Annual Thrifted Fashion Show & Gala on Sunday, February 27, 2022. Doors will open at 4:30 p.m. The fashion show will feature thrifted fashion curated by Stephanie Bedell and local Detroit designers and will begin promptly at 5:30 p.m.
Sponsored by The Salvation Army and produced by fashion creative Stephanie Bedell (@Thebagladie), this year's event will bring together fashion leaders, business owners, local influencers, and great thrifted fashion like you've never seen.
Black tie attire is required and we're being told the dress code will strongly be enforced. That means guys, a black tuxedo or black suit and tie is required and ladies, black evening gowns is what is recommended for you. Typically, "black tie" doesn't require "all black" but the creators of this event have specified that all black with no color is expected. That means, no accent colors will be accepted. Black on black on black, is it.
The gala & and show will be held at The Jam Handy concert venue located at 2900 E. Grand Blvd.. Detroit. Tickets can be purchased at Eventbrite by clicking HERE. Receive 25% off by using code 25OFFNOW (discount only available through Feb 12, 2022) at check out.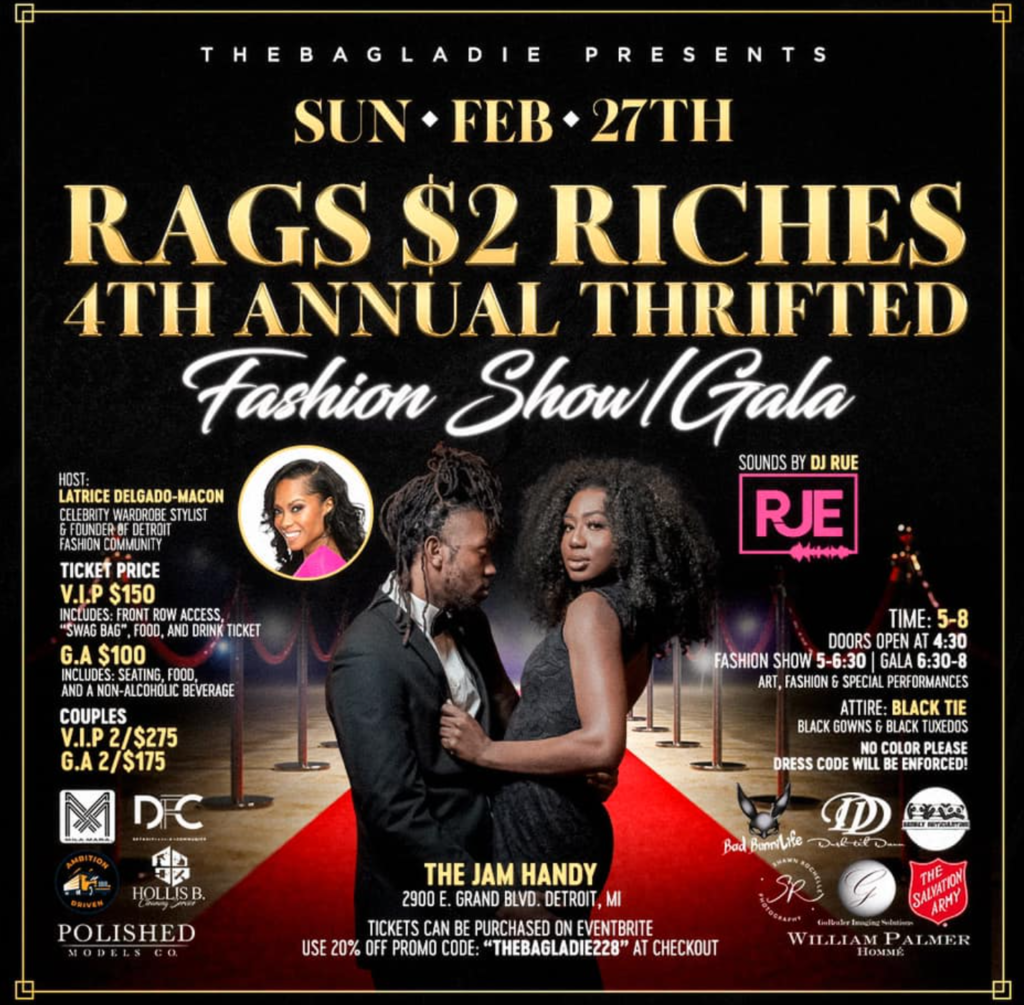 Rags $2 Riches 4th Annual Thrifted Fashion Show & Gala Ticket Packages:
V.I.P. – $150/person. Package includes swag bag, front row access, finger foods, and drinks (limited 2 per person).
General Admission –  $100/person. Package includes finger foods & one non-alcoholic drink ticket.
Disclosure – This post may contain affiliate links. By clicking and shopping, you help support Detroit Fashion News and allow us to keep reporting on all things fashionable.