Mila Rose Hair Care: Black-Owned, All-Natural Line Helping to Nurture Your Curly Hair Journey — Dedicated to Texture & Health of Natural Hair
If you're looking for a hair care product that is made to demystify your curl routine and make your hair feel soft and natural all day, we have the products for you!
Mila Rose Hair Care is filling a void in the curl-care category that can often stir confusion, especially for those embarking on their natural hair journey. Mila Rose Hair Care line was founded by Micaella Mosley, a single mother who is passionate about crafting chemical-free, organic hair products that are safe for all hair types from children to seniors. It all began when her newborn started experiencing dry curls. When her daughter was 8 months old, Micaella began handcrafting ingredients that moisturized her daughter's hair. After two years of research, she
decided to find a lab that would bring her dream to life.
With the many products on the market that promise to unstiffen, smooth, define and volumize; Mila Rose Hair Care makes your hair look and feels smooth all day. No more greasiness and no more stiffness!
The all-natural brand offers effortless essentials for curls with natural ingredients for real results; while encouraging women to embrace their curly hair journey and nourish their natural textures with handcrafted, salon-quality products that transparently deliver superior moisture and are free from ingredients that can be damaging to curly hair types.
Streamlining the curly hair journey and understanding the many concerns that curly-haired consumers face such as hydration, scalp health, shrinkage, detangling, definition, and delicate strands were key to Mila Rose Hair Care's mission to produce a line of simplified, ingredient-inspired products that offer organic solutions to promote hair health while filling a void in the marketplace and a need for transparency.
Pure Organic Ingredients for all hair types inspired by her infant daughter's dry hair issues, Micaella Mosley dreamed of crafting a line of chemical-free, organic hair products that are safe for all hair types from children to seniors. Now, she's
created an approachable hair care brand built on 2 years of research and education, representing everything needed to help quench thirsty curls. Mila Rose Hair Care is enriched with the purest organic ingredients such as aloe vera, neroli plant, avocado, almond, soy protein, and rose oil, which were carefully chosen for their amazing benefits.
The brand delivers transforming ingredients for beautifully healthy curls at every stage; from the big chop to heat-styled hair, and everything in between!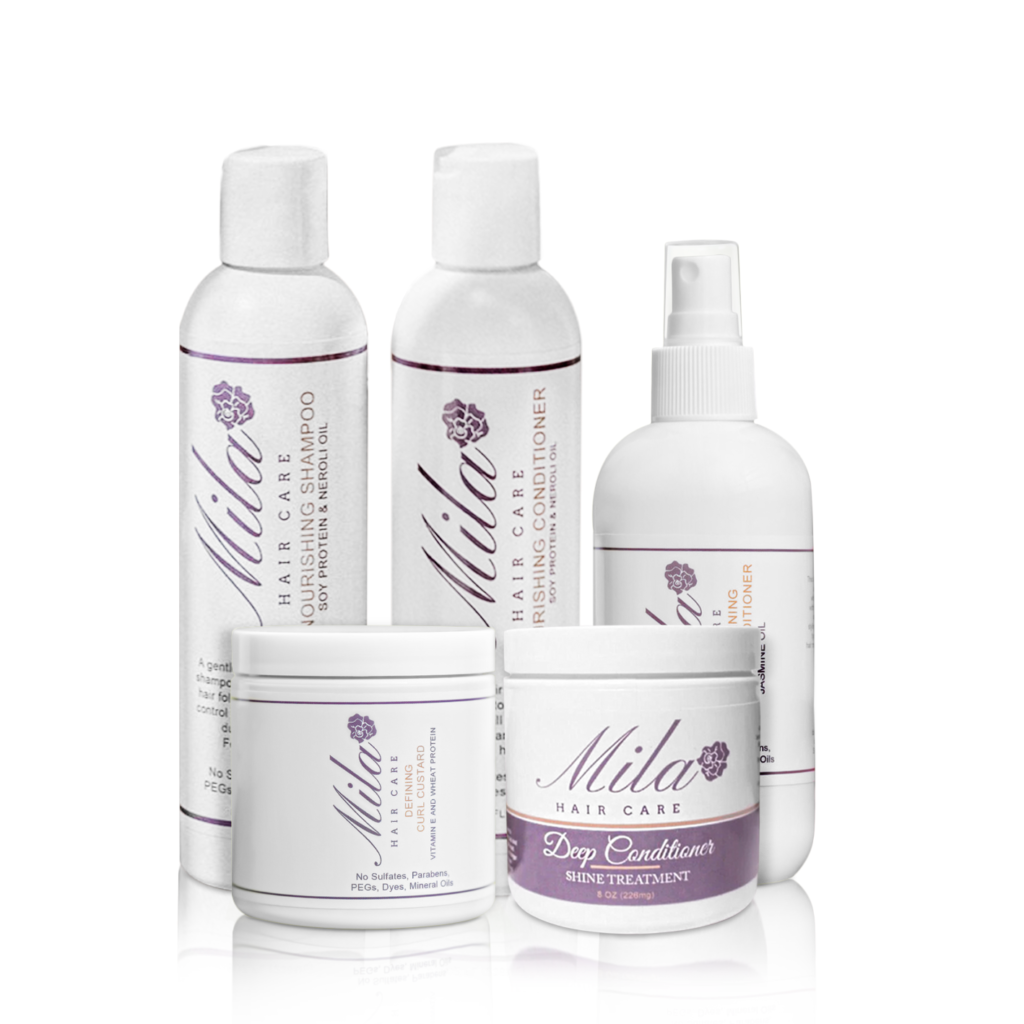 The collection features a full regimen of cleansing, conditioning, and styling products Including:
Nourishing Shampoo w/ Soy Protein & Neroli Oil ($24.99), a deeply hydrating shampoo that nitrifies each strand with its handcrafted essentials to help improve hair texture, thickness and softness. It is a savior for dry, uncontrollable frizzy hair and an approved curly girl method shampoo adding shine and bounce to your swirling waves.
Nourishing Conditioner w/ Soy Protein & Neroli Oil ($24.99), a deeply hydrating conditioner that detangles hair while nourishing the scalp to promote hair growth. It will leave your hair feeling soft and moisturized.
2-in-1 Silkening Leave-In Conditioner w/ Jasmine Oil ($18.99), a leave-in solution made from soy protein and jasmine oil that boosts waves and adds volume and bounce, even on previously dry or stressed hair.
Defining Curl Custard W/Vitamin E & Wheat Protein ($22.99), an all-natural gel made with vitamin E, wheat protein, bergamia fruit oil, and aloe vera that tames flyaways, repairs damaged hair, beautifies the bounce, and adds a gleam to your curls without giving a crunchy look.
Best Deep Conditioner Shine Treatment ($19.99), an immersive deep conditioning treatment ideal for transitioning hair that works to add shine and restore the moisture lost by dry and frizzy hair, to eliminate unwanted strays and split ends.
Next-Day Hair ($17.99), a lightweight curl refresher spray enriched with handpicked hair moisturizing ingredients helps to redefine the curls.
All Mila Rose Hair Care products are free of sulfates, parabens, PEGs, dyes, mineral oils, and animal cruelty.
For more information and purchasing, please visit www.milarose.store.
Disclosure – This post may contain affiliate links. By clicking and shopping, you help support Detroit Fashion News and allow us to keep reporting on all things fashionable.