Like most red carpet events, the 2011 Golden Globes sure had some "oopsies'  and some "OMG's"!  Below are our best dressed  picks on the red carpet that evening.  We choose these Hollywood starlets not by their winnings, not by their dates and surely not by their current bank accounts.  We decided on overall appearance and the entire looks which were so appropriately put together.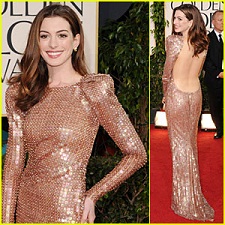 Photo – Courtesy of justjared.buzznet.com
Anne Hathaway's red carpet beauty was a beautiful Giorgio Armani Prive amber tone beaded gown   The dress featured a low back, long fitted sleeves and dramatic shoulders. This is  a perfect match for Hathaway's figure, and hair and eye color.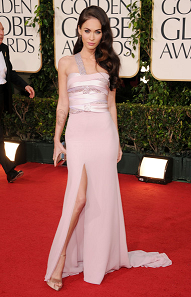 Photo – Courtesy of myfashionlife.com
Megan Fox ususally feels confident showing off her tattoos, even on the red carpet.  But on this occasion, we barely noticed her marks with her dress and hair combination.  Fox's gown was a pale pink Armani Prive gown with a slit up the leg, a beaded strap across her right shoulder and a cut out in the small of her back.   Megan's hair and make up top off  the look with soft Hollywood waves and smokey eyes paired with soft pink lips.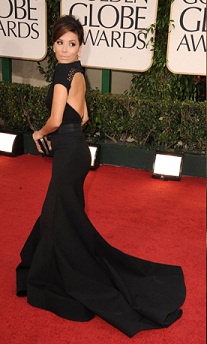 Photo Courtesy of Fabsugar.com
If anyone finds something wrong with Eva Longoria Parker's look, then they need to look at again.  This beautiful floor length Zac Posen gown fits Parker like a glove.  The dress has a plunging V neckline and a belted waist and a sexy cut out back.  The dress was perfectly made for Parker, making her look fit and chic.  Her hair and make up was right on too!  A smooth up do and smokey eyes and natural lips was a smart and sophisticated choice to say the least. 

 Photo Coourtesy of stylelist.com
Green was the color choice for Anjelina Jolie at the Golden Globes.  We've seen pretty much everything we've needed to see on Anjelina in the past, but this green sequined gown really took the cake compared to her usual dark black gowns and red lips look.  We love the shoulders and enjoy the simplicity of this sexy vixen's overall look. The dress speaks for itself, no need to overdo hair and make up which is exactly what Jolie must have been thinking too.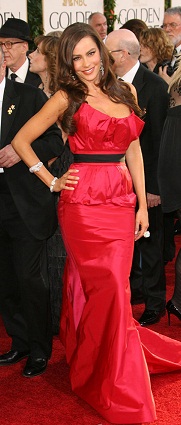 Photo Courtesy of Starcasm.net
Sophia Vergara wore a jaw dropping red gown by Vera Wang to the red carpet.  A sweetheart strapless number with a black belt at the waist really shows off Vergara's VA VA Voom figure.  We are a fan of the soft hair and played down jewelry too.  It looks like this diva is comfortable being this gorgeous!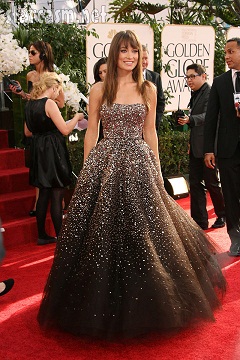 Photo – Courtesy of Starcasm.net
Olivia Wilde wore a  chocolate strapless Marchesa gown with yards of tulle and an abundance of sparkled sequins.  A blunt bang hair style and pretty matching make up made Olivia our favorite of the evening.  She looks like she is ready for this special occasion.  Hats off to this girl and her team of stylists who got it right!