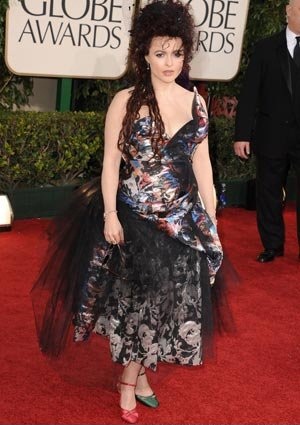 Many of you know Helena Bonham Carter for her eccentric way of dressing for the red carpet.  Aside from her fans enjoying her comedic acting ability, stylists and fashion critics cringe every time she attends an awards show.  At the Golden Globes she wore a Vivienne Westwood dress that was a bit much when combined with her wild hair, funky sunglasses and two different colored shoes.  At the SAG Awards the critics couldn't take her large  breasts popping out of her dress which made for more criticism and harsh comments towards her inability to dress for special occasions.
After having a history of being on the "worst dressed" list several times throughout her career, Bonham Carter has snuffed the fashion industry and has made many comments regarding the negative attention she receives from the unimpressed critics.
During an interview with People Magazine, she said, "I think fashion has been hijacked by the fashion industry creating rules on what one should wear and I feel like breaking the mold and seeing that the world won't crumble," Bonham Carter.
Well, who knows what she will wear to the next big event. But does it really matter? It seems she's got this media thing figured out because we just can't stop talking about her.  Genius?  We'll let you be the judge.
Photo – Steve Granitz, Wire Image