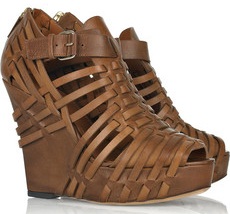 Revamping your closet for Spring doesn't mean you have to replace everything.  A few new accessories might do the job to be sure your Spring look is on target. Sometimes using what you already have in your closet can be placed with a new bag, a cooler shoe or a few statement pieces of jewelry and voila! A new Spring look!
Listed below is a list of five "must have" accessories to brighten up your wardrobe and lighten the stress of over spending.
Bold colored satchels, purses, & clutches.  Spring colors this year are bold, bright and beautiful.  Be sure to buy a color that fits into your current color scheme, like non-matching to be exact!  Make a statement with your bold choice, if you don't, your defeating the whole purpose.
Chunky heels with woven or braided leather should be worn as much as possible.  Choose a neutral leather that can be worn with more than one look and make sure the shoe has cut outs, a peep toe, slingbacks or all three.
Statement jewelry with an Aztec feel, natural colors and natural stones.  Statement pieces have been on the mark for a few seasons now, this Spring, hit your mark with geometric shapes and a tribal vibe.
Wear vintage sunglasses.  If their the real deal and they are too big for your eyes than they are perfect!  If your pocket book doesn't allow you to splurge on real vintage, than make sure they are over sized and big, big, big! Choose what you like, cat-eye, round or square, it really doesn't matter.
Blushes and lipsticks that scream NEW!  Are these accessories you ask? Well sure they are and this Spring the main two things on your face should be a bright orange/red lipstick and a bright peachy pink blush and your ready to go.  Both look best with a neutral, naked eye.  There's nothing fresher in Spring than soft pretty make up with a "to die for" complexion.  Carry your new shades that brighten up your look in your new bold clutch.  You'll be feeling new all over.
Photo – Givenchy Woven Leather Wedges, $1190, net-a-porter.com