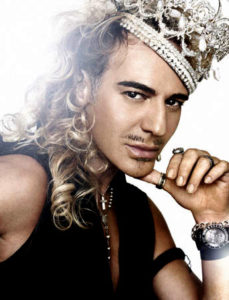 Fashion designer and previous creative director of Christian Dior, John Galliano, was arrested back in February, for assault during a bar brawl in Paris'  Marais district.  Galliano was blamed for verbally abusing a couple at La Perle during an evening out which lead to his arrest  in the early morning of February 25, 2011. The couple accused Galliano of yelling aggressive anti-Semitic  insults  during a verbal altercation.  
On the same day, after  the news hit, Christian Dior made a public announcement confirming the suspension of Galliano pending the investigation. On March 2, 2011, Christian Dior fired Galliano as creative director of the house after 14 years with the company.  During a public statement, Sidney Toledano, president and chief executive officer of Dior, advised the public that Galliano's statements made during the evening in question are a "total contradiction to the long standing core values of Christian Dior."  It has also been said, the video released  of Galliano's actions that evening was the last straw in determining his fate with the well respected company. This is a complete downfall for the designer since Dior owns close to 92% of John Galliano designs.
The turn out of this alleged incident has saddened and shocked John Galliano.  In his public statement made on March 2, 2011,  he completely denied the claims made against him and was sure to advise he had no problem cooperating with the police investigation.  He also claimed there were several eye witnesses that were in attendance that evening that have a different story of his behavior.  He defended himself by saying, "I was subjected to verbal harrassment and unprovoked assault and an individual tried to hit me with a chair", according to Vogue.com.  In return, Galliano fought back accusing the couple of defamation and has recently made a public apology for his behavior.
Although Galliano's lawyer, Stephane Zerbib, blames Galliano's behavior that night on a terrible mix of alcohol and medication, Galliano's business is still in full swing and his latest collection is still on schedule with full production. His public apology confirms he is ready to take responsibility for his actions during the incident but it is unknown if this is an isolated incident or if Galliano has an alcohol problem as so many members of the public have speculated. 
Most recently, the boyfriend of the women accusing Galliano of the verbal abuse has come forward with a softer story.  The Times recently reported, the boyfriend, Philipe Virgitti, stated that he found the events at La Perla to be a "simple bar dispute" and hopes Galliano will learn from his behavior but will also have the opportunity to continue designing dresses and putting on terrific shows that as he is so well known for.
Last week, prosecutors in France ordered Galliano to stand trial on charges of making, "public insults based on origin and religious affiliation" against three people.
Photo – Courtesy of Fegore.com