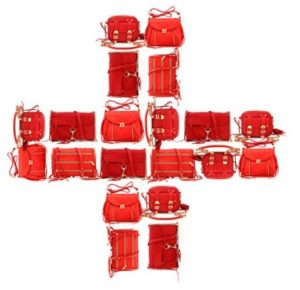 Officials in Japan have announced the death toll has reached 9,000 and have claimed the recent disaster  to be the worse crisis since World War II. In the days since the earthquake and the tsunami, the Japanese people are trying to pick up the pieces of what was lost during the devastation.
Fashion designers and professionals in the fashion industry have come together to lend a helping hand to assist those in need in the country of Japan.  Many organizations have donated out-of-pocket funds, hosted charity auctions and have designated earned funds from designated purchases  to help the Japanese people rebuild their lives and their country.  Below is a list of ways the fashion industry is giving back and how you can be apart of it.
100% of proceeds from purchases made from Alexis Bittar's website during March 21-March 25 will go to the Catholic Relief Fund www.alexisbittar.com
Lady Gaga is donating 100% of proceeds from her $5 wristband that reads "We pray for Japan"  to Japan relief efforts.
Tadashi Shoji is donating 10% of it's store wide sales from both their Las Vegas Forum Shops and South Coast Plaza locations to the Japanese Red Cross.
American Eagle Outfitters has made a $10,000 donation to the American Red Cross
Rebecca Minkoff is donating $100 from the sales off each red bag purchased on her website to the Red Cross. www.rebeccaminkoff.com
Diane Von Furstenburg and the CFDA are working together to create an online auction which will feature designs and special packages from a variety of designers. Proceeds from the auction will go towards Japan Relief.
Josie Natori is donating 10% of all sales made during the month of April to the Red Cross.  www.natori.com
Coach has donated 5 million dollars to the Japanese Red Cross
H & M has donated 100,000 garments to the Japanese Red Cross.
Photo – Rebecca Minkoff red handbags.  Courtesy of rebeccaminkoff.com