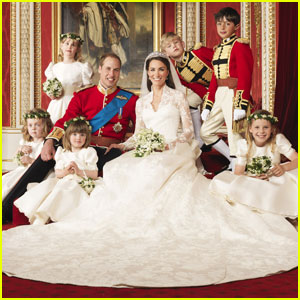 During the last six months of wondering which designer would design the wedding dress for Prince William's bride-to-be, Kate Middleton's wedding dress certainly was the topic of discussion among bloggers and journalists.  Finally the day arrived where we all would see the princess bride blush with delight as she married her Prince but most importantly it was a day where we all could finally learn who made her dress! 
On April 29, 2011, Kate Middleton wore an expected stunner designed by Sarah Burton fot her very own royal wedding.  As Creative Director for Alexander McQueen, Burton created a heavenly gown while keeping the artistic vision of the late Alexander McQueen in mind for the Prince's bride.  She created a modest ivory lace and satin gown with long lace sleeves and a traditional train.  The dress was made with French Chantilly lace combined with English Cluny lace. 
The modern design fit the princess like a glove and was worn well with the perfect bridal accessories.  Catherine's veil was made with layers of silk tulle trimmed with hand embroidered flowers and was connected to a Cartier tiara that was loaned to her by the queen. Her earrings were a gift to her by her parents.  The design of the earrings resemble the Middleton's family new coat of arms which includes acorns and oak leaves.  The bride's shoes were hand made of ivory duchess satin by the team at Alexander McQueen. 
All the right pieces for such a modest bride if you ask us.  Kate not only picked a beautiful ensemble for her special day but also didn't lose site of herself during the planning and excitement.
Photo – Catherine's pectacular dress in an official photograph by Hugo Burn/taken in the Throne Room at Buckingham Palace. Photograph: Hugo Burnand/Clarence House/PA