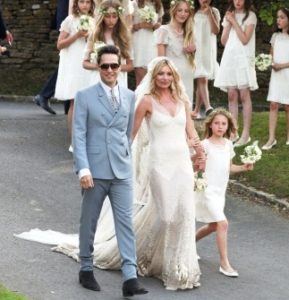 Kate Moss's recent marriage to musician Jamie Hince has created quite a buzz.  The buzz of course was created by the unexpectations of the bridal attire.  The groom wore a pale blue double-breasted Yves Saint Laurent suit and Miss Moss, now Mrs. Hince, wore a simple floor length slip dress.  A dress, that simply is the cause for all the ruckus. Some have reported and blogged about the beautiful simplicity of the dress.  Others have complained and cried about it's simplicity.
Women's Wear Daily reported Moss's wedding dress was inspired by Zelda Fitzgerald.  The gown was designed by Moss's long time BFF,  John Galliano.  The dress had an opaque bodice that formed into a floor length skirt with rhinestones and gold beading that became more dense towards the bottom of the gown.  The design is definitely a Galliano design for sure and a great example of Moss's personal style. The bridesmaids and flower girls also wore simple slip dresses detailed with chiffon layers and lace. Moss's dress may not be what everyone expected but the look and feel of the bride with her girls was very soft, delicate and innocent.
What do you think of Kate Moss's wedding gown? Enough or not enough?
Photo – Courtesy of Pacific Coast News / Newscom