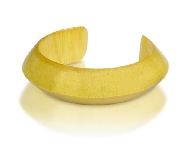 Our beautiful planet has so much to offer.  It's natural resources are meant to keep us healthy and beautiful.  Having said this, it's always great to see designers make distinctive products and clothing using the earth's natural materials.  That's why we absolutely love mangotreebangles.com!  Mango Tree creates and sells beautiful hand made bangles from grade A organic mango trees.
Each bangle is made with eco-friendly natural materials so you can expect each and every one to be one-of-a-kind and unique. No two bangles are alike and each color will differ from bangle to bangle. Mango tree bangles are great to spruce up an outfit or to send to a friend. There are 50 colors, 4 sizes and 3 styles to choose from.  We recommend you check them out!
Mango Tree bangles can be found at www.mangotreebangles.com.
Photo – Mellow Yellow, Samba Bangle, $18, mangotreebangles.com