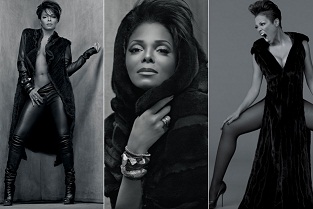 R&B Singer and actress Janet Jackson has returned for her second consecutive year as the famous face of Blackglama. Janet represents the brand's popular campaign called, "What Becomes a Legend Most?" The campaign is known to be a bit more edgier and modern than last year bringing a more rock and roll vibe to the ads.
The campaign has been ongoing for almost four decades and previous celebrities that have been featured during the 40 year run include Liza Minnelli, Elizabeth Taylor, Diana Ross, Audrey Hepburn, Loren Becall and Sophia Loren. The first ad of Janet's second year with Blackglama was featured in W Magazine back in September.  She is the first person in history to be invited back a second time.  Janet looks hot, sexy and completely in control at age 45.
Photo – Blackglama

Shannon Lazovski is the Founder & Editor of Detroit Fashion News.  Find out more about one of Detroit's top fashion bloggers here!