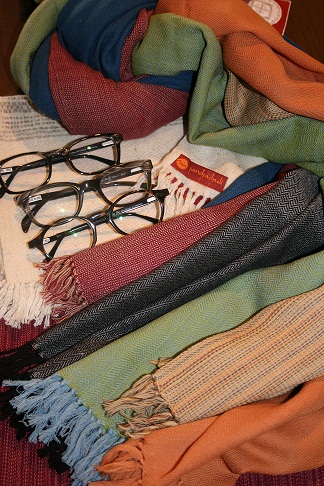 Optik Birmingham is now carrying Panchachuli hand woven vegetable dyed wool scarves just in time for the Holidays.  Perfect for someone special in your life, the Panchachuli hand woven wool scarves are made with pure virgin lamb's wool that is dyed from natural vegetable dyes made  The scarves are hand made at a Panchachuli farm that focuses on taking care of their animals while providing a pure and rich product.  It is widely acclaimed that a pure wool has healing qualities to the individuals that wear it.
The makers of the scarves are mostly women, who once lived on the streets, and who now work for a Panchachuli co-op program.  The co-op program allows the women to live with dignity and purpose.  The sales of their products are sold under the name, "Heaven by Panchachuli" and have helped build needed clinics and schools in their area.
Currently at
Optik Birmingham
, these beautiful, one-of-a-kind scarves are available for $25 or 2 for $40.  Proceeds will go to villagers of the Kumaan in the Indian Himalayas located on the border of Tibet.
In addition, OPTIK is currently offering eyeglass frames for a donation (any amount), with the purchase of prescription lenses.  Proceeds from this offer will go towards new glasses for orphans in Kenya.  The glasses will be purchased and then delivered by Dr. Ales during his next medical mission to Kenya this Spring.
Optik Birmingham is located at 245 W. Maple Rd. Birmingham, Mi.
Photo – Panchachuli hand-woven vegetable dyed wool scarves. In the USA, they are sold only at OPTIK Birmingham and the MET, that's right, that museum in New York City.

Shannon Lazovski is the Founder & Editor of Detroit Fashion News.  Find out more about one of Detroit's top fashion bloggers 
here
!