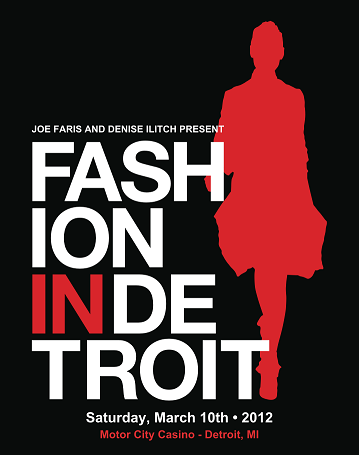 Fashion in Detroit, co-created by Project Runway's Joe Faris, will put a spotlight on Detroit's fashion scene by turning the Motor City into Fashion City on March 10, 2012. The third annual runway show is expected to bring over 2,000 attendees including members of the media, models, fashion designers, design students, and spectators from around the world.
The event will be co-hosted by Joe Faris and Ambassador Magazine publisher and jewelry designer, Denise Ilitch.  The two Metro Detroiters are both business leaders in Michigan and advocates of Detroit's urban renewal. They have a strong commitment for the city's growing fashion community as well as a drive to support the revitalization of the city.
Fashion in Detroit will include ten runway shows by local and national designers, designer trunk shows & meet and greet, a Market Detroit pop up shop, a VIP private reception and an afterglow party.
The Run of Show includes:
12:00 p.m. – IADT Student Show / Dana Keaton JCC Project Runway Detroit Student Show
12:40 – Natalia Villafana
1:20 p.m. – Brightly Twisted
2:00 p.m. – Homeslice Clothing by Emily Thornhill
2:40 p.m. – Martini Retro
3:20 p.m. – Morada Blue
4:00 p.m. – Bachrach
4:40 p.m. – Peter Soronen
5:20 p.m. – Neiman Marcus
6:00 p.m. – Denise Ilitch Design & Motor City Blues by Joe Faris
Tickets are still available for Fashion in Detroit and the FID Afterglow party at Ticketmaster. Both events will take place at Motor City Casino Hotel & Sound Board at 2901 Grand River Ave, Detroit, Mi.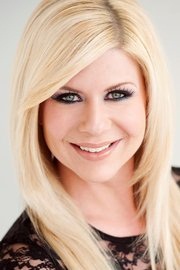 Shannon Lazovski is the Founder & Editor of Detroit Fashion News.  Find out more about one of Detroit's top fashion bloggers here!