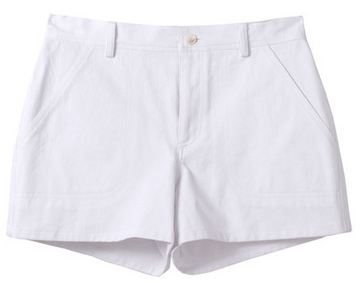 How many times have you walked past the window of a department store and seen that ever-so cute pair of tiny white shorts on display?  I know wearing white can be one of the scariest adventures for the timid fashion novice to consider, but let me put those fears to rest. Think of it this way; if your average teen can sport white shorts to any function and look good doing it, you'll be just fine. I bet you never thought a fashion columnist would be telling your self-esteem to trust the façade of your neighbors' daughter…but in this case, I am.
Even today with shorts becoming an acceptable bottom at almost any function (including semi-formal) choosing the right pair will be the key to conquering this summer's biggest hit. As a matter of fact, shorts have pushed their way into our fashion spotlight at an amazing rate over the last few years. I imagine it won't be long before we see that glamorous, glitzy bottom show its face at prom in a few years. But for now let's get started on this season's shorts etiquette.
For a day at the ballpark you'll want to stop by American Eagle and grab either the Denim Shortie or the Cuffed Twill Midi in white. Both come in around $30.00 and are staples in your seasonal wardrobe. The best part about both pairs of shorts; you can sport any flat lace-up sandal in brown or black along side that fitted Tiger's tee you've been waiting to wear all year. The picture perfect fan has arrived! Don't forget to wipe the seat off before you sit down. I usually bring a cute, slightly oversized purse, much like the Spirit of Detroit Field Bag from Pure Detroit so I can conceal a few handy wipes and Kleenex for such occasion. This handy little sack is big enough to pack a small hoodie in, incase you get cold or need to cover the seat to protect your pretty blanched bottoms.
Let's move on to that late afternoon lunch with the in-laws. Welcome Ann Taylor's Stretch Linen Twill Cuffed Shorts in white at a cool $68.00. This mature pair is the obvious mate for the Chambray Camp Shirt in Sharkskin. This adorable top is also available at Ann Taylor which makes your shopping trip a breeze! For low-key events you want to make sure you've combined the right jewelry to create a very polished, clean appearance. I absolutely adore my Michael Kors Horn Jet Set Watch. This piece is honestly timeless and can be worn with the most neutral outfit as well as bedazzled at night, making it perfect for a bit of shine at lunch time. Close with Fossil's Abagale Wedge Espadrille in Natural from Von Maur and you have mastered those white shorts once again!
Let's close your evening out with a night on the town. Versace featured a fabulous white shorts combo in their Spring 2012 Runway show. Encompassing this young, flirty monochromatic look we turn our attention to Guess for their romantic white lace shorts. Flaunting the very affordable $69.00 price tag, these beauties are a must-have for your stop at Centaur before dancing the night away at Bleu. Anytime you need a top in a particular hue, Forever 21 is your best bet. This economical outlet compartmentalizes each color and gives you literally thousands of designs to choose from. I found a simple, off-white Embroidered Inset Cape Top for under $20.00. Amazing find for an amazing price! This leads us to the Michael Kors Lace-Up Bootie which in my eyes is the ideal shoe to complete this pale display. But if you're not prepared to drop $695.00 to polish off this play on colors, try the Nude Suede & Lace Booties by Windsor. Don't forget to grab one of the gold toned necklaces on your way to check out. Lastly, reintroduce that Michael Kors watch you impressed the family with earlier today. I'm certain we have made Donatella proud!!
Voila! You have successfully faced the white elephant you've feared all year-long!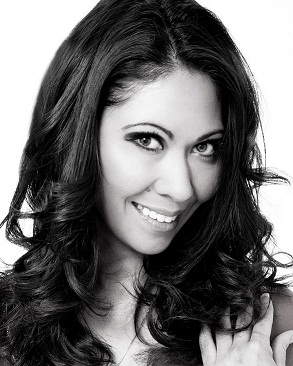 Melinda Ann Prince is a radio personality out of Detroit, Michigan. She can be seen on the red carpet covering events from the Sundance Film Fest to the Entertainment Choice Awards. To read more about Melinda click here.