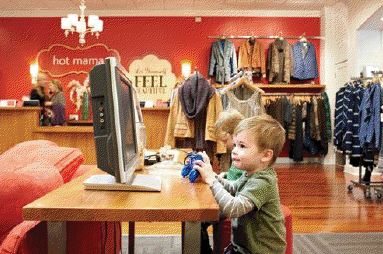 Are you a Mom that cares about how she looks and takes pride in her appearance and wardrobe choices? Are you looking for designer clothing and a boutique that gives one on one personal customer service? If you have answered yes to these questions, Hot Mama is a boutique just right for you.  New to The Village of Rochester Hills and with much anticipation,  Hot Mama is now open as of  today, May 16, 2012.  The latest addition to the Village is already receiving positive gossip and excitement throughout the town and are expected to thrive in a community filled with hot moms!
Megan Tamte and her husband Michael Tamte opened their first Hot Mama store seven years ago with a focus on designer clothing and  unparalleled service.  The first store was built-in Edina, Minnesota and today, Hot Mama has 22 stores in eight states.  Each year the Tamte's receive numerous customer requests to add a Hot Mama store in other cities across the United States—which affirms the founding couple's belief that the U.S. is filled with Hot Mamas.
The Village of Rochester Hills in Oakland County, MI is proud to say they are next on the Hot Mama list as the newest store will be opening on May 16, 2012.  The store will be located on Main ready to serve all the Hot Mama's in Rochester.  "We are excited to have such a unique store that focuses on Moms in our community," stated Shelleen McHale, Director of Marketing for the Village of Rochester Hills and a mom herself.  Megan and Michael were attracted to The Village's surrounding demographics and its ability to draw Hot Mama's core customer – fashion forward moms.  This will be Hot Mama's second location in Michigan.  The retailer's first location in Michigan is located at the Gaslight Village in East Grand Rapids.
Megan and Michael have assembled a team of 300 uniquely trained employees who are committed to the company's core purpose of empowering moms through curated merchandise, mom-friendly store layout and authentic service.  Hot Mama and its companion website, shopmama.com, have been noted in magazines such as; InStyle, Real Simple, Self, Pregnancy & Newborn, People StyleWatch, Fast Company,and Shopping Center Today.
Hot Mama was created to be an upscale boutique that is a fashion resource for Moms. They will be offering contemporary designer clothing and premium denim that promises to fit a mom's age and lifestyle.  In describing why she opened Hot Mama, Megan Tamte explains, "I need clothes that are quick and easy to wear that can take me from a board meeting, to my son's baseball game, to a date night with my husband.  I've learned over the years how important it is for me to take care of myself physically, mentally, and spiritually so I can be the best mom I can be."
Within its "mom" niche, Hot Mama focuses primarily on a customer who wants to stay current in fashion, parenting and lifestyle.  Michael Tamte estimates the domestic "designer mom" apparel market to be worth over $15 billion a year, consisting of on-trend moms between the ages of 25 to 50.  In a recent survey, Hot Mama found that half of its customers were in their thirties while 40% were forty years old or older.  With a typical store's average footprint of 2,500 square feet, Hot Mama can add multiple locations within a metropolitan area to provide more convenience to busy moms and a less overwhelming shopping experience. In 2012, the company plans to open eight stores, all from operational cash flow.  Besides its current stores in Minnesota, Illinois, Colorado, Oregon, Ohio, Kansas, Missouri, Michigan, Wisconsin and North Dakota, Hot Mama will open in Milwaukee and Cincinnati this summer.
The Village of Rochester Hills brings fashion, dining and ambiance together to create Rochester Hills' very own downtown. From Parisian to Whole Foods Market and fifty more shops and eateries, there is something for everyone. With parking available in front of your favorite store, shopping The Village is easy and convenient. Open Monday through Saturday from 10 a.m.-9 p.m. and Sundays from noon-6 p.m. Visitwww.thevorh.com or http://www.facebook.com/thevorh for more information.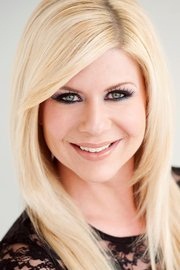 Shannon Lazovski is the Founder & Editor of Detroit Fashion News.  Find out more about one of Detroit's top fashion bloggers here!