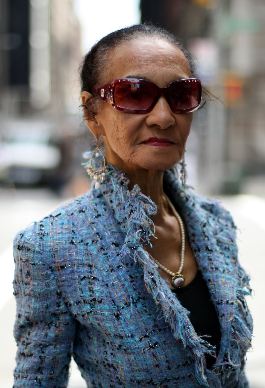 We are excited to share that Lanvin is about to surprise us for Fall 2012.  It seems their ads will include 'real women and men'. You might remember Lanvin's huge Fall 2011 campaign which starred top models Raquel Zimmerman and Karen Elson.  If you do, don't expect the same type of campaign for Fall 2012.  Lanvin will be taking a completely different approach this time around and the public just may like the upcoming campaign a whole lot better. Why do you ask? Because 'everyday people' will be able to relate to the models in the campaign.
Several cast members have been chosen for the campaign but one member in particular is 81-year-old dancer Jacquie "Tajah" Murdock, who found fame when she was featured on Ari Seth Cohen's Advanced Style blog.  The blog showcases older fashionistas seen around the streets of New York and by finding Jacqui, it has landed her quite a remarkable opportunity.
"This campaign is a dream come true. I grew up in Harlem always wanting to be a model, but in my day there were very little opportunities for women of color to work in fashion. "At 18 I went from agent to agent looking for jobs, even as a hand model. I have finally made it and I will never give up. Hopefully someday I will get to Paris!"  Cohen quoted Murdock on his blog.
Lanvin is the latest fashion house among many others that have taken a stand against models who are too thin along with Dolce & Gabbana who recently sent 'real men' including students and waiters down their catwalk during Milan Menswear Fashion Week back in June. American Apparel also has joined this 'real life' movement and recently casted 60-year-old Jacky O'Shaughnessy in its Advanced Basics campaign. She was simply sought out while dining in New York.
It's about time, in our opinion, that 'real people' are being sought after for designer ad campaigns.  It's a win win for hopefuls that appear less than perfect and more 'real' and the brands themselves.  If  customers cannot relate to the ads and the people in the ads, it's likely they may stay away from purchasing from the brand. Kudos to the blog that made this natural beauty a star and kudos to the brands that are realizing that real natural beauty comes in many shapes, sizes and ages.
Photo – Belongs to Advanced Style Blog by Ari Seth Cohen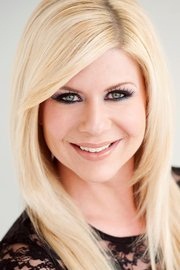 Shannon Lazovski s the Founder & Editor of Detroit Fashion News.  Find out more about one of Detroit's leading fashion bloggers here!