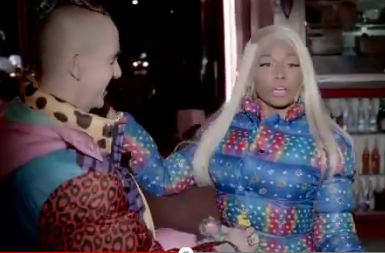 Back in April, Nicki Minaj and Jeremy Scott filmed an Adidas campaign in the streets of New York City.  Many of you have been asking when the launch will take place.  Well, you don't have to wait anymore! After months of anticipation, the video has finally premiered and, it's even more amazing than we expected. The video starts off with Nicki and J Scott hanging out in their super hot mix patterned puffy jackets, and then it cuts to other cool cities across the globe where Sky Ferreira and Big Sean Chilling come together in their decked-out Adidas Originals gear. The coolest  surprise of all is when FAVE K-pop group 2NE1 show off their dance moves in Tokyo, completely decked out in head-to-toe Jeremy Scott x Adidas gear.
It's hard to pick out our favorites since there's so many hot outfits.  The rainbow keyboard dress,  the leopard tracksuits, the angelic Jeremy Scott graphic tee….the presense of these ensembles took our breath away.  We also score double points seeing our favorite musicians decked out in these killer Adidas Originals. Check out  Nicki, Jeremy and 2NE1's Adidas outfits in action in the video below!
Have you seen the new Adidas Original Video? No? Now you can!

Shannon Lazovski is the CEO of SoGlam Media & Founder/Editor of Detroit Fashion News.  Find out more about Shannon here!