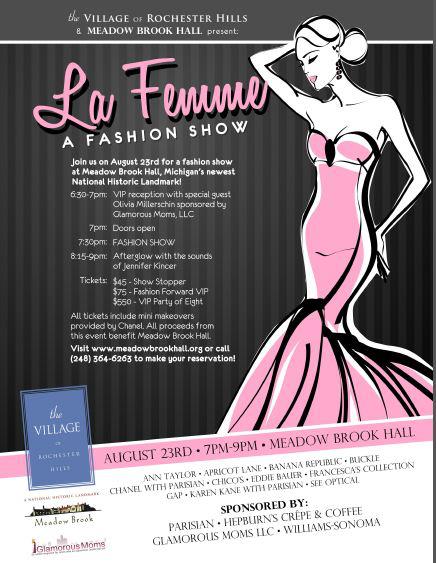 The Village of Rochester Hills will be hosting their fall fashion show at Meadow Brook Hall this Thursday, August 23, 2012.  The event is named after the 1950's Chrysler car, La Femme, created entirely for the female driver.  The car will be on display the night of the event for all attendees to appreciate on loan from the Walter P. Chrysler Museum.
Proceeds from the show will go towards Meadow Brook Hall as several stores feature fall trends and styles new for the season.  I am proud to admit, I will be emceeing the event, sharing my knowledge on fashion while commenting on each look as the models grace the runway.  Each brand will be displaying their own looks and specific signature pieces as well as featuring one pink ensemble to support the La Femme theme.
"We have an elegant evening planned showcasing the fall fashion trends that will get our audience excited for the upcoming season," said Shelleen McHale, marketing director at the Village of Rochester Hills.  "A strong collection of stores will showcase the latest must-have styles during the runway show."
The fashion show will feature styles for men, women and children from retailers located at the Village of Rochester Hills including; Ann Taylor, Chico's, Banana Republic,  Eddie Bauer, GAP, Francesca's Collections, Buckle, Parisian and Apricot Lane, the newest addition to the Village line up.
"Attending this fashion show is a perfect opportunity for ladies to contribute to a National Historical Landmark," explains McHale.  "Meadow Brook Hall was just given the honor this past month."

Show stopper tickets are $45 for the event, which runs from 7 p.m. to 9 p.m. Fashion Forward VIP tickets get you in the door at 6:30 p.m. for a private reception hosted by our sister brand, Glamorous Moms,  and are $75 each or $550 for a party of eight.  To purchase your tickets, visit www.meadowbrookhall.org and go to their calendar of events.  You can also call (248) 364-6263.

Shannon Lazovski is the CEO of SoGlam Media & Founder/Editor of Detroit Fashion News.  Find out more about Shannon here!