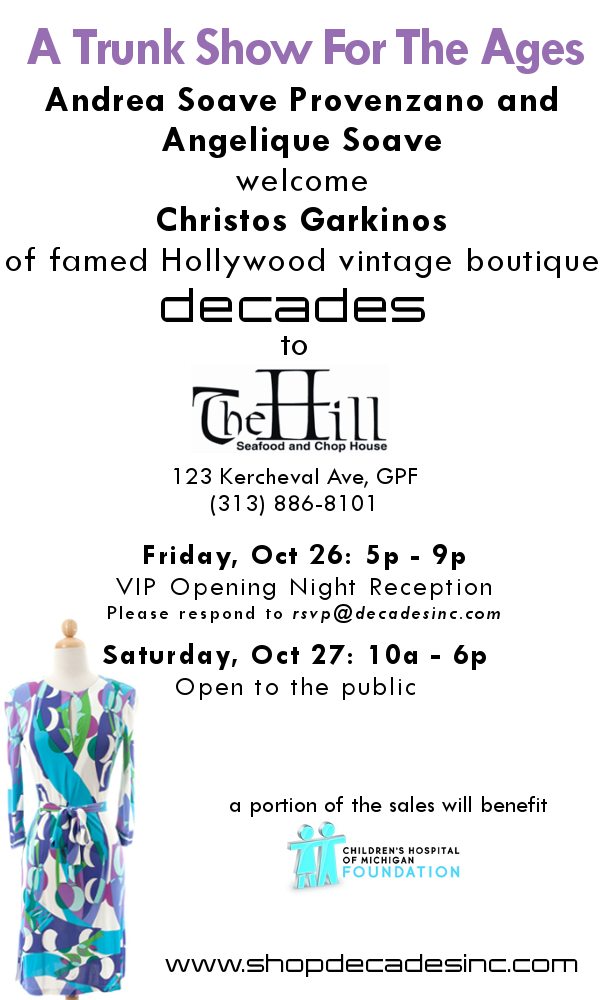 Decades is headed to the Motor City this weekend.  Are you ready? Decades, the Hollywood destination for red carpet couture is coming to Detroit to provide you the ultimate trunk show experience. Clothing provided will be from the closets of celebrities, stylists,  and fashion icons and will be available with a huge discount of up to 80% off the retail price.
Christos Garkinos, co-owner of the illustrious vintage retailer from Los Angeles,  is responsible for this fashionable event and he's got a few celebrity clients under his belt to prove he's got an eye for style and high fashion. He's worked with Selma Blair, Anne Hathaway and Rachel Zoe just to name a few.  Garkinos will be available during the trunk show to give his fashion advice and is also excited to share the news of his new Bravo docu-series with his family, friends and fans.
Last year, Garkinos and long time friends, Angelique and Andrea Soave Provenzano, started a successful partnership and the ladies have agreed to host the trunk show this year in their place of business named
The Hill
located in Grosse Point Farms.  The trunk show will be open to the public, Saturday October 27th from 10:00 a.m. to 6:00 p.m.  There will be a private VIP event for VIP guests and members of the media, Friday, October 26, 2012.
The talk around town is that Garkinos is bringing a selection of stunning vintage and modern clothing and accessories from top designer labels such as Balenciaga, Burberry, Chanel, Christian Louboutin and Gucci.  Where do the clothes come from you ask? Decades isn't just a travelling trunk show.  The haute consignment retailer has a place called home and it's a 4,000 sq ft boutique located on Melrose Ave in California, which includes new merchandise from top designers, exclusive one-of-a-kind couture gowns from popular eras past and used designer pieces sold to  the store from top Hollywood stars.
To learn more about the Decades visit
www.decadesinc.com
.  The Hill is located at 123 Kerchaval Ave, Grosse Pointe Farms, Mi. A portion of the event's proceeds will go towards the Children's Hospital of Michigan Foundation.

Shannon Lazovski is the CEO of SoGlam Media & Founder/Editor of Detroit Fashion News.  Find out more about Shannon 
here
.