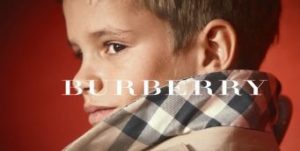 Having parents like David Beckham and Victoria Beckham, Romeo Beckham was bound to inherit some of his parents likable traits.  He's so handsome, Burberry  has added his pretty face to their new 2012-2013 marketing campaign. The 10-year-old model stars in Burberry's spring/summer 2013 ads, alongside Burberry favorites Edie Campbell and Cara Delevingne.
Along with Edie, Cara and Romeo, other model stars to appear in the campaign include Charlotte Wiggins, Alex Dunstan, Charlie France, and Max Rendell. As the others were all business-like and serious, rumor has it little Beckham was the one who stole the show during the shoot.
The recent Burberry campaign includes a mix of new and experienced models featuring a mix of Burberry Prorsum, Burberry London and Burberry Brit clothing.  The focus during the campaign is the brand's iconic trench and heritage outerwear. Only a minimum number of the photos have been recently released, further imagery and digital content will be released throughout the season.

Shannon Lazovski is the CEO of SoGlam Media & Founder/Editor of Detroit Fashion News.  Find out more about Shannon here.