Living in Michigan can be a bit awkward due to its weather specifically in the winter. This season of on-and-off snowfall, 22°F weather, and having a gloomy, dark day after receiving a glorious amount of sunlight may make one unenthused for spring and summer. I for one am excited for the coming warm season! Magazine clippings and inspiration are currently being gathered for my spring/summer wardrobe. We may still be in winter but there's no harm in preparation, right?
So what is trending for this year's spring season? Clear and simple: bold colors, bold prints. I mean, what's new for the springtime? Pantone, the leader of color communication, has declared "emerald" as the color of 2013. Yet this hue is just one out of the many cheerful shades that you can incorporate into your wardrobe, just look at the runways of spring/summer ready-to-wear.
Photo – Style.com
Dolce & Gabbana's "Italy-in-a-collection" show was nothing but rich reds, vibrant orange and yellows, greens, and blues with stripes and prints of figures. Textures of florals, embroidery, and laser cuttings were just added bonuses. For the more comtemporary woman, Diane von Furstenburg's collection is another prime example of the "it" trends. Although limited on prints like those of Dolce & Gabbana's, her segment on straight cut dresses and the red and metallic turquoise contrast makes me wish spring and summer would speed up just a little quicker. If there's one designer to be head over heels about for the lighter season it's Betsey Johnson. One look at her collection and you may just want to relive your teenage years all over again.
If only we could bring the runways of fashion week to Michigan. Sigh. Thankfully, there are plenty of brands here to choose from to fulfill your spring wardrobe need. H&M has all sorts of hues and prints with a variety of styles from V-neck dresses to something for your little one.
Photo – Lordandtaylor.com
This Donna Morgan dress from Lord & Taylor does great justice to your closet as well with modesty in mind.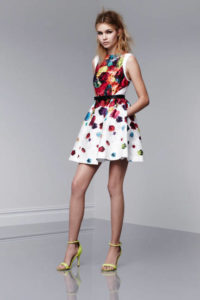 Photo – Elle.com
And, lo and behold, the Prabal Gurung x Target collaboration. Full out floral pieces with a touch of black? I'm all in.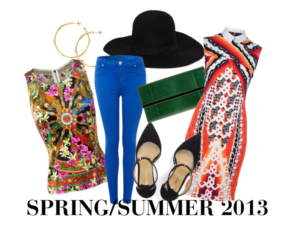 Photo – Created by jidg, polyvore.com
Whatever direction you may be heading towards for the post-winter season, the sky is the limit when it comes to colors and prints!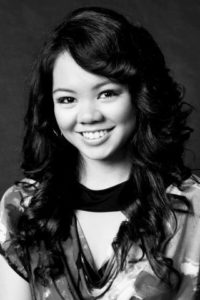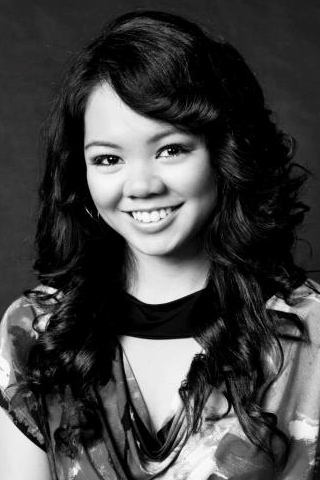 Jireh De jose
Detroit native Jireh De Jose  is a 21-year-old reaching for her dreams. After graduating from Brandon High School in Ortonville, Michigan in 2009, she studied Fashion Merchandising at Liberty University in Lynchburg, Virginia. To learn more about Jireh click
here
.