As news of the partnership between PPR and Christopher Kane swept the digital landscape on Tuesday, the fashion world erupted into exultant applause. British Vogue editor, Alexandra Shulman stated on Twitter, "This news will help Kane to become as big a label as his talent. It's a good day for fashion." Luxury e-tailer, Net-A-Porter, exclaimed "Exciting times ahead for Christopher Kane and London fashion on the whole! We couldn't be more proud. Congratulations!"
The thirty year old Scottish designer, who runs his eponymous ready-to-wear brand with his sister, Tammy, is a fashion wunderkind. His progressive creations and innovative concepts bend, push and contort the lines of fashion, continually setting the style scene for seasons to come. Examples are iconic and ample, from his gauzy gingham chiffon dresses in SS10 to the embroidered black leather and lace ensembles of FW10 and who could forget, the eye-searing neons of SS11 that single-handedly staged a revolution on the color palettes of our closets.
Labeled a "transformer," in Vogue, Kane found early fame as a student in London's prestigious Central Saint Martin's College. His fearless passion and skill caught the attention of Donatella Versace who offered Kane a full-time position at the iconic label (Kane declined, accepting instead a consulting position with the house's Versus line). In 2009, only three years after launch, Kane's spring collection sold out within twenty-four hours on Net-A-Porter and just last year, was one of three nominated for the British Fashion Awards designer of the year.
So it comes as no surprise that PPR, the French luxury conglomerate behind such powerhouses as Gucci, Saint Laurent Paris and Balenciaga, took notice of the beloved British brand and highlight of London Fashion Week, purchasing a 51% stake.  PPR has a reputation for providing support to rising designers and nurturing their growth, and both Stella McCartney and Alexander McQueen, who are among the multinational company's extensive designer portfolio, have benefitted from such supervision. According to the Wall Street Journal, "Alexander McQueen's sales have been multiplied by 12 since its acquisition."
In a press release, François-Henri Pinault, Chairman and CEO of PPR, stated, "Christopher is a truly great talent who has shown a real sense of modernity in the way he mixes elegance and subtle constructions. In just a few years he has built a very distinctive and exciting brand with a unique DNA. I am delighted that Christopher Kane is joining PPR's portfolio of luxury brands and working with us to further develop his business as a global luxury brand."
If the success of PPR's past labels are any indicator to what may come of Christopher Kane, the next chapter of this story is sure to excite and enthrall fashion fans the world over. His creative genius is unparalleled and now with the support of PPR, the designer has quite the journey ahead.
Until then, lets revel in some of the designer's most iconic looks from seasons past.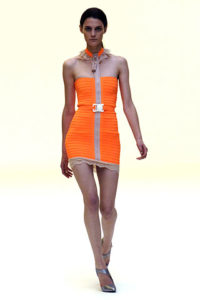 Spring 2007
The opening look from his first collection, this electric body-con dress was one of thirty-two looks to parade down the runway. The collection was inspired by the club scene in 90s London and boasted Versace shoes sent over by Donatella herself.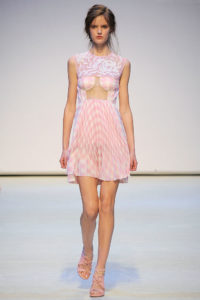 Spring 2010
"Pretty yet perverted, innocent yet disturbing—with its gingham chiffon, fan pleating, puff sleeves, and thigh-split dresses, Christopher Kane's Spring collection walked the fine line between good and bad taste that has made his clothes such a phenomenon," stated Sarah Mower on Style.com.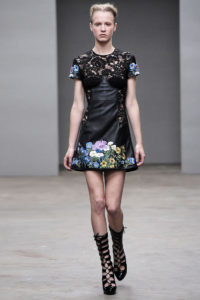 Fall 2010
A collection defined by floral-embroidered leather and lace ensembles, Kane was looking to recreate his image of a "delinquent teenager." This particular piece was worn by Emma Watson of Harry Potter fame when the actress attended the closing party for the London Show Rooms in New York.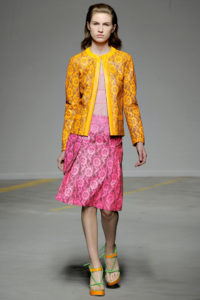 Spring 2011
Consisting mostly of vinyl-coated leather and lace in hothouse hues, this collection revolutionized the season's palettes, solidifying neons and electric brights as the colors of spring. Kane is always one for a clever contradiction, and his sister, Tammy, put it best when describing this show: "Princess Margaret on acid."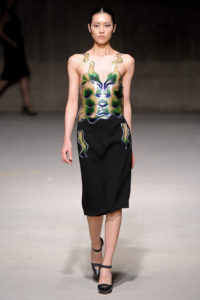 Fall 2011
Tim Blanks for Style.com wrote, "The extraordinary plastic trims that arrived to infect severe black shift dresses were inspired by the squidgy pencil cases filled with glitter and colored liquid that were a schoolkid craze at some point in the Kane infancy." Aside from the plastic wonders that wowed the front row, Kane weaved a homespun spirit into the collection with crocheted separates for yet another slice of contradiction.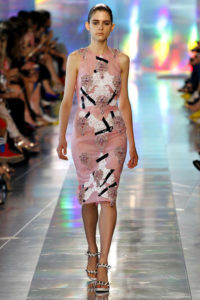 Spring 2013
Organza dresses in the show's finale featured crystal and white lace appliqués alongside black tape to create looks that resembled "fashion monsters." It is this play between dark and light, subversive and sweet, bad and good, that has made the young fashion star a favorite of women everywhere.
Photos- All photos belong to Style.com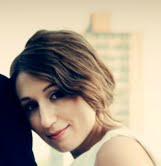 Born and raised in the suburbs of Detroit, Giuseppa always had her eye on the big city. Her passion for writing and fashion led her to internships at Vogue Magazine, Giorgio Armani, HOUR Detroit Magazine and Real Detroit Weekly. To learn more about Giuseppa click here.