From two-toned leather to glamorous tartan and a masterful mix of animal prints, Pre-Fall 2013 saw designers remastering fashion favorites. While these collections won't hit stores until late summer, there's no reason why you can't begin to incorporate these trends into your current winter wardrobe. So get ready to set the style precedent, as our top three picks for the season ahead start here.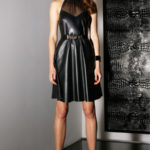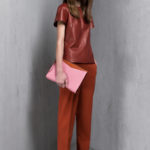 Leather has never looked better.
At once timeless and contemporary, leather has been used to dress both men and women, the trendy and the rugged and to craft everything from skinny pants to handbags. As designers re-imagined the Harley favorite, the results put forward were fresh and fierce. Jason Wu used the fabric to add a never-before seen edge to his much-loved cocktail dresses. Tomas Maier wowed the front row by unexpectedly fusing both matte and patent leather in a sleek jacket for Bottega Veneta. For Narciso Rodriguez, the notorious minimalist, leather took center stage of the show as he cut and draped calfskin so elegantly it could have been mistaken for cashmere. His oxblood T-shirt and camel midi skirt were among the highlights.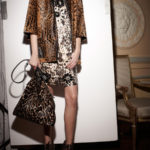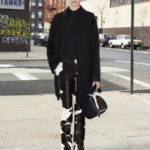 A case of animal fever.
Alber Elbaz put it best, "fashion is a zoo." The beloved Lanvin designer was speaking in regards to his latest presentation which focused heavily on animal prints and fur. Zebra, cheetah and leopard seemed to amalgamate across coats, shifts, shoes and bags executing designs that were unexpectedly chic, thanks to the label's clean and modern lines. The sun didn't set with the Parisian house, however, as designers from New York to London continued to show a penchant for the wilder things in life. Christopher Bailey at Burberry Prorsum took the British house's classic trench and redefined it in a black and camel giraffe print. Gucci's Frida Giannini looked to the house's signature glamour when creating a vivacious jaguar gown, a noteworthy choice for the red carpet bound. But leave it to Riccardo Tisci and Givenchy to let the lions loose as the notorious downtown-cool designer gave abstract animal prints an androgynous angle with masculine cuts.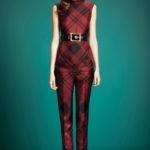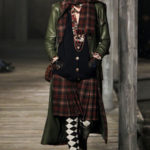 Not your grandmother's tartan.
From a hardcore twist to the grunge infused to the sleek and sexy, tartan, in all its forms is a Pre-Fall must. Coco Chanel's famous trip to Scotland with the Duke of Westminster lent inspiration to Karl Lagerfeld's designs for the iconic Parisian house. Best defined as a dark and tragic romance, we loved when Lagerfeld  styled the classic fabric à la Kurt Cobain with leather, combat boots and loads of layers. Then there was Thornton Bergazzi for Preen, who gave the London label a slight Sex Pistol spin using tartan and a heavy dose of attitude to create quite the punk-inspired look. Across the spectrum into a decidedly more demure direction we find Gucci who used the classic print to create a sophisticated two-piece ensemble we hope to see on the set of Mad Men.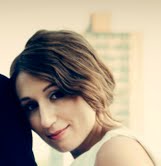 Born and raised in the suburbs of Detroit, Giuseppa always had her eye on the big city. Her passion for writing and fashion led her to internships at Vogue Magazine, Giorgio Armani, HOUR Detroit Magazine and Real Detroit Weekly. To learn more about Giuseppa click here.