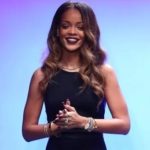 Rihanna recently launched her new clothing line during London Fashion Week,  and….well….I hate to be a wet blanket but I don't think I'll be rushing to buy any of her designs.  Rihanna for River Island is the name of her new collection. Often seen in cut off shorts or cut-out dresses, the super star singer turned her personal style into a collection others can wear if they want to look just like her.
Other common looks for Rihanna that are incorporated into her line are midriff baring tops, denim, baby tees and figure flattering dresses made with thin fabrics. This line may not be for me, but I'm certain there's a huge fan base out there that will love it. Unfortunately though, critics are having a field day with the collection, calling it "Fright Night at Kmart" and "slutty".
You can view some of the collection photos  by clicking
here
.  After viewing, leave a comment below and let us know what you think. Do you think it will be a big hit among Detroiters? Do you think the critics are being too harsh?

Shannon Lazovski is the CEO of SoGlam Media & Founder/Editor of Detroit Fashion News.  Find out more about Shannon 
here
.