Spring has officially arrived and with it are lots of new ways to add something fresh to your wardrobe.  Get inspired and be prepared for the season with five of my favourites for Spring/Summer 2013 below.
Bare Legs and Briefs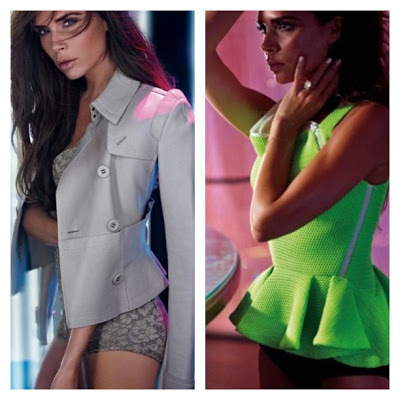 Victoria Beckham for Elle UK March 2013 in Burberry Prorsum (left) and Chalayan (right)
(Photo Credit: Elle Magazine UK)
Not unlike many of the takes on this trend shown on the recent Fall/Winter 2013 runways, this look's spring predecessor is a perfect fit for the approaching sun and warm air of the season.  I'm inspired by the Burberry Prorsum SS'13 show, which features lots of lace and metallic bodysuits, and high-waisted briefs paired with capes and jackets.  Offering three takes on the trend – a bodysuit, peplum top, and mini satin shorts – sported by this month's cover girl, the March edition of Elle UK confirmed the high fashion approach to the lack of pants as a favourite.
Lace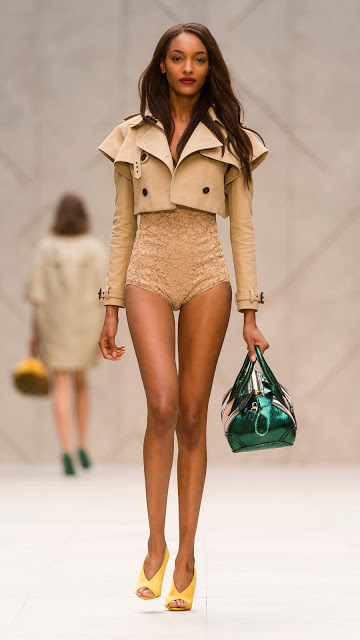 Burberry Prorsum Spring/Summer 2013
(Photo Credit: Style.com)
Spotted on bodysuits, shirts, and trench coats at Burberry Prorsum, lace looks are proven to be perfect for every occasion… And as spring weather looms within reach, social media has been abuzz with multiple ways to be inspired.  Nanette Lepore took to her Facebook page to offer her sporty approach while Diane von Furstenberg has launched an "Embrace Lace" social media campaign with a more flirty and feminine feel.
Mint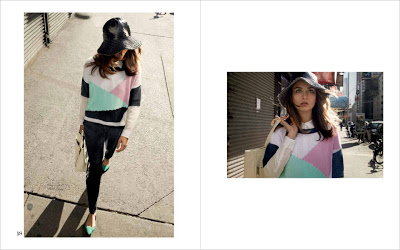 Club Monaco Spring 1 2013 Lookbook
(Photo Credit: Clubmonaco.com)
While it may have been popular on the Spring/Summer 2012 runways, this shade remains the current season's most popular take on spring pastels.  I was initially inspired by a look in Balmain's Resort 2013 collection and love this colour for a fresh spring outfit.  The colour is perfect for handbags, like those created for this season by Kate Spade, and also silky blouses which are a common find at shops like Aritzia, Club Monaco, and Forever 21.  Mint also offers the perfect minimal accent to any look when sported on nails.
Monochrome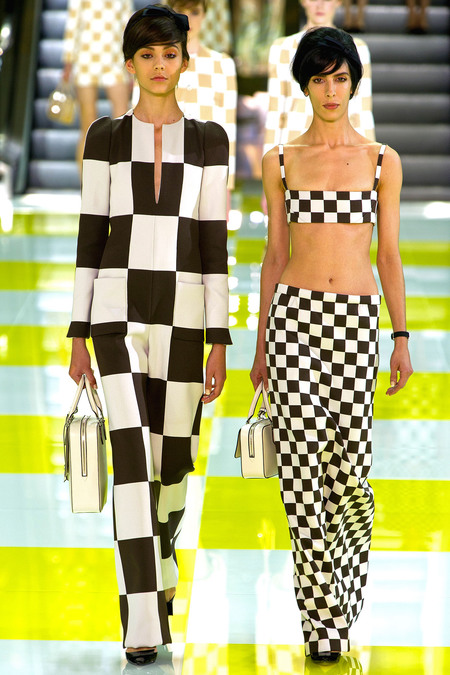 Louis Vuitton Spring/Summer 2013
(Photo Credit: Style.com)
While I am still coming to terms with my debate on how (un)flattering monochrome is for the average woman's figure,  it is quickly appearing everywhere in the form of checks, stripes, and prints, and I'm not sure I want to be left behind.  Marc Jacobs, Louis Vuitton, and many other designers opted for a black and white look this season and the favoured checks and stripes can be spotted everywhere from the runway to chain stores like Club Monaco, Topshop, and Forever 21.
Shorts Suit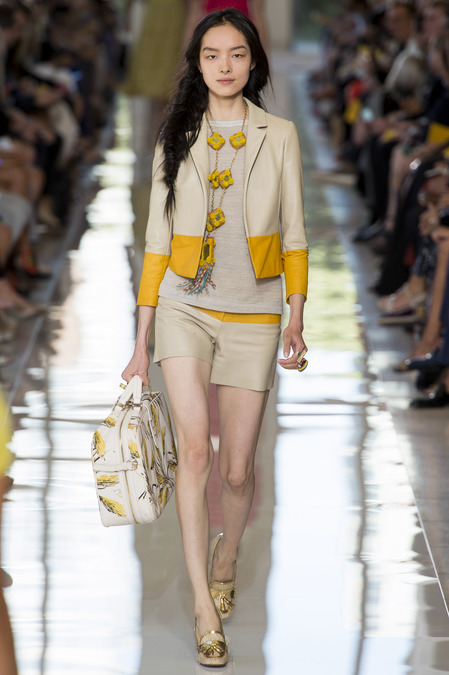 Tory Burch Spring/Summer 2013
(Photo Credit: Style.com)
Shorts suits are getting lots of attention and popular publications like Harper's Bazaar and Glamour have made note of one of this season's hottest go-tos.  This look popped up on the Spring/Summer runway of designers like Tory Burch, Michael Kors, Jil Sander, and Carven.  I absolutely love this take on a classic suit which adds some structure to a warm weather look while also breaking the mold of traditional boring business attire by replacing dull colours with spring brights and frumpy trousers with mid-thigh and knee-length Bermuda shorts, offering the perfect opportunity to show off your shapely summer pins.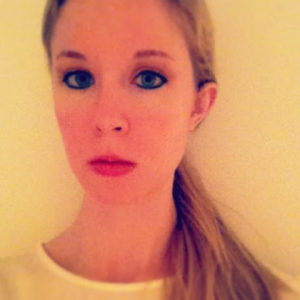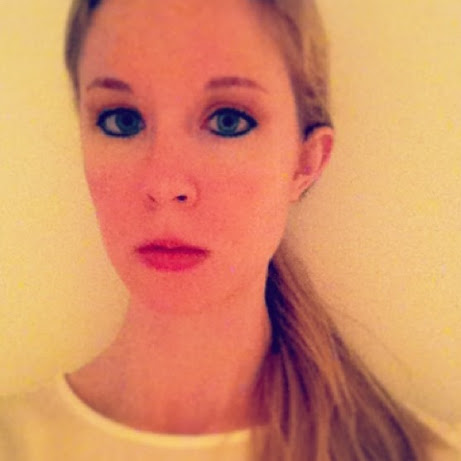 Meaghan Elizabeth is a fashion stylist and blogger interested in high fashion, personal style, trends, designer collaborations and shopping adventures.  Read more about Meaghan here.