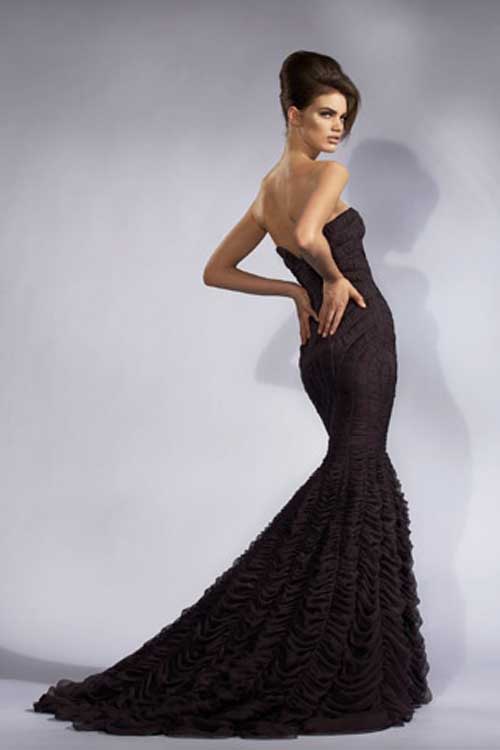 What will you be wearing to the North American International  Auto Show Charity Preview Gala this year? This seems to be the question of the month.  Many magazine professionals and stylists here in Detroit have been quoted in local publications stating it's okay for women to wear shorter length gowns and dresses including  3/4 length and even shorter. It has also been said it's okay for the gentlemen sporting tuxedos (as they should at a black tie gala) to wear colored shirts such as purple, green, red, black and blue under their jacket.
I have to admit, I simply support the classic looks.  I feel holding on to the tradition of wearing a crisp white tuxedo shirt for a man and wearing a long memorable statement gown for a woman is crucial during high-profile events like this. I do love cocktail dresses, but when wearing one to an event such as the NAIAS Charity Preview Gala, it must scream the words "high fashion", "extravagant" and "magical".  Many times, when we give society a chance to downgrade their wardrobe there are individuals who take advantage. One can easily make the wrong decision and take the new rule "it's okay to wear a short dress" and change it into "it's okay to wear a dress that barely covers my derriere.  This is simply unacceptable at a charity gala.  For the men, wearing a colored shirt could send a message to others that you cannot be taken seriously or professionally. As we all know, some  of the most prominent business men and women in Metro Detroit attend this gala.  Should they be the ones making a lesser than classic statement? Or should their dates or significant others be making that statement? I say neither. It's in my best interest to share the best fashion news and fashion advice with all of you.  There are times to dress down and less extravagant, this is not the occasion to do so.
Do you disagree? Leave us a comment and tell us why.
Photo – Versace evening gown

Shannon Lazovski is the Founder & Editor of Detroit Fashion News.  Find out more about one of Detroit's top fashion bloggers here!