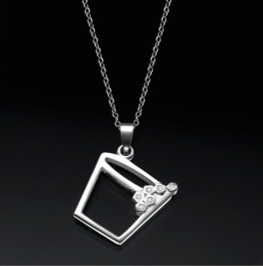 Academy Award winning Eddie Redmayne won the "Best Actor" title at this year's Oscars for his role of Stephen Hawking in The Theory of Everything. If you haven't had the chance to see the movie, Stephen Hawking is a character known for his scientific works and published writings who suffers from a rare-onset slow-progressing form of ALS.  The disease paralyzed him over decades and has left him to communicate through a single cheek muscle attached to a speech-generating device.
We've all heard about ALS and the global social media buzz regarding the ALS "Ice Bucket Challenge" which shed even more light on the disease. Celebrities have taken a stand against the disease, Hollywood has as well through on screen characters and awareness worldwide has gone even stronger over the last couple of years. It is clear steps are being taken to end the terrible disease that is affecting so many.
Must Jewelry, a modern and trendy jewelry company, also commits to continue to strive towards ending ALS through a brand-new Ice Bucket themed line using their finest silver, gold and diamonds. Twenty percent of all sales go directly to the ALS Association, which is more than 65% of profits. The Ice Bucket line retails for $125 and is available in both men's and women's styles. Must Jewelry manufactures their own diamonds to the implementation into actual jewelry, the process starts in the mine and ends on the consumer's finger. Each piece is hands on polished to perfection including the pieces created for ALS awareness.  Want to learn more? Click here to view their website.