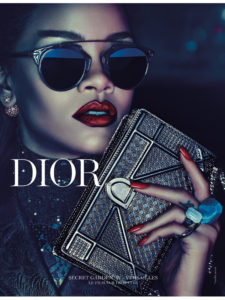 We've all seen Rihanna in photos sitting in the front row of her favorite Dior shows but the time has come when she becomes a Dior girl herself.  Back in March, an announcement was made the famous diva would star in the fourth installment of Dior's "Secret Garden" campaign which was shot by Steven Klein in Versailles.  Rumor has it she's been having a hard time keeping this a secret because she is extremely excited to be a part of such a wonderful brand, not to mention her favorite designer's ad campaign.
Now, a few months later, her ads have been revealed and we are completely addicted to what we've seen so far!  Her ads bring glamour to the brand and are absolutely stunning. The print and video ads show the star in a fantasy-like sequence, wandering around the infamous palace and walking up the enchanted staircase, all while unbelievably gorgeous in Dior clothes and accessories.
Rihanna joins actresses Jennifer Lawrence, Marion Cotillard and Natalie Portman – who are all current faces of the Dior collection but she is the first black woman to front a Dior campaign.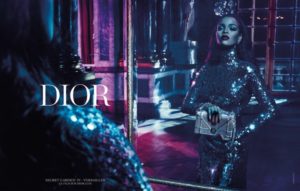 Follow #secretgarden4 on social media to catch a glimpse of Rihanna's Dior video and to keep up with the latest reveals!
Photos – Dior