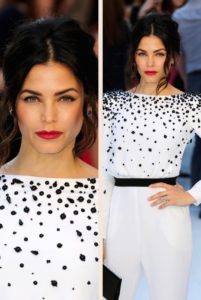 The gorgeous Jenna Dewan-Tatum, wife of Channing Tatum, was recently seen at the Magic Mike XXL premiere supporting her husband. Jenna looked gorgeous in her dazzling white jumpsuit, but did you notice her jewelry?
The actress wore Le Vian earrings and a Djula ring while walking the red carpet with her husband in London on June 30th.
Let me give you some background on why I'm in love wither her choices. Le Vian is considered one of the oldest jewelers in the world today and the brand is still catching my eye. Also capturing the eyes of ancient royalty and the most famous celebrities on today's red carpet, Le Vian's designs are regarded as works of art. Artisans craft rare fancy color diamonds including Pink Orchid Diamonds™, Sunny Yellow Diamonds™, Blackberry Diamonds™, Vanilla Diamonds™ and Chocolate Diamonds! Yes, you see where I'm going with this right? These are innovative designs, combining colors of gems and flavors of gold with intricate detailing. Master gem cutters then utilize Le Vian's innovative cuts to reveal the exceptional beauty of each gem.
As for her Djula ring, I was mesmerized by it's uniqueness and never-ending sparkle. Establishing itself as one of Europe's leading jewelry designers, Djula was created in 1994 by Alexandre Corrot. Initially inspired by the early 20th century, with influences from the "Roaring Twenties" and the Art Deco period, Alexandre took his inspiration further, reinventing fashion jewelry with bold introductions. Each piece of black gold, geometric patterns, lace and delicately intricate details were and are like no other. Alexandre refines his work, reinterpreting and rediscovering his essential collections with a single goal in mind: to create a piece of wearable fashion that women want to accessorize with each and every day.