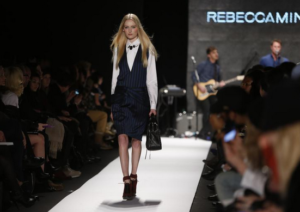 Rebecca Minkoff has made an announcement regarding her future with New York Fashion week. The designer has decided to show items in February, but will be specifically showing products that will be available to customers within approximately 30-45 days according to a recent press release from her label. Another fun change that caught our eye is rather than the audience being made up of department-store buyers, actresses and popular magazine editors, the room will consist of top customers of the brand. Industry professionals will be allowed to view merchandise from the next season via appointment only. This is quite a change from what this community is used to.
"We have seen that the current fashion show system isn't working," she said in a press release, pointing out that it's not beneficial since there is a 6-month lag between the fashion show and when the items actually hit the store racks for her customers.
Social media and industry influencers will be invited to help promote the lines and now customers will be able to receive items in a timely manner so they too can wear new designs right away (usually it's only the bloggers and celebrities within the 6 month timeframe).
We' re liking this slow change within the industry.  Designers are starting to cater to their customers now.  You know, the ones that keep them in business?  Yes, a common sense-like idea and we love it! What do you think?
Photo Credit – Reuters