The Deep Sea Wonders collection is the second ALEX AND ANI|CHARITY BY DESIGN® collection sold in support of UNICEF.  The beautiful five-piece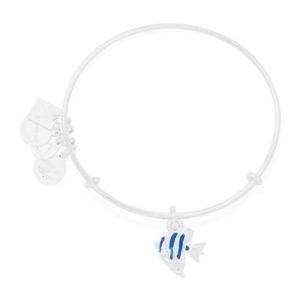 bangle collection retails at $38.00 each and features a lobster, angelfish, jellyfish, octopus and hermit crab charm made of brightly colored enamel. These deep sea creatures represent how significant each one of us is to the well-being of our planet, our communities and our individual paths.
Alex and Ani will donate 20% of the purchase price from each piece sold in the Deep Sea Wonders Collection between May 1 and August 31 2016. With this support, Alex and Ani will help UNICEF address the immediate needs of children affected by conflict and natural disasters, and use the transformative power of education and early childhood development to help kids heal from trauma, promote peace and have a brighter future. Whew!  I'm convinced they are eager to save the world and I support their every effort!
The Deep Sea Wonders Collection launched on May 16, 2016. Visit your local Alex and Ani store to view the beautiful pieces yourself! Click here to view locations.



*Disclosure – This post may contain affiliate links. By clicking and shopping, you help support our team and allow us to keep reporting on all things fashionable.