Michigan Fashion Week is planning on taking 2017 by storm. The organization, which was founded in 2012 by Michigan native Loren Hicks, puts on a variety of events each year that highlight the well-known and up-and-coming designers, models, stylists and other fashion-savvy people from all across the state.
Last April, MFW hosted their first Fashion Summit at the A. Alfred Taubman Center for Design Education in downtown Detroit. Over 100 students and business professionals gathered at the the one-day conference, where they sat in seminars that focused on the business of design, blogging, modeling and styling.
This year, Hicks and her team have vowed to make the Summit even better, and have a few other exciting things up their fashionable sleeves as well. Detroit Fashion News got the opportunity to speak with Hicks about what MFW has been up to, and how you can stay in touch so that you'll never miss a beat.
DFN: On Feb. 3, MFW is going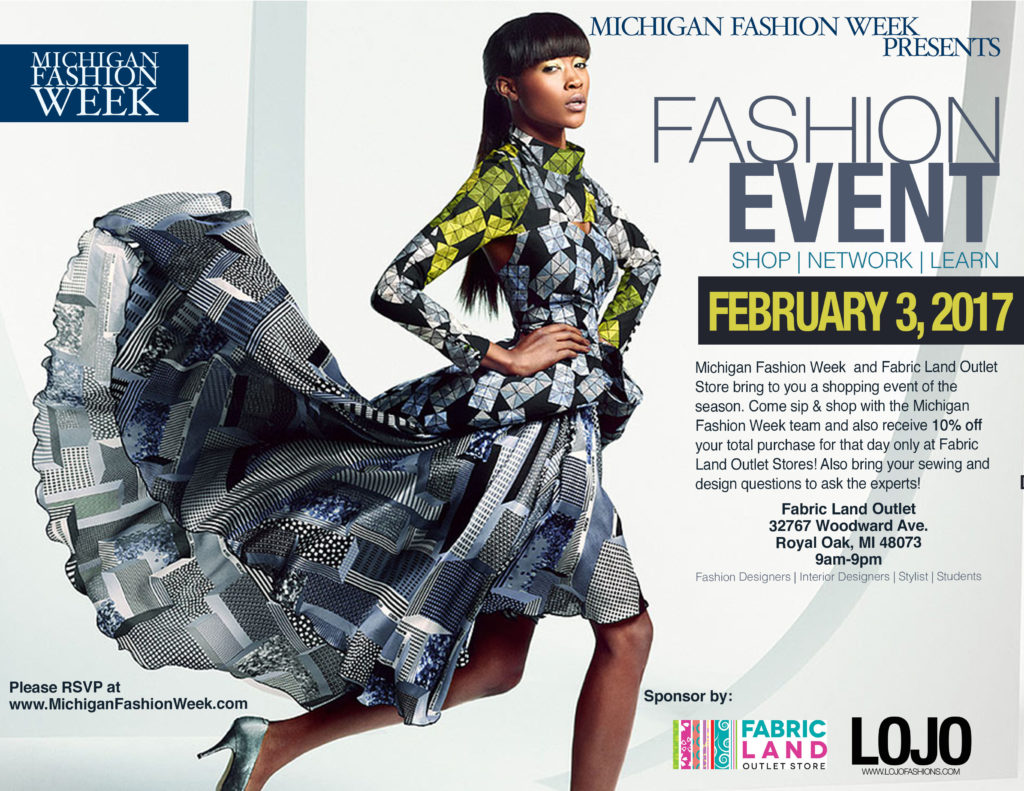 to be hosting a fashion event in collaboration with Fabric Land Outlet Store. Could you give us more details about it?
Loren Hicks: The event is going to be at the Fabric Land Outlet; we have a great partnership with them. We just love each other. We're going to be offering everyone that comes out a good discount, just because they love what's going on with the fashion scene here in Michigan. At the event, we're going to have live demos, we're going to have sewing experts there, so if people have questions about a certain stitch on a garment, or what type of fabrics should be used for what, we're going to have a lot of knowledgeable people there. We're going to be answering questions and giving presentations. It's just going to be a roundabout learning experience about textiles and [sewing] notions, and all of that.
DFN: When you say presentations, are there going to be designers showing their clothes? Or are there going to be people giving tips about sewing?
Loren Hicks: It's going to be just about sewing, learning fabrics and learning stitchings. They're really going to be presentations on different fabrics and textiles.
DFN: Very cool! Registration for the event is free. Why do you think that free fashion events are so important and beneficial to the community?
Loren Hicks: First of all, it gets people to come out. Secondly, our goal at MFW is to really just help people. If you can't afford certain things, we still love to have resources for people to come and learn and do, and for them to see what's going on. Sometimes you just need the resources; you just need that jump start where you won't be charged to come to an event.
DFN: The event on Feb. 3 is from 9 a.m. to 9 p.m., correct?
Loren Hicks: Yes. It's an all-day event, so whatever time you're free — if you have a lunch break, or if you have time before work or after work, we're open. We're going to be there all day.
DFN: You're also gearing up for the second annual Fashion Summit. Can you talk about the success of the first event? What should we expect to see this year?
Loren Hicks: The first Summit was really, really good. We had over 100 people show up. There was a lot of good learning, a lot of good networking, and a lot of connections being made. We just had an overall good relationship with everyone that came, and everyone had something positive to say. This year, we're going to be expecting that same thing. Expecting good outcome, expecting great teachers, expecting good networking. It's going to be a good opportunity for people in the fashion community to come learn and network.
DFN: Did you change some things this year?
Loren Hicks: We're going to have different speakers. We're still in the works about who is going to be there. The titles [of the workshops] and what we're going to be talking about is going to be a little bit different. We're going to be focusing on fashion photography because we didn't hit on it last year. Also, fashion marketing. Those are a few things that we didn't hit on last year, but we're really going to focus on this year.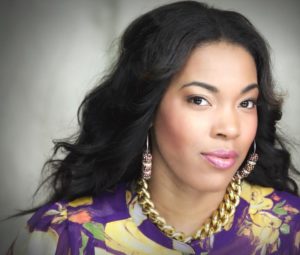 DFN: This September, you're going to be putting on the MFW Showcase where designers, models and artists from all over Michigan are going to be highlighted. Can you talk more about the event? I know you can't tell us all the details!
Loren Hicks: I can't share all the details! But, I can say that it's going to be something super exciting. It's going to be really different. We've been working on it for a whole year now, so it's definitely going to be something that's so creative. It's just going to be an overall good experience. Just save the date: Sept. 17. We'll have more details forthcoming, but it will just be a good time; a good evening. We're expecting over a thousand people.
DFN: For the showcase, as far as you picking designers, how would someone go about applying to put their work in the show?
Loren Hicks: If they're interested, they can always email us. What we'll probably do is refer them to a casting call date. We'll probably have two dates for casting calls throughout the year. I would tell everyone to just stay updated with us on social media, subscribe to our email, and stay connected with us because we'll definitely be displaying the dates and how they can get involved.
DFN: If someone wants to intern or volunteer with MFW, how should they go about getting involved?
Loren Hicks: We just had our intern deadline on Dec. 31. If they're looking to volunteer, they can email us their resume.
DFN: Do you have anything else you'd like to add?
Loren Hicks: Keep up with MFW if you're into fashion. We've got a lot more coming in 2017 other than the Summit. If you want to be involved, don't be shy. Let us know! We're always looking for people to be involved, and we're looking for talent, always. If this is something you've always wanted to do, this is the time to go after it, let us know, and do it.
Stay in the loop with all things MFW! Follow them on Instagram @mifashionweek, Twitter @MIFashionWeek, and "Like" the Michigan Fashion Week Facebook page!
Written by Evann Webb
*Disclosure – This post may contain affiliate links. By clicking and shopping, you help support Detroit Fashion News and allow us to keep reporting on all things fashionable.