New York Fashion Week is a time that all fashion-lovers look forward to twice a year. It is a time for designers to show the public what they've been working on, and for journalists and bloggers to tell everyone what trends they should be watching for in the months to come.
NYFW is typically filled with glitz and glamour, but this year's showcase was different. With all of the recent events happening in America, designers decided that this was their moment to be heard loud and clear. Several fashion houses presented politically-charged pieces in their shows. While some designers made more bold statements than others, the theme of resistance was evident all week long.
Below is a list of designers that had something to say.
Prabal Gurung
Prabal Gurung's Fall 2017 collection was an ode to all women. After showing his models in striking pieces in neutral and bright yellow hues, he had all of them change into graphic T-shirts with feminist slogans. Some of the T-shirts read, "The future is female," "Yes, we should all be feminists," and "Girls just want to have fundamental rights."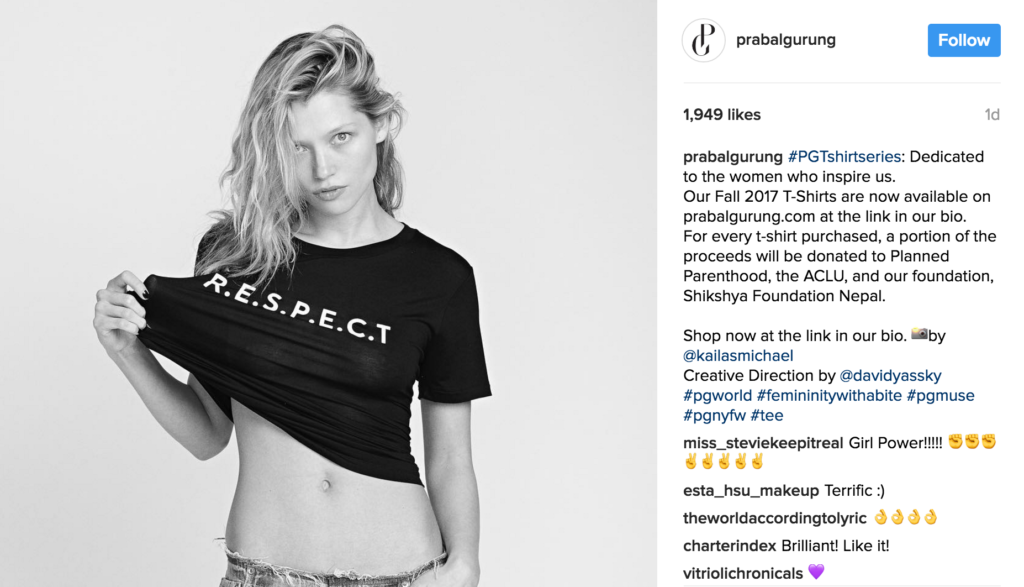 To view Gurung's entire T-shirt series, click here.
Creatures of Comfort
The New York-based fashion and lifestyle brand put out two limited-edition hand silk-screened graphic T-shirts to show their contest to current events. One shirt read "We Are All Human Beings," while the other simply read "¡NO!" in bold black lettering. Fifty percent of the proceeds from the T-shirt sales will go toward the National Immigration Law Center.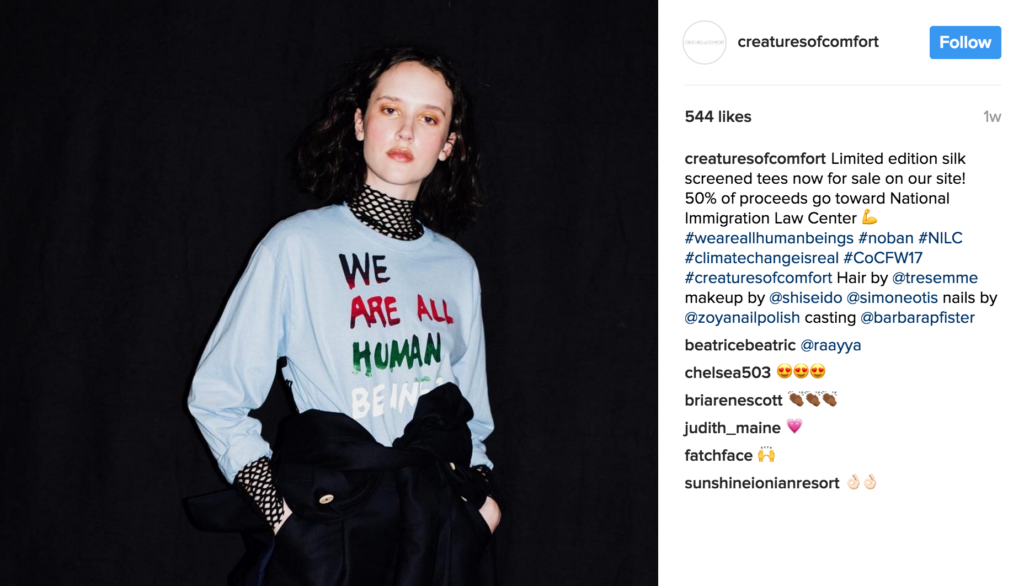 Christian Siriano
Siriano has been on fire lately with his unique designs and his inclusivity of various body types within his collections. The Season 4 winner of Project Runway debuted his "People Are People" T-shirts on the runway of his Fall 2017 collection. After the show, the tees went up for sale online, with all proceeds going toward the American Civil Liberties Union.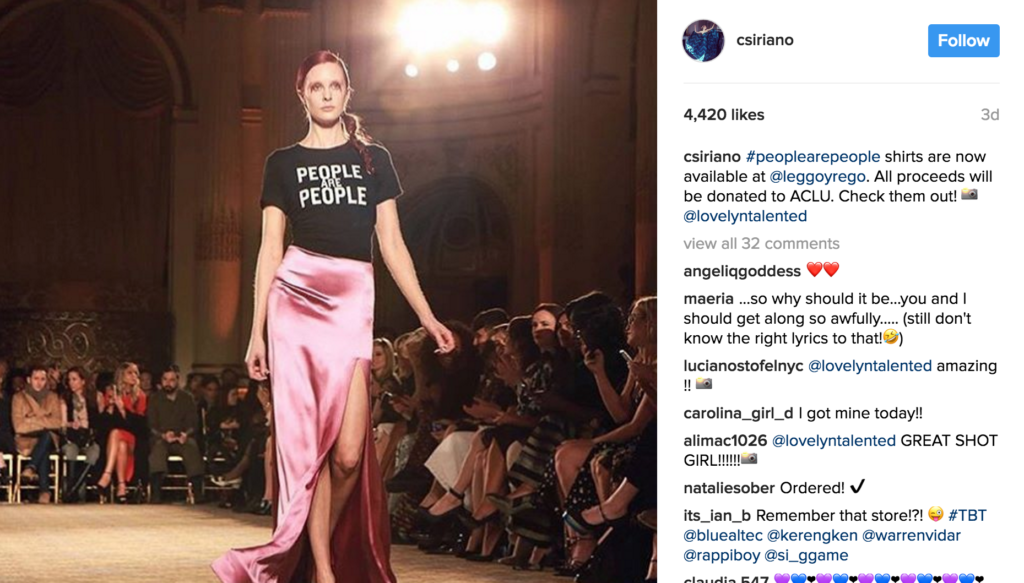 LRS
Raul Solis, creator of LRS, did not hold back when it came to expressing his political views through his collection this season. Solis, who was born in Mexico, dressed his models in white underwear that protested the border wall that President Trump is planning to build between the U.S. and Mexico.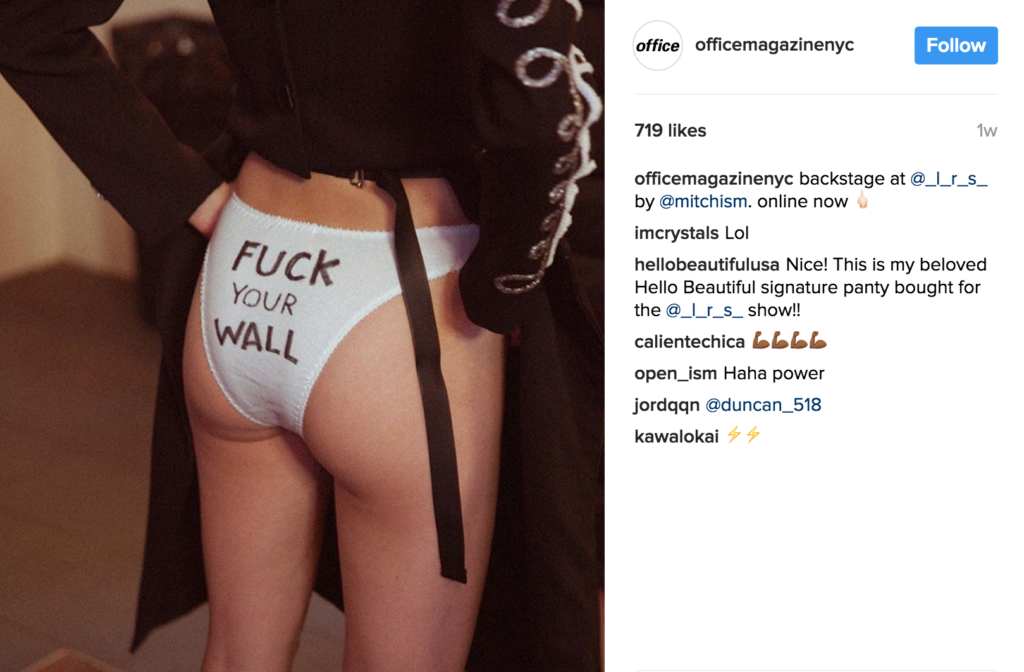 The Row
The Row took a more subtle approach to protesting with their collection. Words such as "freedom" and "dignity" were embroidered onto various articles of clothing.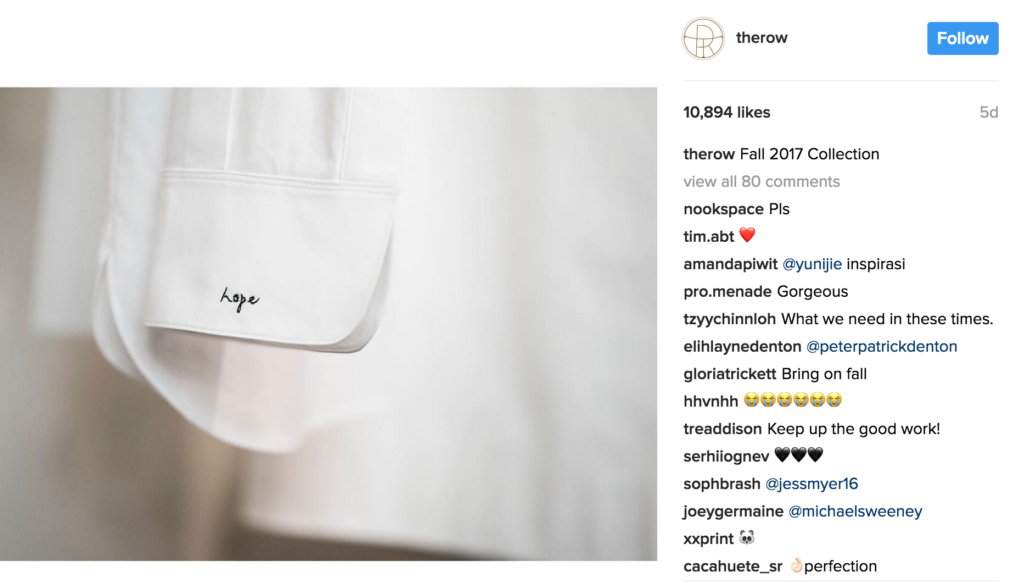 Alice + Olivia
Alice + Olivia designer Stacey Bendet also rode the statement tee wave with her "Be the change you wish to see in the world" shirt. The model wearing the T-shirt also wore a sequined pantsuit, showing the crowd that powerful women are not only fearless, but stylish, too.
Written by Evann Webb
*Disclosure – This post may contain affiliate links. By clicking and shopping, you help support Detroit Fashion News and allow us to keep reporting on all things fashionable.