Nneya Richards is #GOALS and is the epitome of cool!
Richards runs a successful blog, is a world traveler, and is the founder of Double N Rich Creative. On top of all of this, Richards is an extremely accomplished member of the fashion industry. Richards has styled many notable people such as Tai Beauchamp, Daniela Lopez Osorio, EJ Johnson, Ansel Elgort (star of the hit movie Baby Driver) and the former FLOTUS, Michelle Obama. She has also been featured in several major media outlets and was even a founding contributor to Teen Vogue magazine! To say it was an honor to interview Richards would be a major understatement. So, please enjoy this interview!
DFN: How would you describe your style?
Richards: This is always a hard question, but over the years I have settled on "constantly evolving" or "cosmopolitan."
DFN: Who is your celebrity style icon?
Richards: It is hard now because you know, everyone has a stylist and it is a lot more thought out. I admire Rihanna for taking risks and it does seem to be a collaborative effort with her and her stylist. A lot of the times I will look to old movies and fashion icons of yesterday so maybe I am inspired by wardrobe stylists. I love Zoë Kravitz's style and I would like to think that she got that swag from her parents. Also, Lisa Bonet, Zoë Kravitz's mother, has always been a style icon of mine. Finally, Barbara Martelo, former fashion editor of Vogue España, is another celebrity style icon of mine. I have had the biggest style crush on her for years!
DFN: What was your background before you started Double N Rich Creative?
Richards: I was a founding contributor to Teen Vogue magazine when the magazine first started. Therefore, I have had my name on a masthead of a magazine since I was fifteen. Our crew was pretty impressive. The crew included Bee Shaffer, Annabelle Dexter-Jones, Lola Kirke, Lena Dunham, and Selby Drummond. It was such an honor to share a space with those ladies! When I went to college, I thought I would go to law school when I graduated. I even wanted to join the FBI!  However, after college, I ended up working in PR for some really amazing companies such as Zac Posen and Topshop. I also ended up assisting some amazing stylists and one thing led to another!
DFN: Double N Rich Creative is a very unique company. I would love for you to describe the company to our readers?
Richards: After many years in the business, I saw a creative void in the fashion PR world for up and coming designers. When I was in tenth grade at Trinity school in New York City, I started at Teen Vogue as a founding contributor. It was during this time that I saw the bare bones of building a magazine.  A cold email to the White House resulted in one of my designers and I creating a look for the First Lady for the cover of Essence Magazine. This also resulted in me being invited to the White House for one of my designers to lead a design workshop and participate in a reception celebrating the fashion community!
Today, I consult with designers and I am styling and writing for everyone, including InStyle, PopSugar, and Vice. I even served as the Fashion Director at New York Observer and its parenting and lifestyle magazine, Scooter, as well as Scene a few years ago. Double N Rich evolves as I evolve and I have pretty much stepped away from the PR game and have been focusing on fashion and travel. Now it is more about 'N A Perfect World who is the brainchild of Double N Rich Creative. Maybe Double N Rich will be an umbrella company.
DFN: How did you get started launching Double N Rich Creative?
Richards: One consulting job led to another and honestly, I started it to simplify things tax wise! I had left the worst job that I have had to date (which is not saying much because, in most office settings, I was really fortunate to have loved my teams in most places) and did not have another job lined up. I just had to get out of an environment that was not the best for me. Thankfully, through word of mouth and friends, I got a consulting gig and it developed from there!
DFN: What was the hardest part about starting Double N Rich Creative?
Richards: The process of creating Double N Rich Creative was hard and it was also hard to walk away from a consistent salary. I love Double N Rich Creative but it leaves me drained and I do not have an off button. I feel like there is so much that I have not shared yet!
DFN: We love your blog 'N A Perfect World which entails a variety of topics including travel, food, and New York. Why did you decide to make your blog about other topics as well?
Richards: My blog is a travel and lifestyle blog, and fashion is a subset of it. Often, I am looking at fashion through the lens of travel and culture. The basic idea for 'N A Perfect World is taking my lifestyle writing, travel writing, and styling for other publications about going off the beaten path and embracing culture to the next level. 'N A Perfect World is a lifestyle blog for the passionate nomad and a curated intersection of travel, fashion, food, and geopolitics inspired by the global citizen lifestyle of the millennial. 'N A Perfect World 's end goal is to be the voice of the next generation of global citizens. I want more Americans to have passports and to encourage cultural exchanges that will lead to less insular thinking or misunderstandings.
Traveling is my passion. I got my first gig writing about travel a few years ago, writing about a place in Mexico I go to every winter. One travel writing job led to another and I started my blog as a place to encompass everything that I was interested in travel that maybe did not fit the publications I was writing for. For example, if SUITCASE magazine and Forbes were only interested in Tel Aviv's food scene and I was there for a week and met with amazing designers, 'N A Perfect World is the outlet where I could share everything that I want. I love fashion, but I am also a news and travel junkie. I will even listen to BBC World News and NPR all day every day and 'N A Perfect World reflects that.
DFN: There are many teenagers and college students who would like to do what you are doing and be a part of the fashion industry. What advice would you give them on how to break into the industry?
Richards: Be relentless about your passion. It will not be easy. There is a lot of grit behind the glamour. There is a lot of physical energy that goes into styling. For example, schlepping a garment back in ninety-degree heat, steaming garments, and dealing with racks. Also, you will face rejection, I am still getting rejected. I got laid off my first job out of college during department cut backs a day before my health insurance kicked in! Therefore, develop a thick skin and believe in yourself. It is a hard industry, but it is so culturally important. Fashion is art!
DFN: You have had some amazing experiences during your career. You have been featured on Vogue's website, styled top celebrities, and have also worked with some major magazines. What has been your most memorable experience thus far?
Richards: Being invited to the White House by Michelle Obama (who was the FLOTUS at the time) and being able to bring my mother as a guest.
DFN: What advice would you give inspiring entrepreneurs?
Richards: Do something you love. Being an entrepreneur is not a nine to five gig and there will be moments when you feel burnt out. You have to love what you do to make that choice to keep doing it every day. It is definitely not the path for the risk averse. Surround yourself with people you admire. Your mentors, your friends, and your support system should all inspire you.
DFN: What do you love most about what you do?
Richards: Inspiring women of all ages. When I am on stage speaking at Women's Travel Fest, it is kind of a rush and I definitely wonder about how I did. However, when women who are planning to travel abroad for the first time are so inspired by my passion for traveling that they approach me after—I am reminded again of why I love what I do. Also, the emails, direct messages, and comments that I get from young women are also what I love most about what I do. Growing up as a child, Instagram was not around and fashion was still very much behind the scenes. I also did not see myself reflected in fashion magazines and even today, I do not see myself reflected on travel shows. What dark skinned celebrity woman was there that was considered internationally beautiful and cosmopolitan and well-traveled besides Naomi Campbell and Barbie's friend Christie? At a certain point, it occurred to me that publicly being myself and living my life can help a lot of young women feel confident.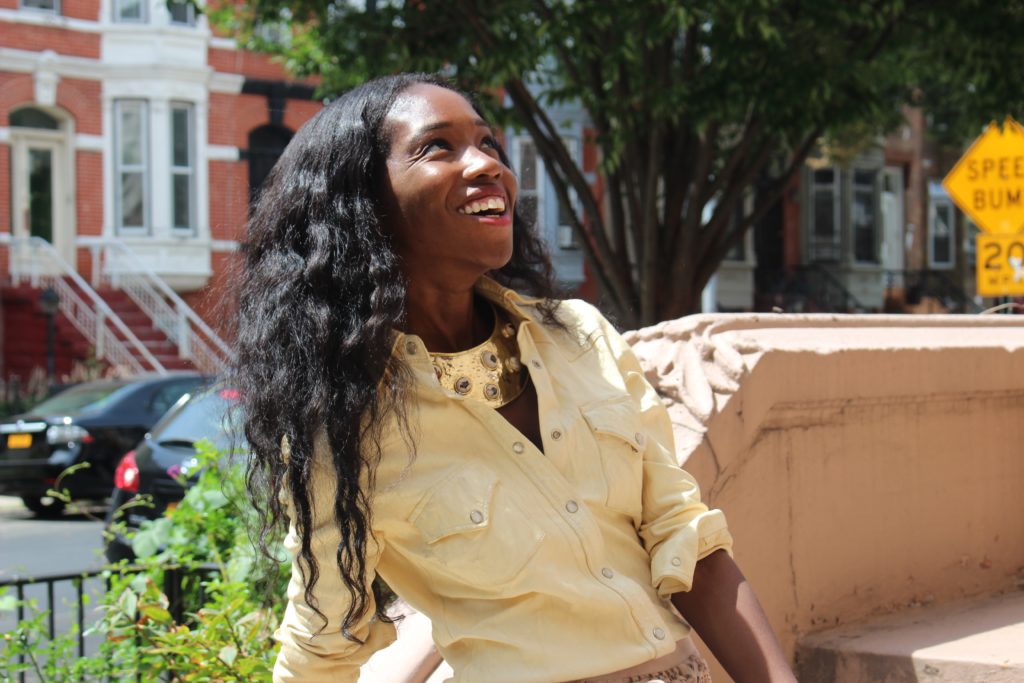 We would like to thank Nneya Richards for taking the time to interview with Detroit Fashion News. CLICK HERE to read about Nneya discussing her recent feature in Modern Luxury's Beach magazine. Also, be sure to follow @nneya on Instagram and @NneyaRichards on Twitter.
Photos of Richards: Property of Nneya Richards
Written by Kelechi Uchendu
*Disclosure – This post may contain affiliate links. By clicking and shopping, you help support Detroit Fashion News and allow us to keep reporting on all things fashionable.