With The Year Coming to a Close, Detroiters are Embracing the Cold and Bundling Up with Lots of Layers of Style.
Despite frigid temperatures reaching in the low 20's, and a winter wonderland storm, that dropped about 6-8 inches of pure white bliss (snow), the ladies still kept it cute with fashion in the forefront of their minds. Even, I was a tad bit frosty as I was searching for this month's street style! Take a peek our favorite looks.
Looking stunning in her all black; almost everything, Ms. Brandi Neal accessorized with Louis Vuitton from head to purse… even her fur head wrap was Louis Vuitton, gray leather vintage gloves, that she says she, "got from her grandma," was carrying a blue monogramed Vernis leather Louis Vuitton Brea bag, paired with a pair of gold Tory Burch booties. Isn't she a site to see.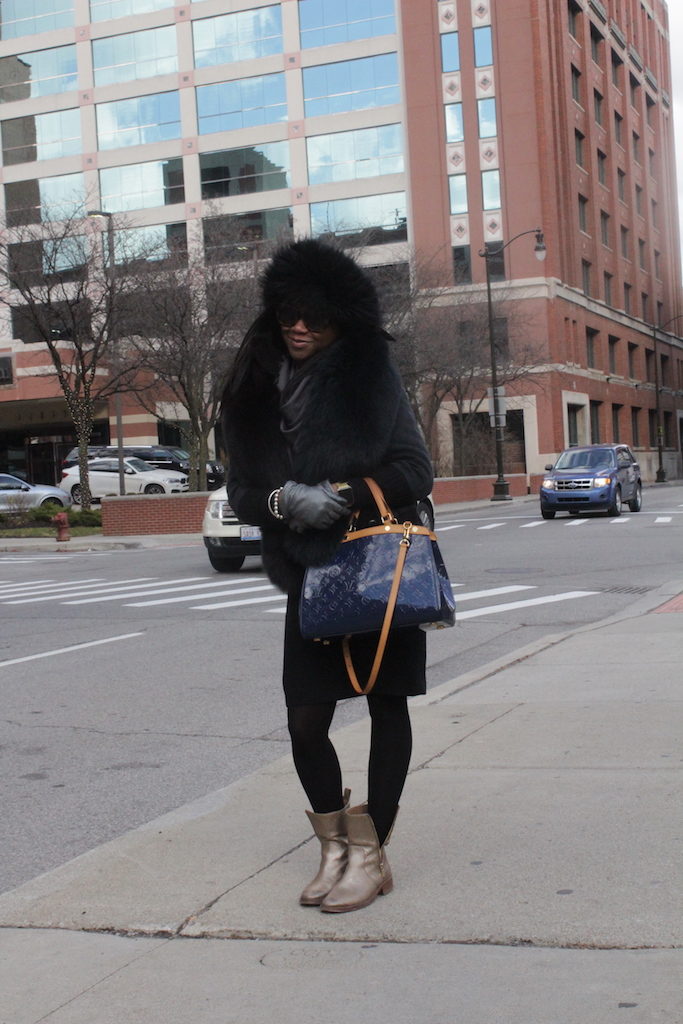 Wrapped up as warm as can be, was Ghadir Hammoud meeting a friend for Coffee at Detroit's Roasting Plant, with a winter white Forever 21 scarf, paired with a burgundy Guess coat, that she topped with a with a navy blue vegan leather Deux Lux fringed hobo, that she says she snagged from DSW. And if you pay attention to details you will notice that the straps are burgundy too!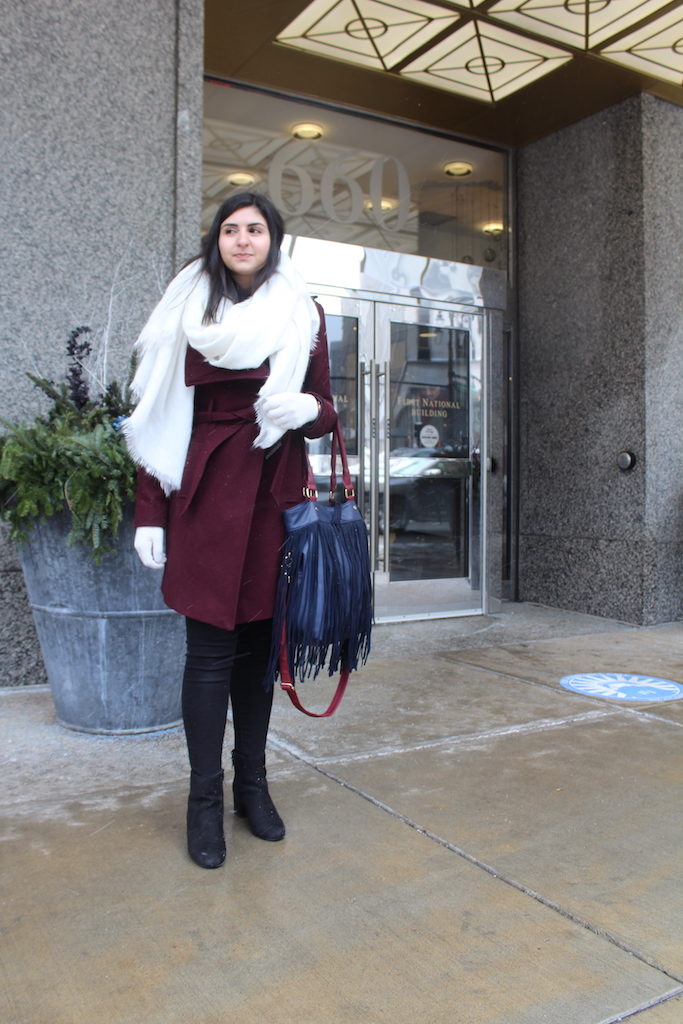 And what a lovely smile to brighten my day. Amanda Bobrovetski, was shopping in pink as its always a great treat.. wearing an Ann Taylor pink funnel neck coat, paired with a fringed pink plaid scarf that she got from the LOFT and cold blocked everything with a pair of gray waterproof Cole Haan booties.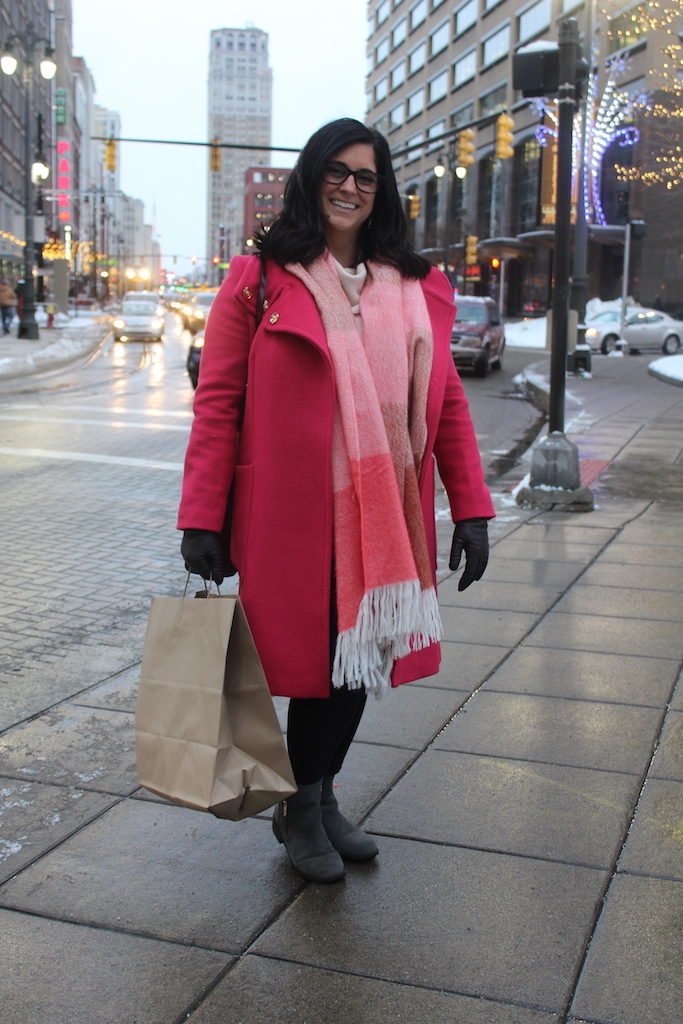 Dashing through the snow with her golden pineapple tumbler. Katie Hawkins was wearing a black wool Guess coat, along with a UFC graphic tee, and knitted Neff headwear hat. She pulled this look together with brown leather boots from Kohls. The bag and pineapple caught our attention.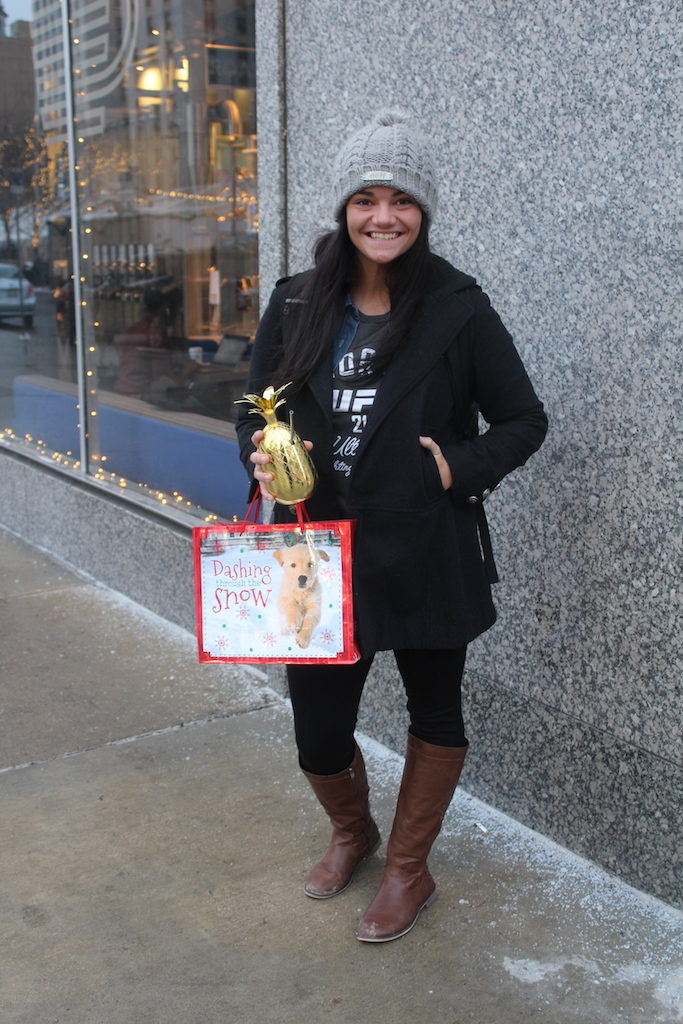 P.S. Sometimes when it's so cold you don't have time to talk, but will never miss a photo opt. As I crossed Woodward, I spotted a black suede with fur and cross body Louis so I stopped and asked, "May I feature you in DFN?" The woman answered "but of course… Cheese," and off she went!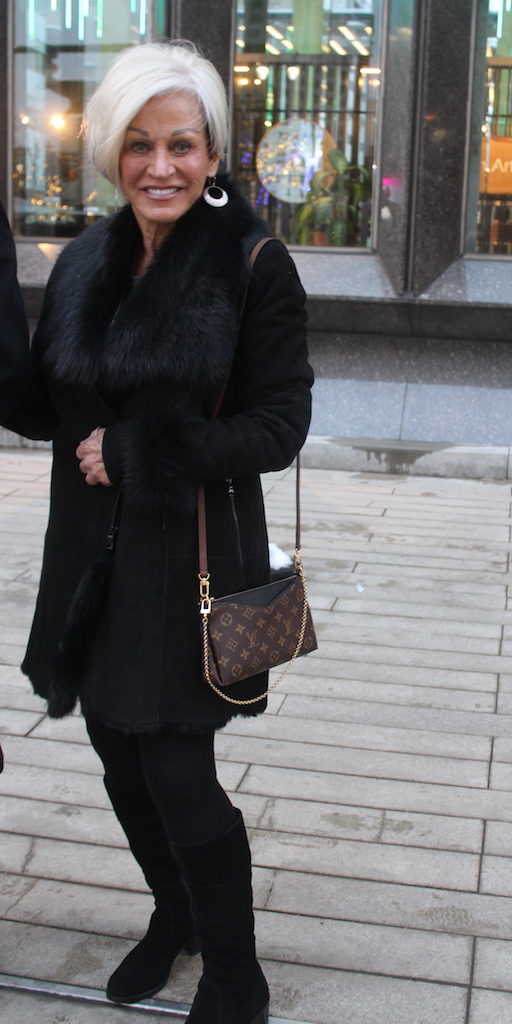 Until next time, stay warm Detroit!
Remember, Street Style is based on individualism, not just current fashion trends! 
Written by Latasha Channel Spivey
Disclosure – This post may contain affiliate links. By clicking and shopping, you help support Detroit Fashion News and allow us to keep reporting on all things fashionable.