The Michigan Fashion Media Summit will take place Friday, April 13, 2018 at the Stephen M. Ross School of Business in Ann Arbor, Michigan. The event is an exclusive day-long event that will allow students to network and collaborate with industry professionals from the local fashion community as well as several professionals from internationally known fashion brands.
The idea behind the event is to shape and grow the fashion community at the University of Michigan. Cultivated by a group of like-minded students who love fashion, MFMS will feature professionals from the world's top brands across the retail world
So who is behind MFMS? The MFMS Student Planning Team is an elite group of 40 University of Michigan students with diverse backgrounds, experience and fields of study. The team ranges from Seniors to Freshmen, who all love fashion. Their mission is to inspire, educate and connect U of M to the retail industry and create a respectable fashion community through the U of M campus.
Here is the 2018 MFMS Speaker Line Up the MFMS planning team has put together:
Host: Amy Levin, Founder and CEO of College Fashionista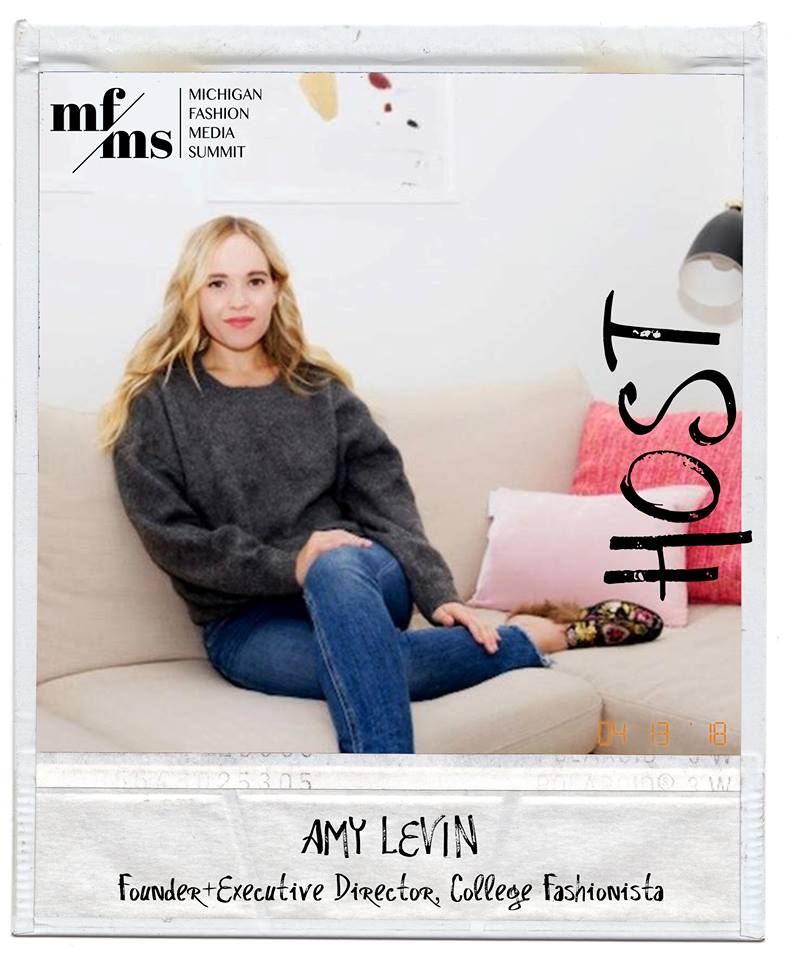 Amy Levin created her own fashion outlet during her studies at Indiana University out of her dorm room. Today, this College Fashionista hosts over 50,000 followers on social media, making it "a community for the next generation of fashion editors, writers, photographers, and influencers."
Morning Keynote: Gary Sheinbaum, CEO of Tommy Hilfiger Americas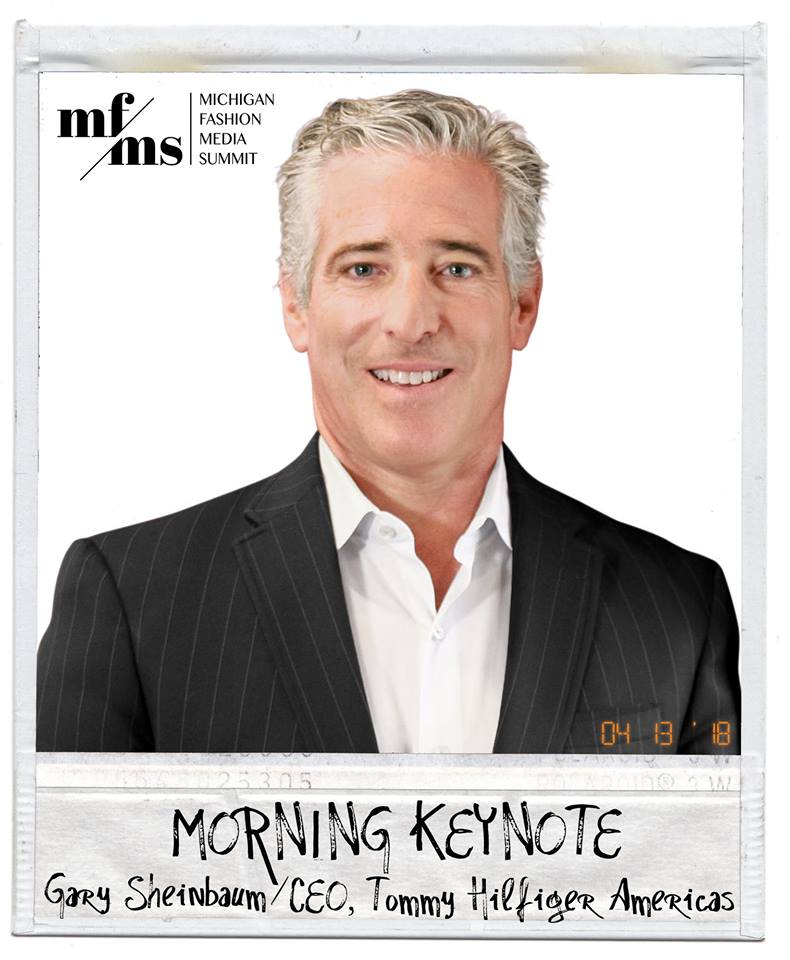 A graduate from Bucknell University, Gary Sheinbaum is Chief Executive Officer of Tommy Hilfiger Americas. A role that he assumed in September 2014, he leads in this role, the North American business as well as oversees Tommy Hilfiger's Latin America operations. Since joining the company in 1995, Gary has worked in various roles including President of Specialty Retail, President of Retail Development for the U.S. wholesale business and Group President, North America for outlet, specialty retail and e-commerce.
Behind the Scenes Part I: Revolutionizing Retail:
Moderated by David Cho, Director, Partnership Activation & Event Retail at adidas
Ben Fischman, Founder of Rue La La, Founder & CEO of M. Gemi
Ronen Lazer, Co-Founder & CEO of INTURN
Alex Drinker, VP of Marketing at Shinola Detroit
Behind the Scenes Part II: Finessing Fashion's Influence:
Moderated by Jill Manoff, Editor-in-Chief at GLOSSY
Ashley-Brooke Sandall, Director of Strategic Partnerships at Council of Fashion Designers of America
John Mezzo, VP of HR at Michael Kors
Meredith Paley, VP of PR at Talbots
Shifting the Shopping Experience: The Millennial Algorithm:
Moderated by Marly Graubard, Head of International Marketing for Hearst at Marie Claire
Gerry Bonomi, President of Madden Girl
Gina Pak, VP of Consumer Experience at Theory
Zara Terez Tisch, Founder & CEO of Terez
Defining Design: Tailoring Everyday to Runway:
Moderated by Emily Blumenthal, Professor of Entrepreneurship at Fashion Institute of Technology
Pamela Dennis, Designer & Celebrity Stylist
Mindy Scheier, Founder & CEO of Runway of Dreams
Melissa Fleis, Creative Director & Owner of Melissa Fleis
Startup Successes: The Michigan Difference:
Moderated by Sarah Zimmerman, Stephen M. Ross School of Business Professor
Jordana Schrager, Founder, President of by By Jordana
Samantha Elias, Co-Founder & CEO of The Vintage Twin
Tracy Buescher, Founder & CEO of nuyu
Fashion's Future: Where Collaboration Meets Convenience:
Moderated by Marcus Collins, SVP & Executive Director of Social Engagement at Doner
Marcus Collins
Afternoon Keynote: Moderated by Edward Barsamian, Style Editor at Vogue.com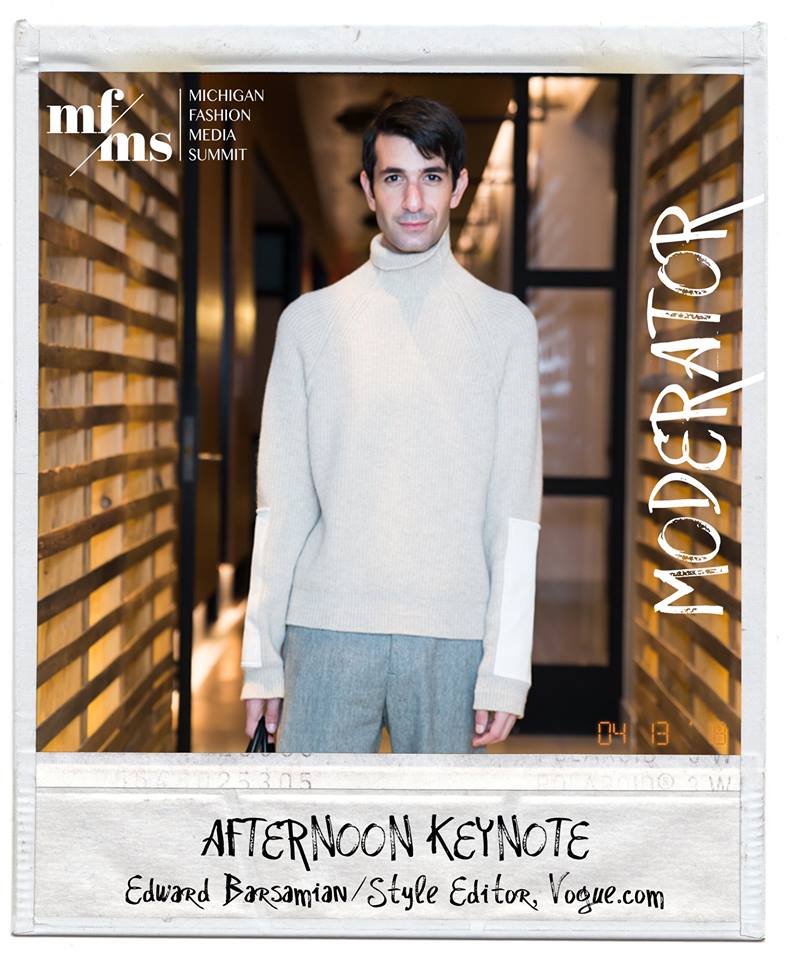 Style Editor at Vogue.com, Edward definitely knows a whole lot about fashion. From everyday street style to red carpet events, he can tell you everything you need to know. We are fully aware of this gentleman's fashion knowledge and long resume and we cannot wait to hear everything Edward has to tell us about style and fashion. At MFMS, he will be speaking alongside his friend Olivia Palermo.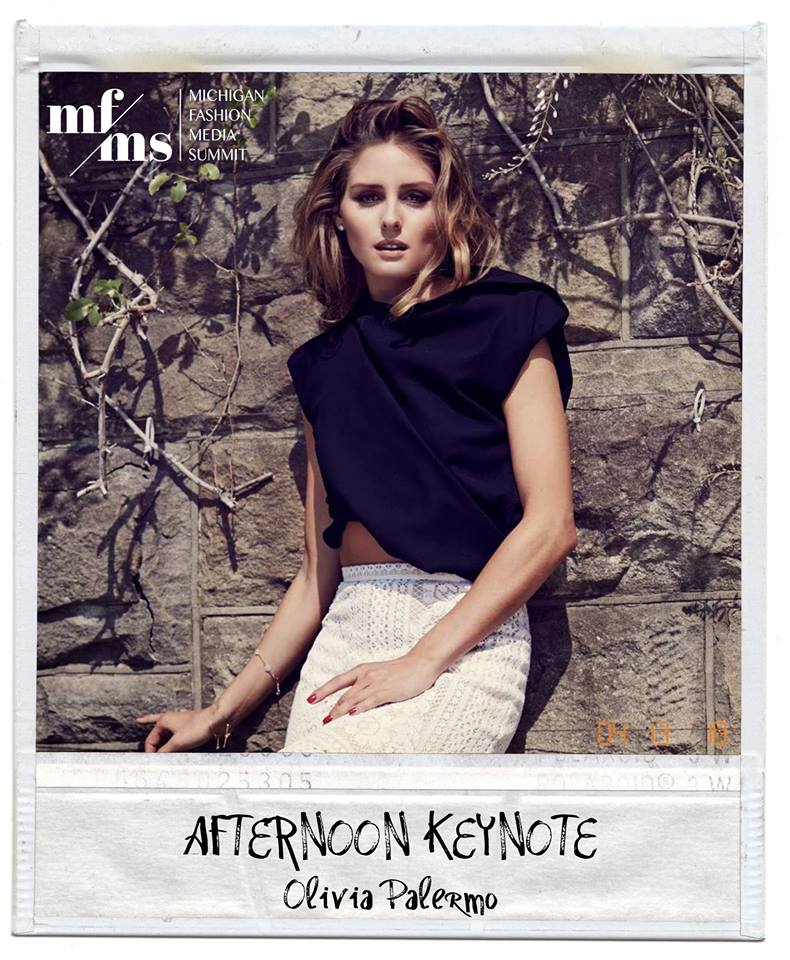 Olivia Palermo is an American entrepreneur and world-renowned style icon. She is known for her fantastic sense of style and a has a full decade of fashion experience on her resume. Ms. Palermo continues to grow and is doing a great job expanding her audience and personal brand through new partnerships, continuous fashion projects and collaborations.
The event, we are told, is now sold out but as an official media partner of the event, best believe we will keep you informed on how the event goes on our Twitter and Instagram @DetFashionNews, on Facebook and we'll provide a full recap after the event. On April 13th, follow us on social media for live coverage.
Photos  – Belong to MFMS
Disclosure – This is a collaborative post and may contain affiliate links. By clicking and shopping, you help support Detroit Fashion News and allow us to keep reporting on all things fashionable.