You've Been Spotted – Welcome to Street Style in the D
Detroit Fashion News has been on the prowl again looking for great street style in the Metro Detroit area. On Saturday, July 21, the Fashion Against Bullying show, at Genessee Valley Center, did not disappoint for those on stage or in attendance.
Fashion Against Bullying brought the anti-bullying message down the runway and into the ears of the community. It is the dream child for Tracy Palmer of Trendsetters Productions Modeling and Etiquette School in Flint, Michigan, who after seeing her daughter being bullied at school responded in a big way. She became an anti-bullying advocate and starting a non-profit to bring light to the subject of what people need to do to stop bullies from effecting the lives of so many of our children.
Tracy contributes her time to go into schools, groups, churches, and anywhere else that will have her, to share statistics and information about the problem of bullying. She offers help to the victims and also life changing education to offenders to acknowledge and change their ways. Tracy's fashion show served as a fundraiser to support her efforts and featured children of all ages and sizes modeling. It was a powerful statement of how serious this issue is today right here in each of our neighborhoods.
Here are a few of the stylish attendees.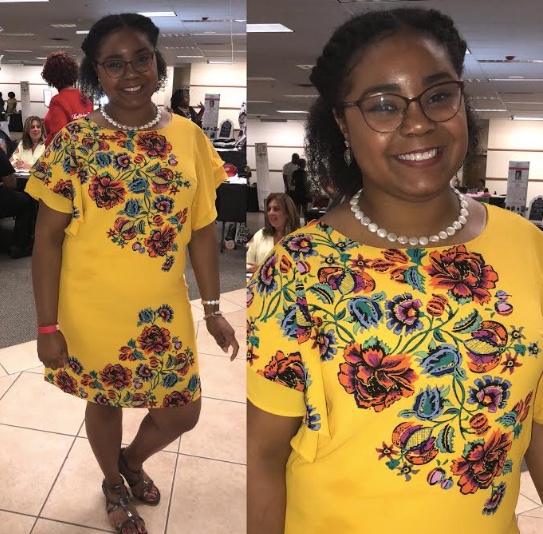 Floral prints continue to be everywhere. Gorgeous, Jasmine Cofield, from Ypsilanti looked radiant in this bright yellow dress with a floral print. She accessorized the dress with a silver necklace, bracelets and gladiator sandals.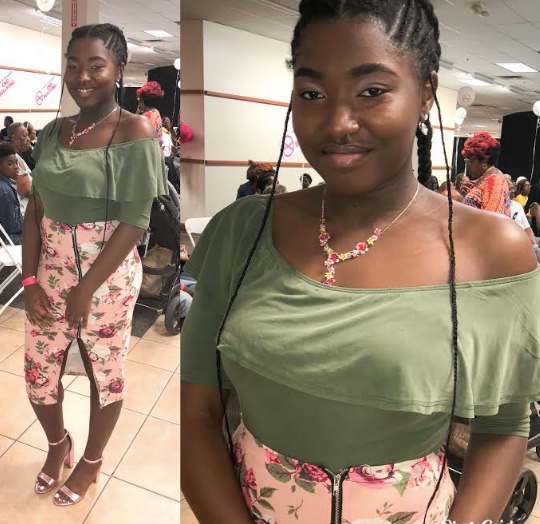 Euni-Cha Hernderson, from Flint was ultra-feminine wearing a pink floral print skirt with a zipper accent. Her off the shoulder olive green blouse highlighted her floral necklace that matched to perfection.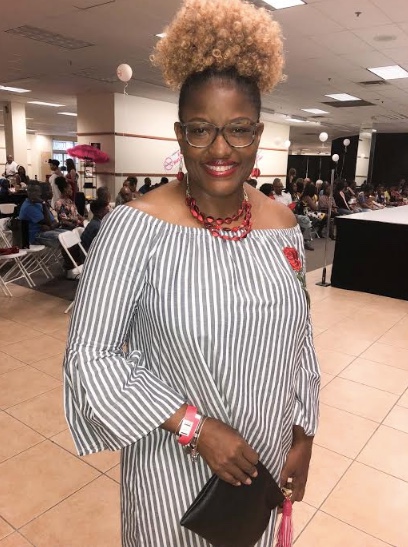 Stripes are also a trend we see more and more fashionistas wearing these days. Karen Owens, from Flint, wore this adorable grey and white striped dress with a red rose appliqué. Karen's statement necklace and earrings were in red as well.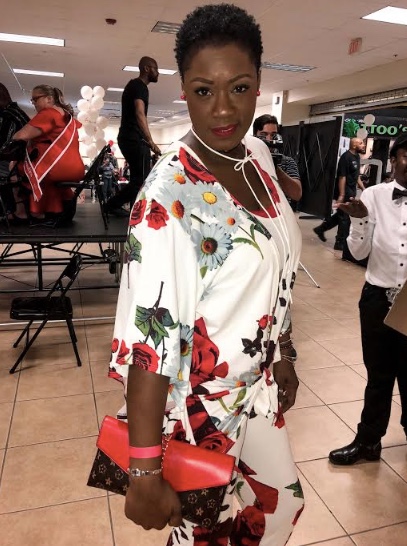 Gwenny Sanders of Grand Blanc was in full bloom, looking stunning and empowered in this two-piece white stretch knit rose print jacket and cropped elastic hem pant, which she purchased online.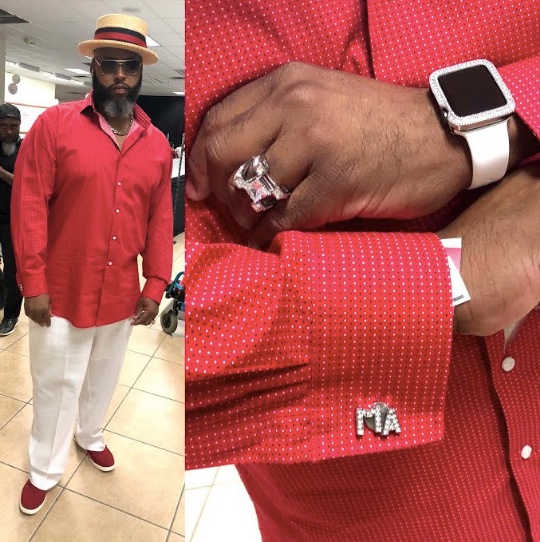 Dashing and handsome, Michael Anderson (MA), also from Flint, wore a red dot shirt blinded out with rhinestone initial cufflinks.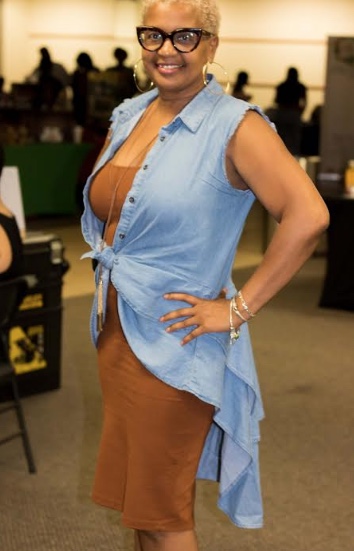 We spotted this lovely lady, Nora Mitchell (Flint), from across the room wearing a lightweight denim peplum top, knit dress and gold hoop earrings. Simply beautiful!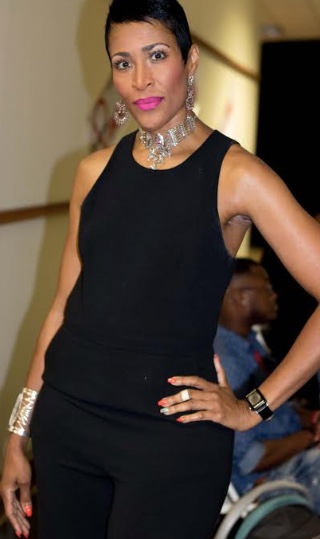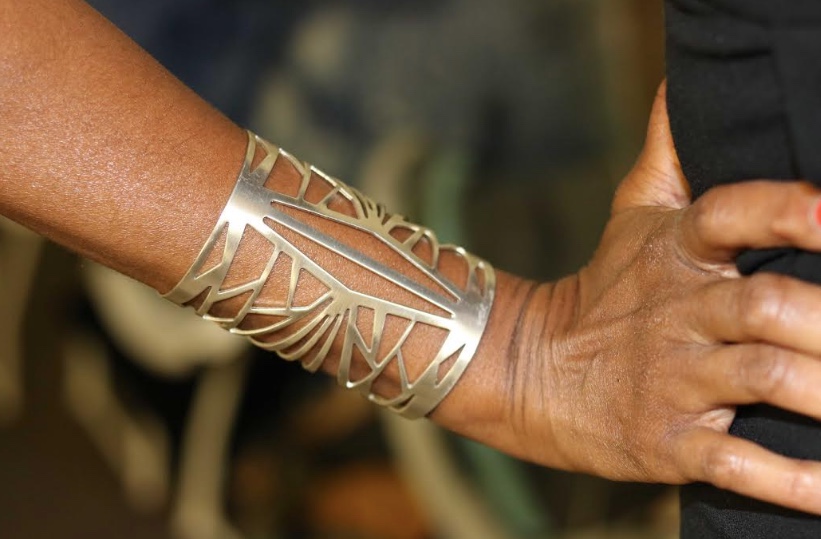 Classic and elegant was the style for Flint resident Chandra Adams. Detroit Fashion News could not get enough of her BCBGMAZAZRIA Black jumpsuit and her ravishing look. Chanda's choice to add a silver and pink jewel choker and chandelier earrings bought her look to the next level, not to mention the wide band bracelet. (For a similar black jumpsuit from BCBGMAZAZRIA.
Detroit Fashion News is always looking for great fashion and looks when we are out and about. We also need to mention these two gleaming ladies.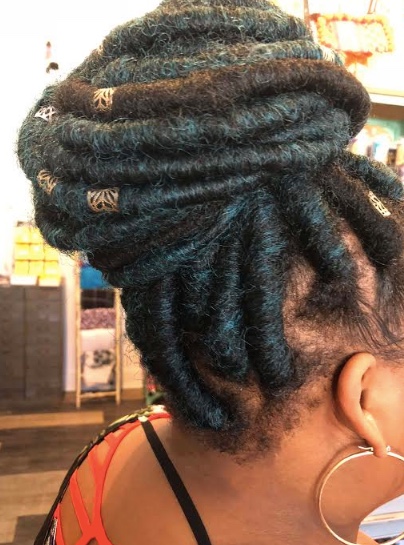 Keasa Davis of Detroit.  Keasa's style reflects her loving personality and creativity. Her large gold hoop earrings (a "must have" item for all you ladies) accented the charms in her stunning hairstyle. She paired the red cut out shirt with a fringed floral print kimono for a easy dress and go outfit.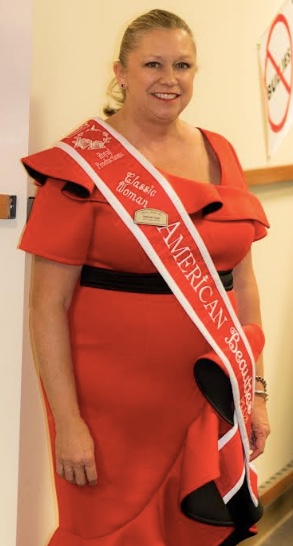 Lastly, American Beauties Plus Classic Woman 2017- Deb Lines of Troy was spotted supporting her friend Tracy at Fashion Against Bullying. Red is said to be the symbol of passion, love and adventure, and Deb reflected all that and more wearing a figure flattering red and black dress with flounces. Her passion and love of supporting advocacy and the community is shown in everything she does. Her since of adventure and seizing life each day is why she was chosen to represent the Plus Classic Woman.
Until next time! Have a great August! We will be looking for your fashionable looks to feature each month so stay stylish and watch for our writers on the prowl!
Disclosure – This post may contain affiliate links. By clicking and shopping, you help support Detroit Fashion News and allow us to keep reporting on all things fashionable.