Fash Bash 2018 Best Dressed: Lincoln Motor Company Fash Bash After Party 2018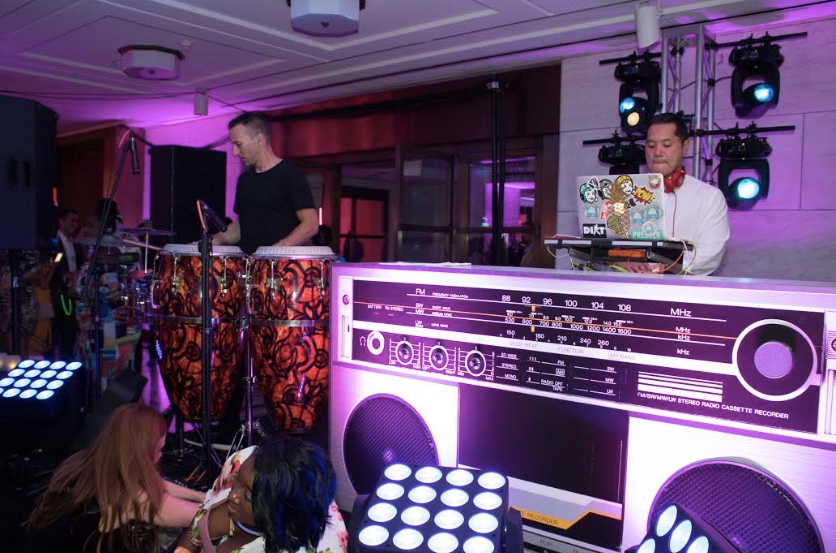 The Eighties was No-No-Notorious for many things; music, hairstyles and make up, movies like Sixteen Candles, and Desperately Seeking Susan. Ferris Bueller's Day off, E.T., and of course the bangin' Breakfast Club were other favorites that we all love even today. The 1980's was so totally tubular when the art of Patrick Nagal, after his death in 1984, exploded and released a graphic display full of colors, jagged typography, lines and a almost overwhelming flood of illustrations everywhere. (Nagel was most known for his Playboy art and of course the cover art for Duran Duran's album Rio.)
What changed our lives forever was MTV upon it launching on August 1, 1981. You could not get enough of it. MTV and the V.J. brought music into our homes in such a different way than before. It was Big Time! It Jammed! It sent New Waves into existence. With that came the fashion, more eclectic and colorful than any decade in the past.
On August 16th the Detroit Institute of Arts amped it up in a righteous way and bought the 80's back to life for a night full of Flash dance, Madonna, Boy George, Cyndi Lauper with it's annual Neiman Marcus and Founders Junior Council, Art of Fashion Runway Show- aka Fash Bash styled by Ken  Downing. The show was top to bottom perfection, with Poofer (Hairbear) hairstyles, Goth and Punk fashions, large shoulder pads, prints, hats and even a few bohunks (thanks Molly Ringwald for that term) walked the runway in their jungle briefs.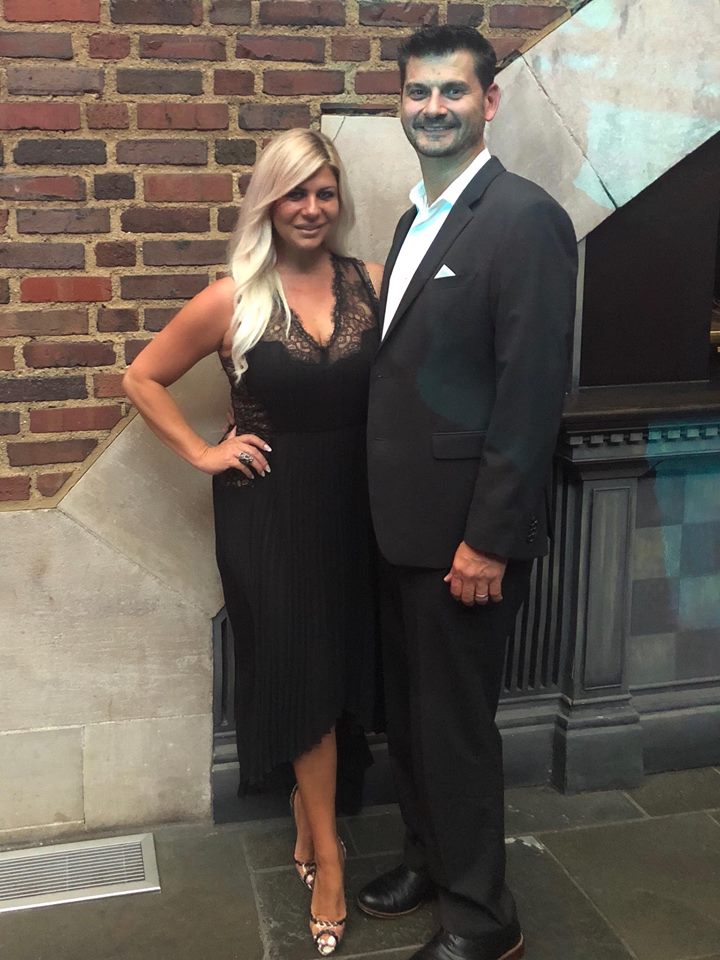 Detroit Fashion News (DFN) Owner and influencer Shannon Lazovski (escorted by her handsome husband Zoran wearing Armani) wearing BCBG and Christian Louboutins will soon bring you the 411 from the Fash Bash runway show.  Stay tuned!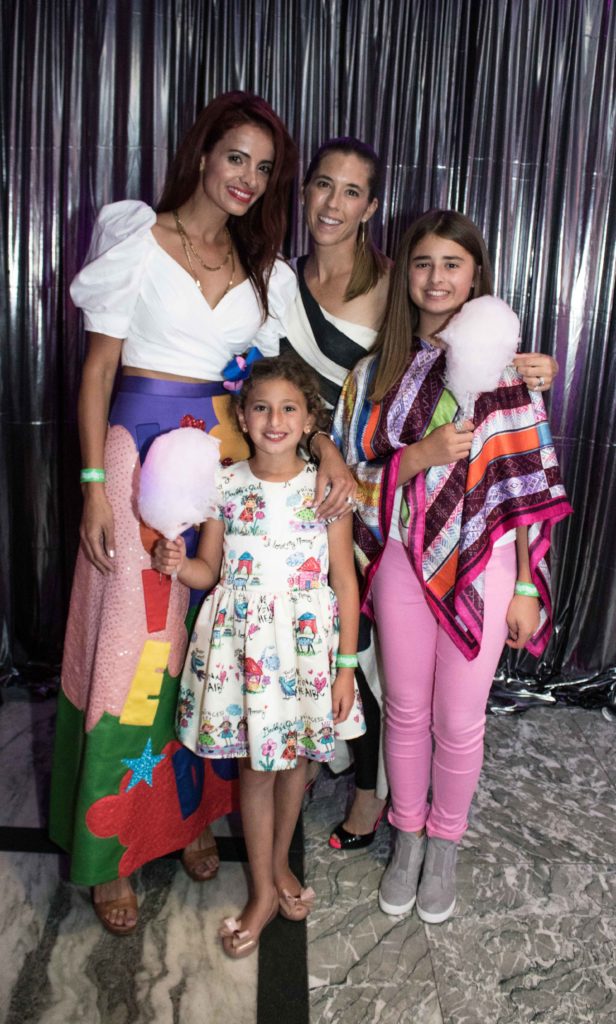 Raghad Farah, far left, brought her fashionable B.F.F.'s to the event with her while wearing this Limited Edition Beatles maxi skirt and white crop top. Her skirt is from Allison + Olivia. Also featured in photo are Jolie Farah, Sienna and Kelle Ilitch.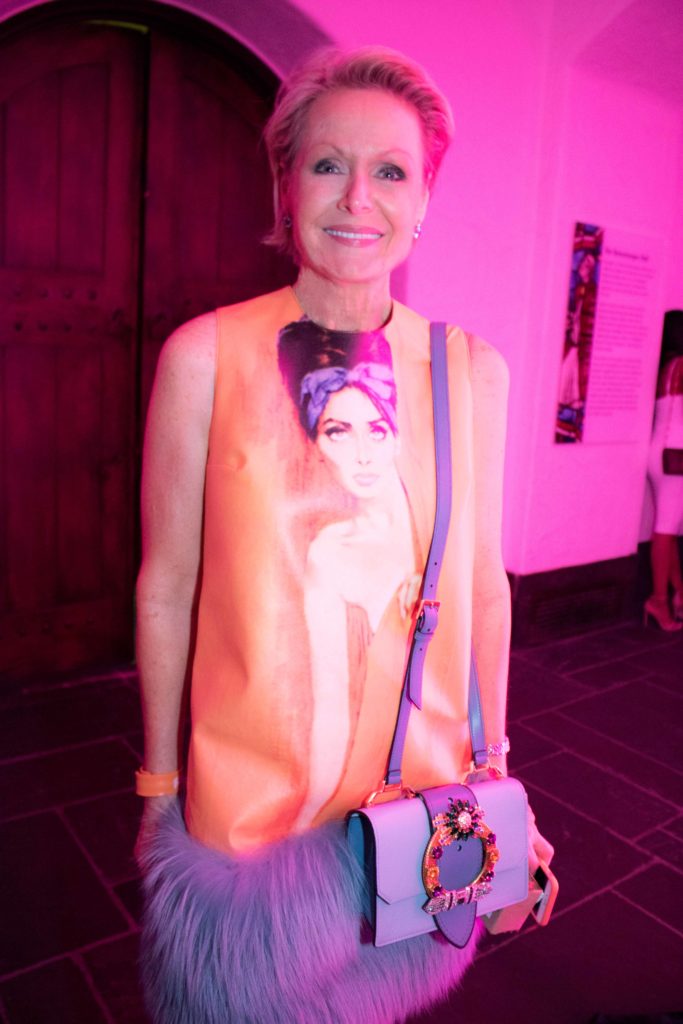 Shift dresses never go out of style, especially this gorgeous one with fashion icon Audrey Hepburn on the front, that was worn by Patti Prowse. Patti accessorized this Prada dress with the perfect handbag and shoes.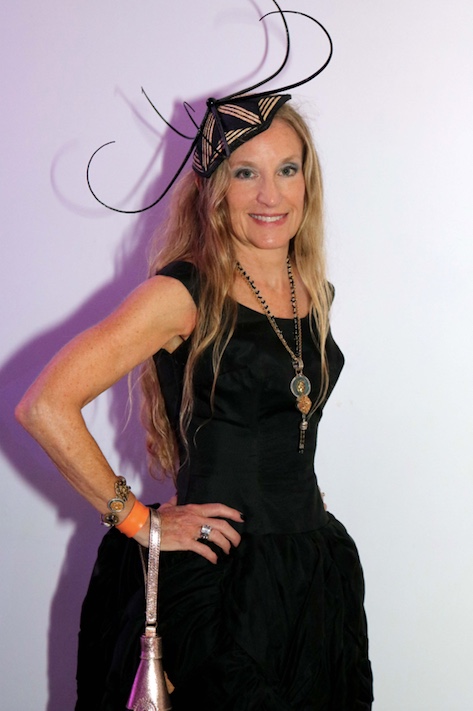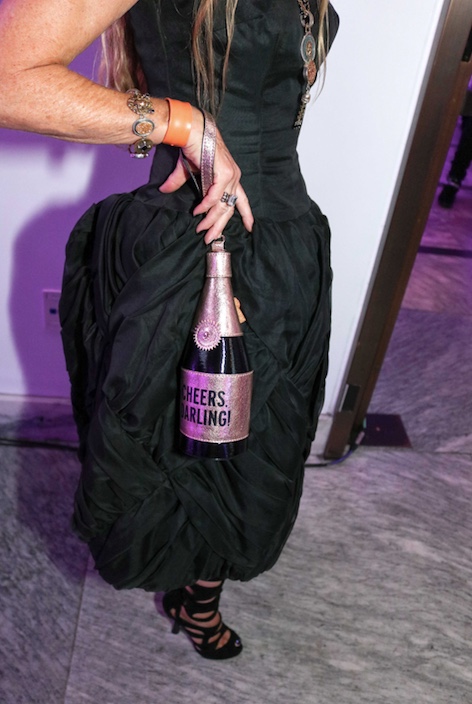 Rebecca Lecuyer wore the most fabulous hat of the evening, a black Ignatius ostrich quill fascinator. She paired it with a totally awesome, champagne bottle handbag and black dress.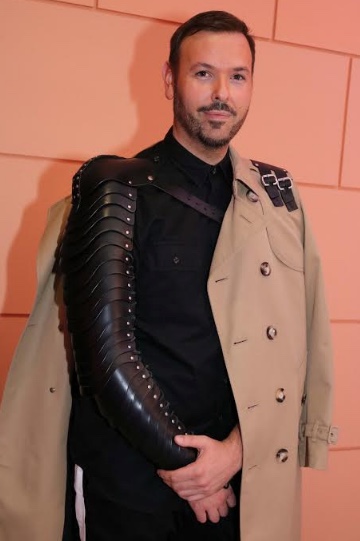 The men did not disappoint and came out in full fashion forward attire. Designer and Owner of The Paper Dress Code, Matthew Richmond was caught wearing a incredible arm harness made in Paris and a Valentino jacket.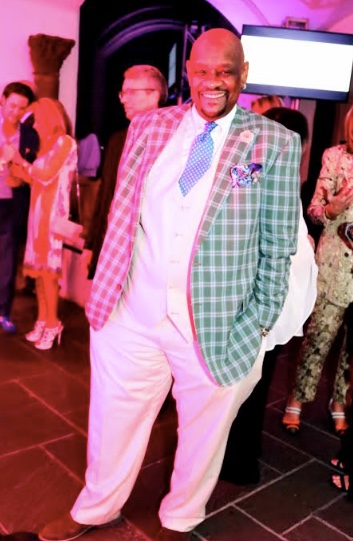 No great fashion event would be legit without the Guru of Style – Chuck Bennett. Chuck wore a light color two-piece vest and pantsuit with plaid jacket, blue dot silk tie and colorful pocket square.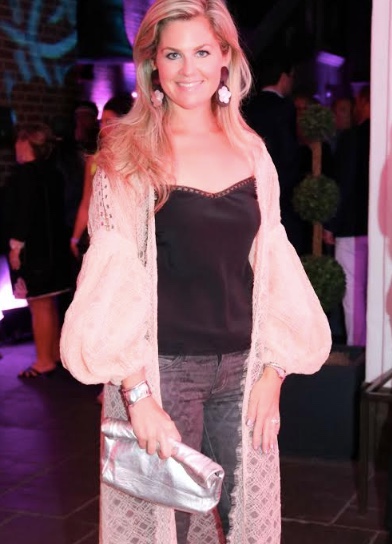 Clare Lanesky of Bloomfield Hills wore a great lace dusty jacket by Jonathan Simkhai. She paired it with black sling shoes, a great pair of skinny jeans and a silver clutch bag.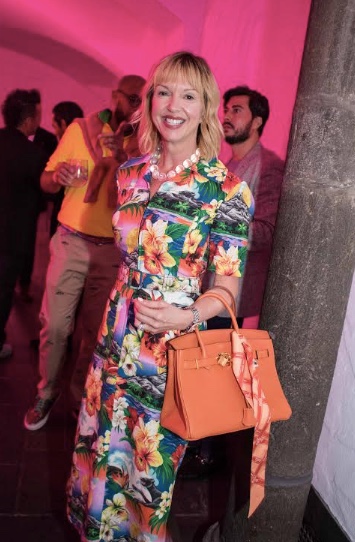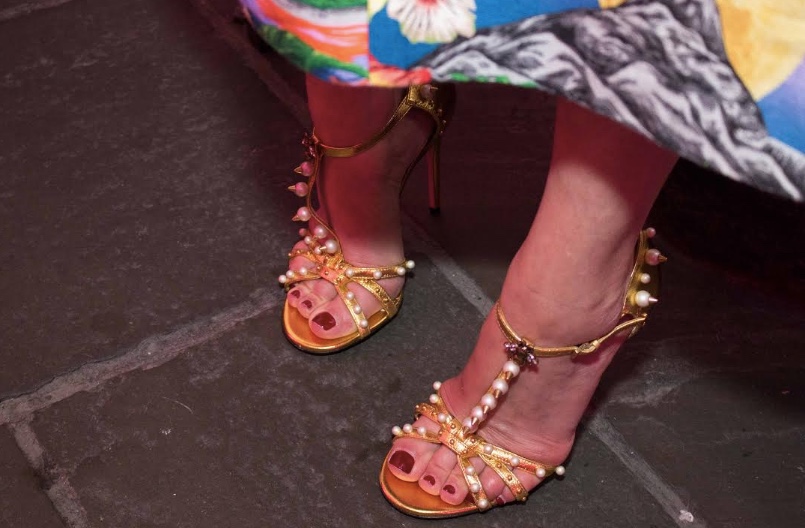 What could get better than a Hawaiian floral print dress for the summer? Jennifer Granger had the perfect idea when she wore this zipper front/belted floral dress with a pair of gold and pearl embellished Gucci shoes and an orange Hermes Epsom Birkin handbag. She looked absolutely beautiful.
Even after a day of preparing and walking in the show, "It-Girl" model Jenna Ode looked major in her denim shorts and jean jacket. We loved seeing her in the show decked in animal print styled by Ken Downing and available at Neiman Marcus.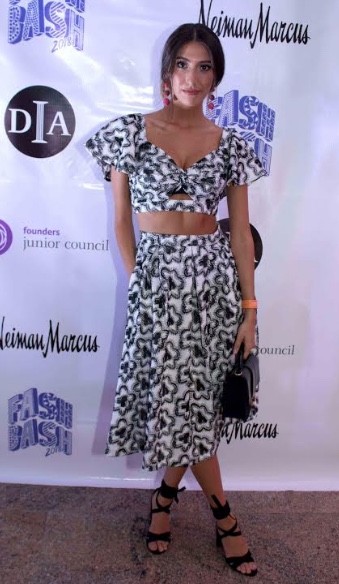 We caught one more beauty that we could not resist before we left for the night with our box of Bon Bons, Cecelia Cavaliere of Macomb. Cecilia wore a black and white floral print dress from BCBG, and accessorized it with a pop of color in her earrings that any true eighties fan would love.
There you have it – DFN's Best dressed for the Bash. Until next time… when we catch you wearing your fashion best!
Disclosure – This post may contain affiliate links. By clicking and shopping, you help support Detroit Fashion News and allow us to keep reporting on all things fashionable.