Pop Up to the Best Dressed
It was a beautiful night for an outdoor show, just before dusk, at the Detroit Zoo on Sunday, August 19th. Under a large tent, models and various Detroit designers prepared for a pop-up fashion show by Dusk til Daun. Outside, near the zoo's fountain, people gathered to watch the show, while Detroit Fashion News (DFN) looked for the Best Dressed of the evening. Here are a few of our favorites and what they wore…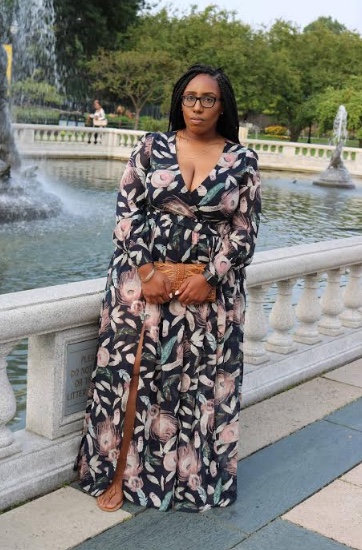 Nik Heller from Detroit wore a long flowing, maxi dress with a blush peacock feather print and a slit up one leg.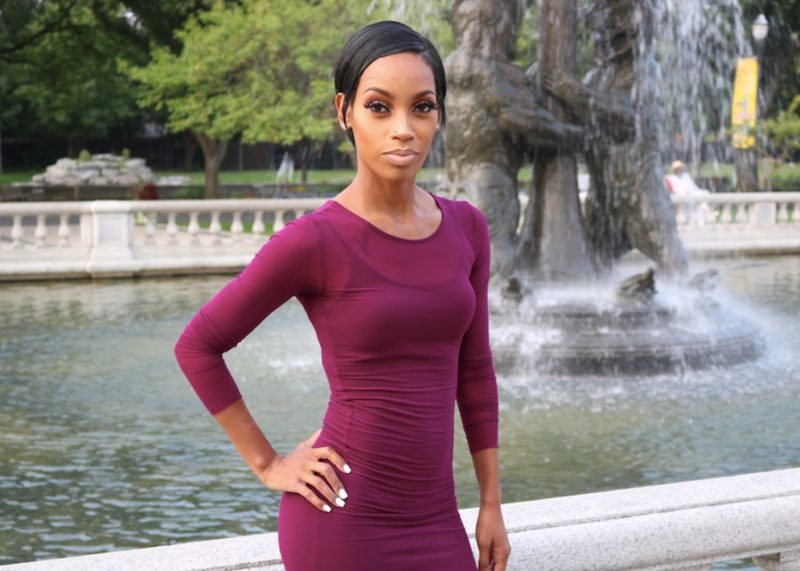 Amber Marie of Flint looked radiant in a gorgeous shade of fuchsia. Her fitted stretch knit dress took a back seat to her sleek hair and beautiful make up. Classically chic!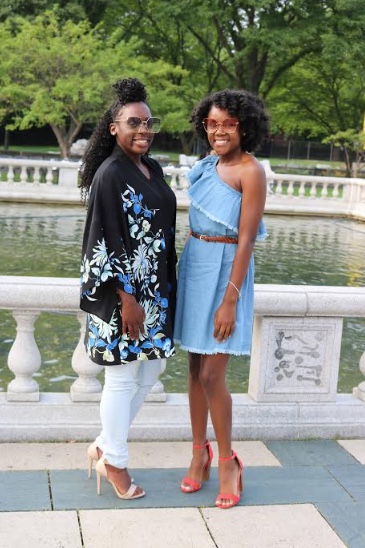 Friends Kameron Thompson and Deshawn Madison of Grand Rapids enjoyed the show together each having great style. Kameron wore an adorable denim, one shoulder, asymmetric dress with a ruffle flounce at the bodice. Deshawn wore a floral print kimono style top, skinny white jeans and nude heels.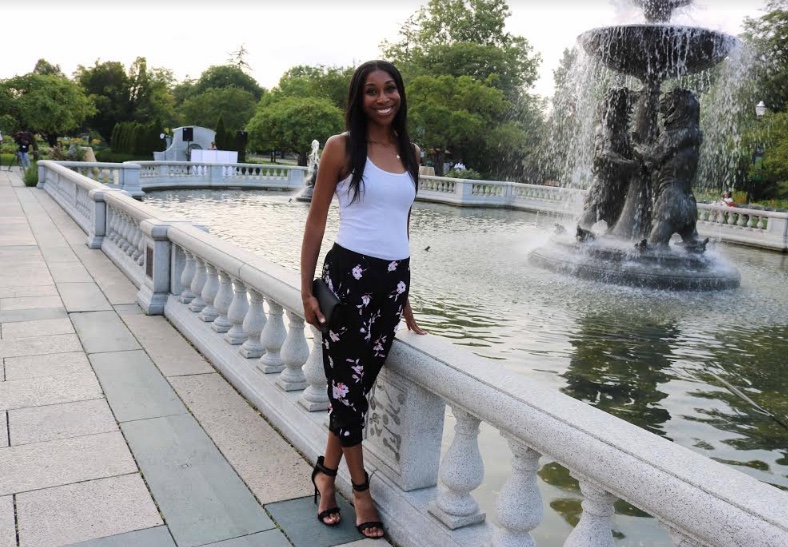 Nakeeta Coz of Westland, a model who came to support and watch the show, wore a floral print pant that with ankle bands. To pair with her pretty pants, Nakeeta wore a great pair of black sling heels.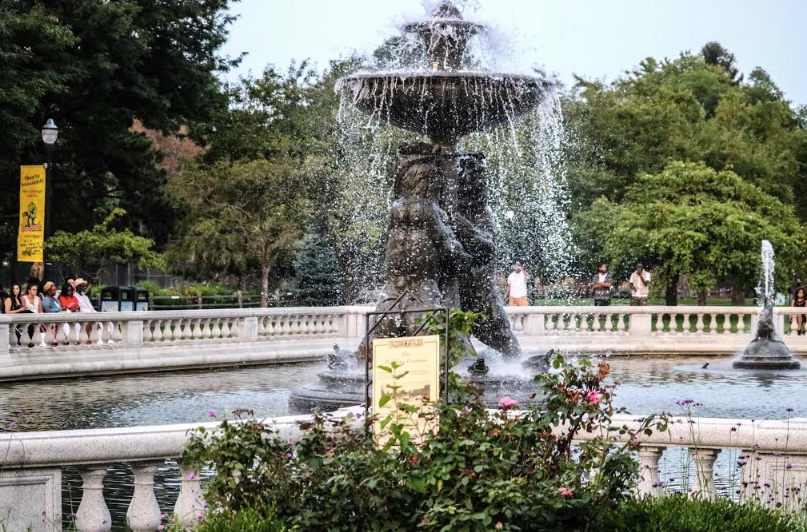 The show took place around the historic and famed Horace H. Rackham Memorial Fountain located in the center of the Zoo. The fountain was built in 1939 and dedicated to the first president of the Zoological Commission and features two 10-foot-tall bronze bears in a 75,000-gallon pool with life-sized sea lions, turtles and frogs. The fountain made the perfect backdrop for this Detroit designer fashion show.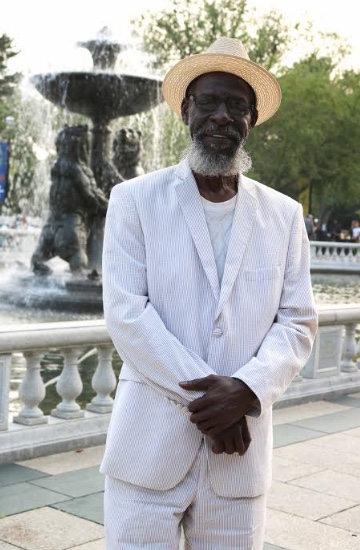 It was across this fountain that our team spotted the ever so dapper Robert El-Amin. Robert wore a pinstripe suit with a white tee and topped it off with the perfect straw hat for the summer weather.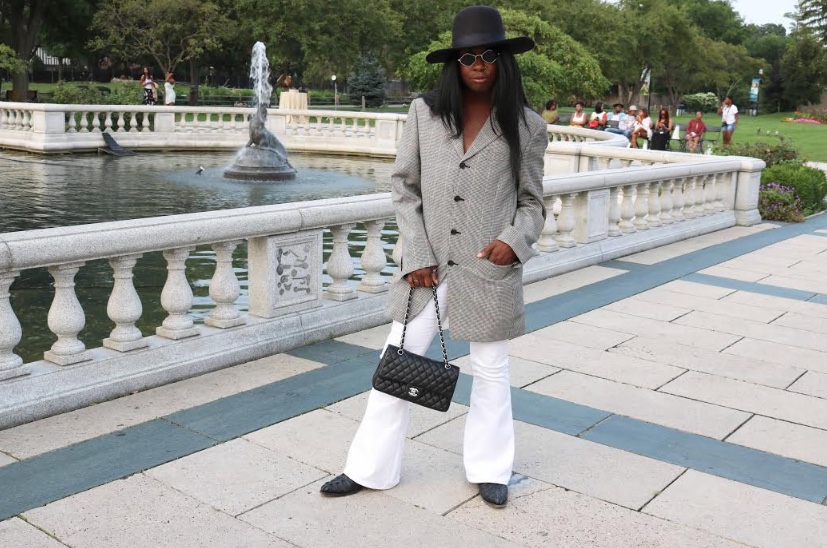 Detroit Designer Robert Hurse of Standard Detroit was hands down our favorite head to toe look of the evening. His silver rimmed, polygon shaped glasses definitely took center stage. With them he wore a plaid jacket and flared leg white pant, and accessorized everything off with a black brim hat, Chanel bag, gold & silver watch, and an incredible pair of black-heeled snake skin boots. Perfection!
Thanks for checking our Pop Up to the Best Dressed looks. Please also follow us on Instagram and Twitter @DetFashionNews and Facebook at Detroit Fashion News to stay in tune with who's wearing what at your favorite events.  Who knows, we might feature you next!
Photos – C. Creations
Disclosure – This post may contain affiliate links. By clicking and shopping, you help support Detroit Fashion News and allow us to keep reporting on all things fashionable.