The Peacock Room, Downtown Detroit.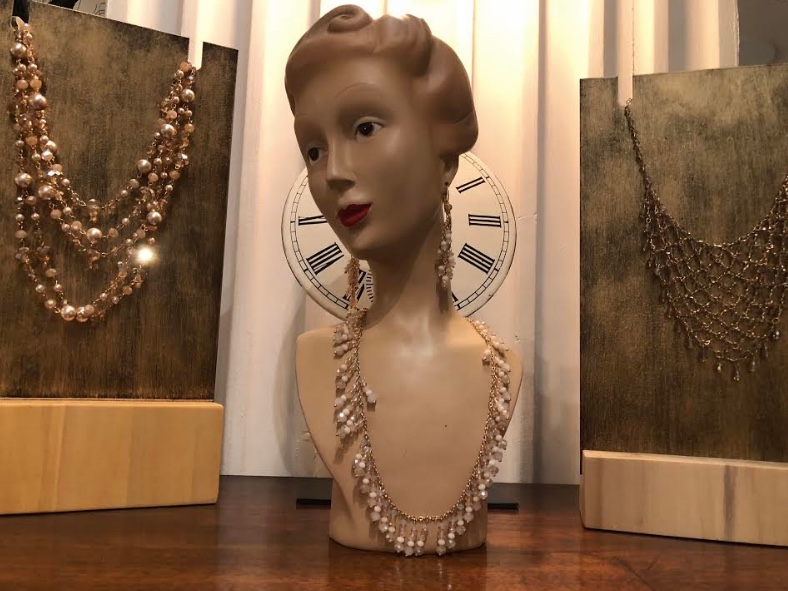 The weather is starting to get cooler in Michigan and you know what that means… it's time to start shopping for all those fun events, parties, and weddings you have to attend during the cooler months. Don't worry though; Detroit Fashion News has you covered with the perfect boutique shop for you. The Peacock Room offers lots of fashionable items to wear.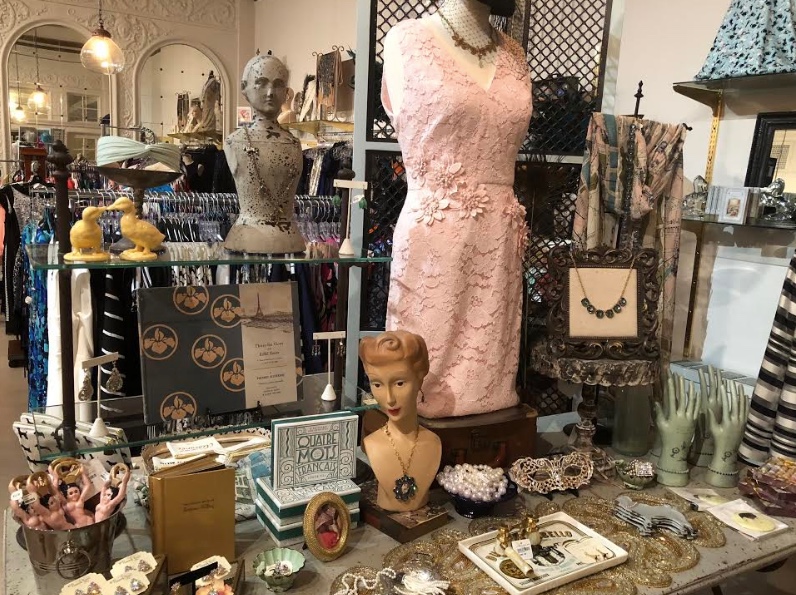 The Peacock Room is located inside the Park Shelton building at 15 E. Kirby Street, Detroit. Don't worry about parking in a far away lot; you can receive two hours of free parking in the attached structure with validation. You will simply love the history, architecture, and décor of this quaint shop. The elaborate friezes and ornate decoration of another age are breathtaking, so make sure to check it all out while you're there.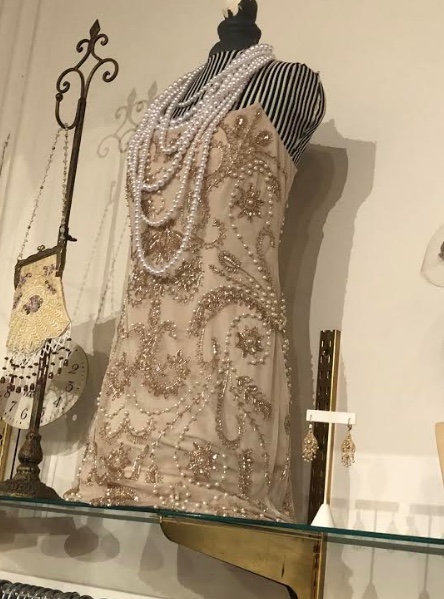 Fall is the time many events are happening and are being planned to happen. For each event, you are going to need something special to wear.  A new dress or outfit, or a stylish accessory piece might be just what you need. Boutique shopping gives you a chance to express your individual style, and many times can surprise with prices that are compatible (sometimes better) then large department chains. So don't hesitate. You have nothing to loose and you will love the personal treatment their sales assistants offer.
The Peacock Room carries a unique collection of women's apparel and accessories including jewelry, handbags, scarves, hats, fascinators and even gloves inspired from vintage looks. They carry sizes 00 through 26, and styles range from formal to everyday in a variety of silhouettes.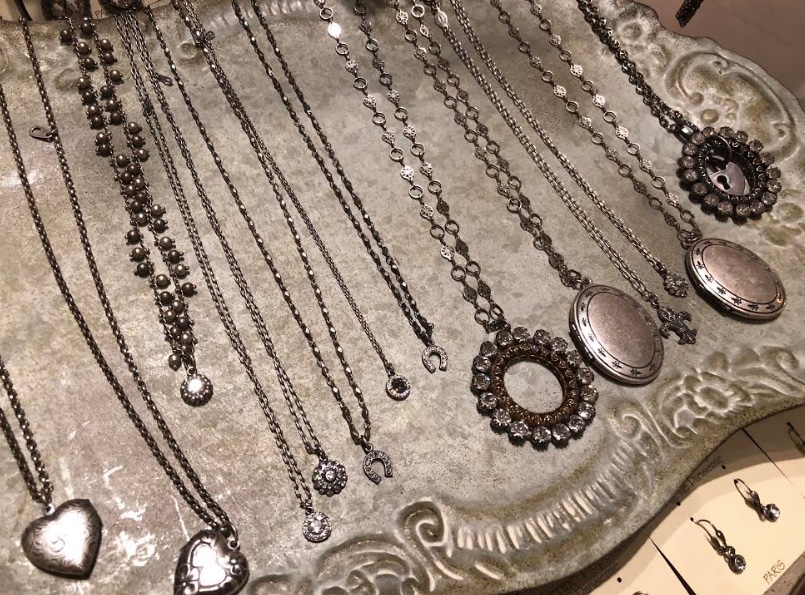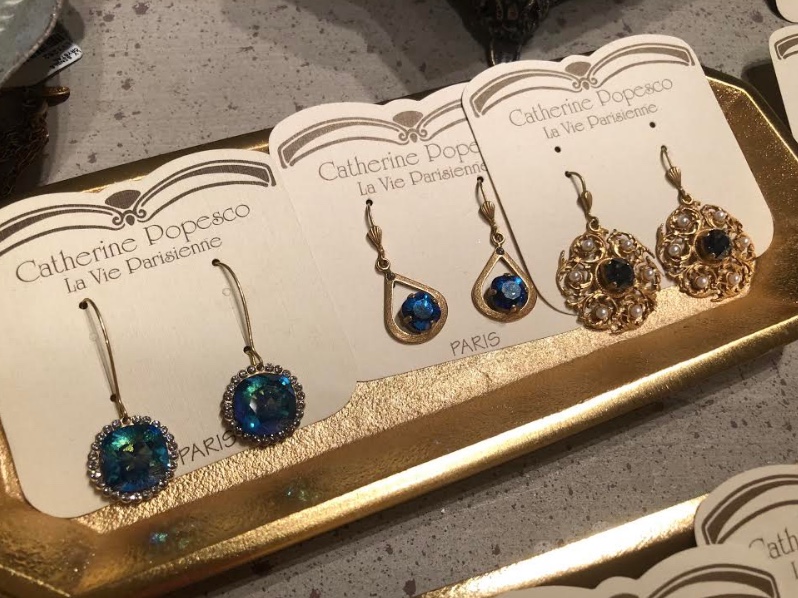 The items we enjoyed the most were the lines of jewelry, La Vie Parisienne by Catherine Popesco. Her collection originates in the old Parisian workshops established over 200 years ago. According to the designers website, "the elegant designs are rendered from the original molds that were created by the artists of the celebrated jewelry period from 1900-1930's."  The jewelry combines classic European findings with a selection of historical American pieces. They are then set by hand with Swarovski crystals and delicately enameled. The jewelry is made from "old silver". This is a unique French process of laying sterling silver or 14k gold over a copper base, which shows off the intricate details of the historic designs.
This is another lovely statement piece we loved. It would look fabulous with a formal gold or silver dress, or keep this classic with something midnight blue or your LDB.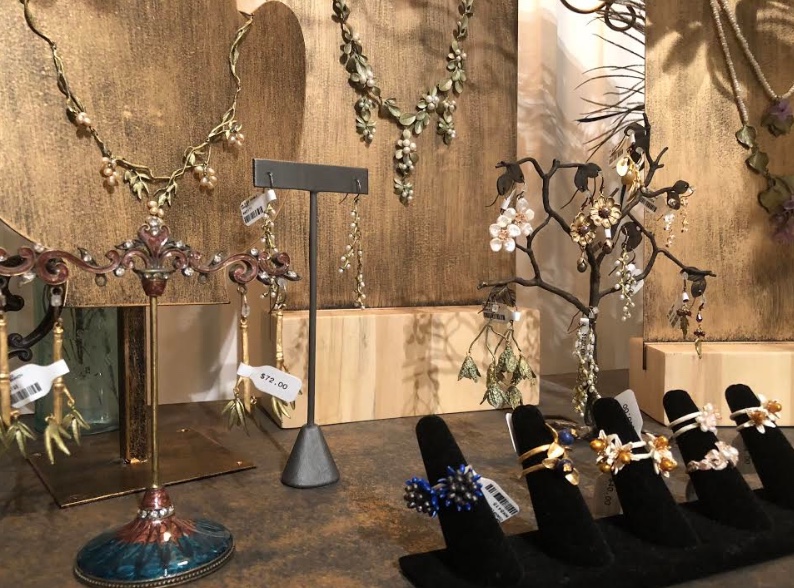 If you like more of a floral or leaf design, these pieces are gorgeous. Leaf designs are all over the runway this season, and are definitely a trend you won't be able to live without. With such an extensive variety to choose from, we think The Peacock Room is a "must shop"!  We hope you drop in and check it out. Let them know you read about them here on Detroit Fashion News.
Happy Shopping!
Disclosure – This post may contain affiliate links. By clicking and shopping, you help support Detroit Fashion News and allow us to keep reporting on all things fashionable.