Project Runway Winner & Dancing with the Stars Costumer at Novi Sewing Expo
It has been a few years since Metro Detroit has hosted a large sewing expo. This past November the Original Sewing and Quilt Expo, a national show, finally burst into the Novi Suburban Showplace and shined like a brilliant shooting star. Detroit area fashion designers and sewers attending had a spectacular treat with special appearances from some of fashion industries hottest stars, namely Fashion Designer, classical pianist and winner of the last season of Project Runway, Kentaro Kameyama, and Dancing with the Stars Costumer, Joe Vecchiarelli.
The Original Sewing & Quilt Expo started in 1995 and from the very beginning has been known to produce high quality events. Participants and guests to the show not only found inspiration and motivation to enhance their sewing interests, (whether it was fashion, quilting, crafting, embroidery, or Cosplay costumes), but also had the opportunity to learn additional skills in a diverse galaxy of classes, lectures, and workshops.
In addition, the three-day event filled the large exhibit hall with a variable of special exhibits, stage shows, and the splendid array of retail vendors from the US, Canada and around the world. Vendors consisted of the major sewing/quilting machines companies offering their newest technologies, various fabric stores like Vogue Fabrics of Chicago, and vendors selling a vast assortment of the latest notions and gadgets that is in every sewer's dreams.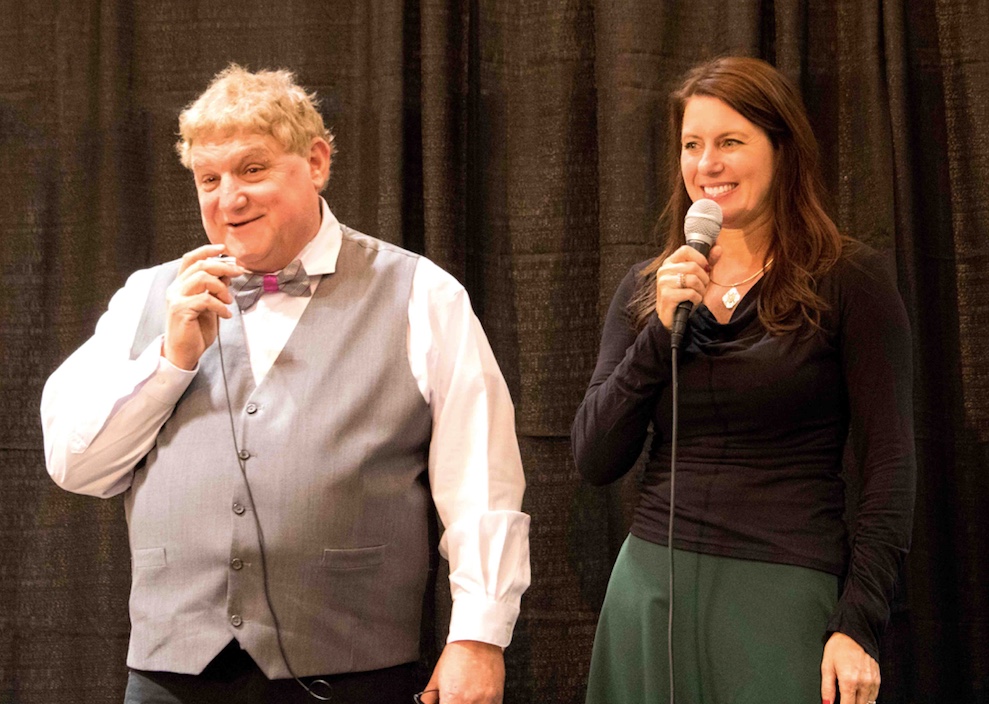 One thing that defines the Original Sewing and Quilt Expo as a cut above the rest is their ability to attract key educators and speakers. This year was no exception. Educators came in from many of the major companies; Sulky threads, various Cosplay industries, Angelia Wolf star of It's Sew Easy network, and direct from New York – Joe Vecchiarelli, the founder and president of Fashion Supplies Inc. who is the costumer for Dancing with the Stars.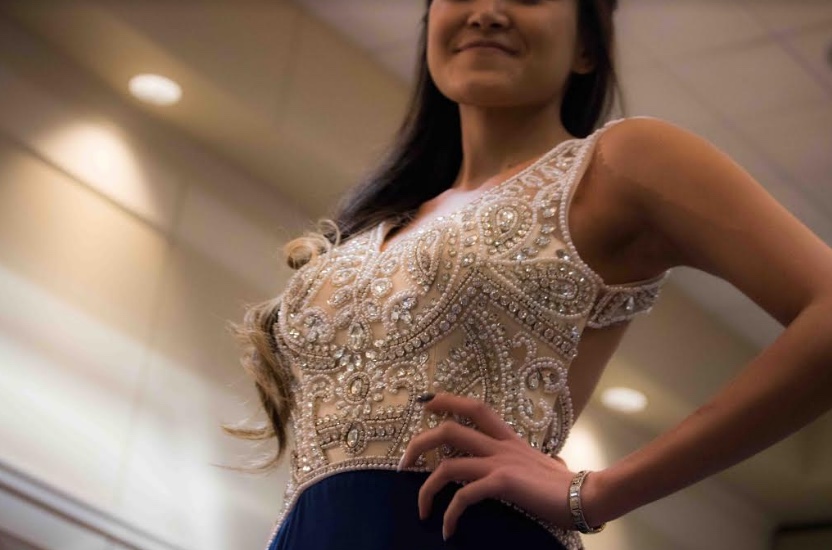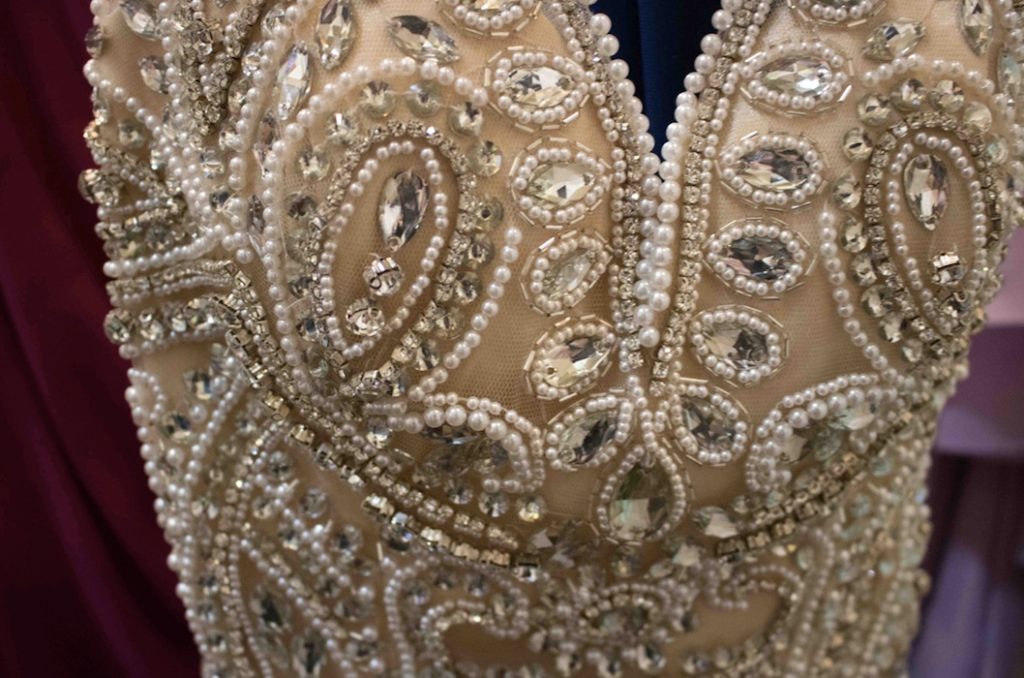 The main event took place on Saturday afternoon, a fashion runway show that led with designs directly from the Dancing with the Star's costume vault, narrated by Joe Vecchiarelli and Angie Wolf. Throughout the prior days Joe shared, with the students of his classes, some of the skills he has learned for his trade including drafting patterns, working with a dressmaker's bodyform, and how Dancing with the Stars create the embellished looks seen on the show. However it was at the fashion show is where you could actually see for yourself the details of the heavily embellished and jeweled garments.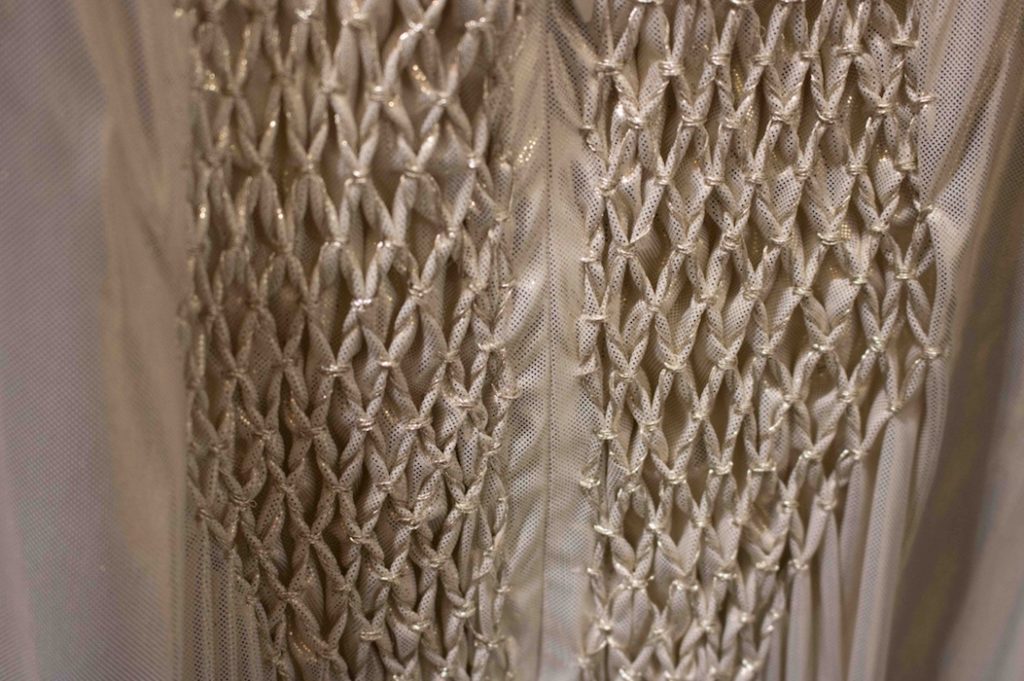 The second portion of the fashion show included unique wedding designs from designer Ruth Clemnoczolowski. The image above shows a detailed portion of one of her dresses that was smocked on both the back and front which made a nice finishing touch.
The super nova, of the fashion show was a guest appearance by Kentaro Kameyama, who brought with him some of his creations. Kentaro is a California based fashion designer, and classical pianist, most noted as the winner of last year's Project Runway Season 16. A recent article by writer Julie Pendray, explains Kentaro's designs as "Perfect Harmony" as "(they) are often streamlined, understated, and neutral yet display sudden bursts of outlandish whimsy. It's as though this classical pianist and composer is embellishing a restrained melody with a moment of flamboyance."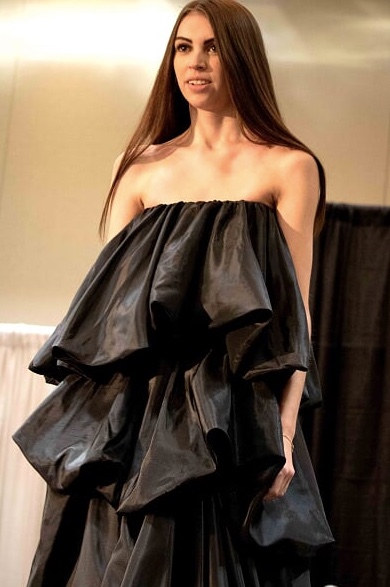 The fashions Kentaro shared at the expo where directly from his Paris runway collection. Directly following the fashion show, Detroit Fashion News and VIP guests here offered the chance to sit down with Kentaro for a little one on one chat, and to ask him questions and see his garments up close.
Besides learning his goals for the future, which is to move to Paris and open a boutique, Kentaro shared that the advancement Japan currently has in fashion over other countries limits a new designer like himself of making it in the field of fashion in Japan. He explained, "Craftsmanship is at a high and sewers are very skilled at what they do." He continued by saying that it is their ethics that taught him to be a "tidy sewer," a skill that served him will for Project Runway.
According to Kentaro his focus is on, "construction instead of design." He said that he does not look for a specific inspiration for his fashions, but does what he likes first and than expands upon that to create looks that relate to each other to complete a collection for the runway. Admitting he said, "sometimes things come out differently then what I intended," he insisted that letting something form organically is not as all bad and can result in good results when all is said and done.
About his time on Project Runway (PR), Kentaro laughed as he admitted that he almost did not enter as a contestant, "I got scared about all the mean people, but people turned out to be really nice."
To help him stay focused while on PR, Kentaro made a list of tasks for each of the challenges to keep him on track. This is a great idea wouldn't you agree!
Kentaro certainly is a bright star in the sky and those that had the opportunity to meet with him would agree how being the winner of a huge show like PR has not turned him into a fame monster, like you would expect of anyone in that position. Not only is he an extremely nice and courteous man, but also he is humble and even a bit shy. He last words were, "It's happy to do sewing!"
DFN would like to thank Kentaro, and all those at the expo for sharing your skills and for allowing us to look to the stars for inspiration.
Disclosure – This post may contain affiliate links. By clicking and shopping, you help support Detroit Fashion News and allow us to keep reporting on all things fashionable.