Bundle Up, It's Cold Outside Michigan!
This entire week, Michigan residents witnessed one of the coldest climatic conditions in weather history. The arctic blast not only disrupted people's daily routine and commute, but also reduced their productivity. It is true – the weather in itself is a significant source of motivation or lack thereof; be it for efficient execution of crucial business deliveries or choosing the right outfit for any meeting or gathering! Yes, let us talk about fashion trends for the season of love and how to tackle cold winter in the Midwest without compromising with style.
Layering is the key
Often, people underestimate the walk time difference between their house and their vehicle. They feel that few minutes of cold air won't affect their body temperatures. But the fact is, even a minute of exposure to such harsh weather can change the body temperature even. To combat against such issue, one must wear several layers of thick garments. If it gets too suffocating, then starting with a thin layer and gradually moving towards thicker layer is suggested.
Also, if someone is wearing a red dress, she should positively wear a fleece-leggings or the thick leggings available at Kohl's. This overall get up will be complete if it is worn with sexy, long boots.
Season of Reds & Wines
Speaking of sexiness, February is the season of romance; which is why, we may want to incorporate more shades of red and wine in the outfit. So here are some ideas that will not only match the Valentine's Day theme but also prepare us to fashionably tackle the cold Midwest weather.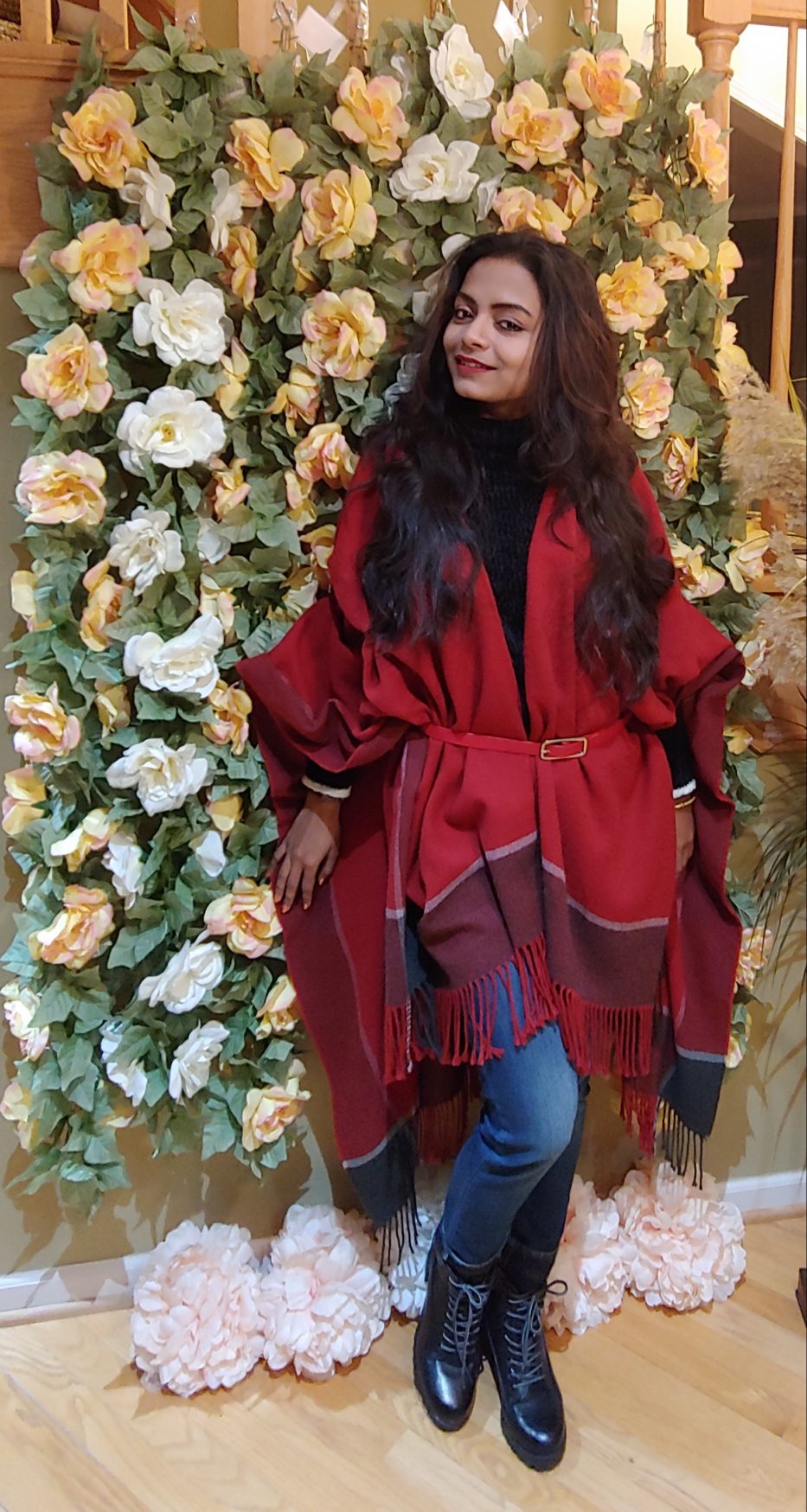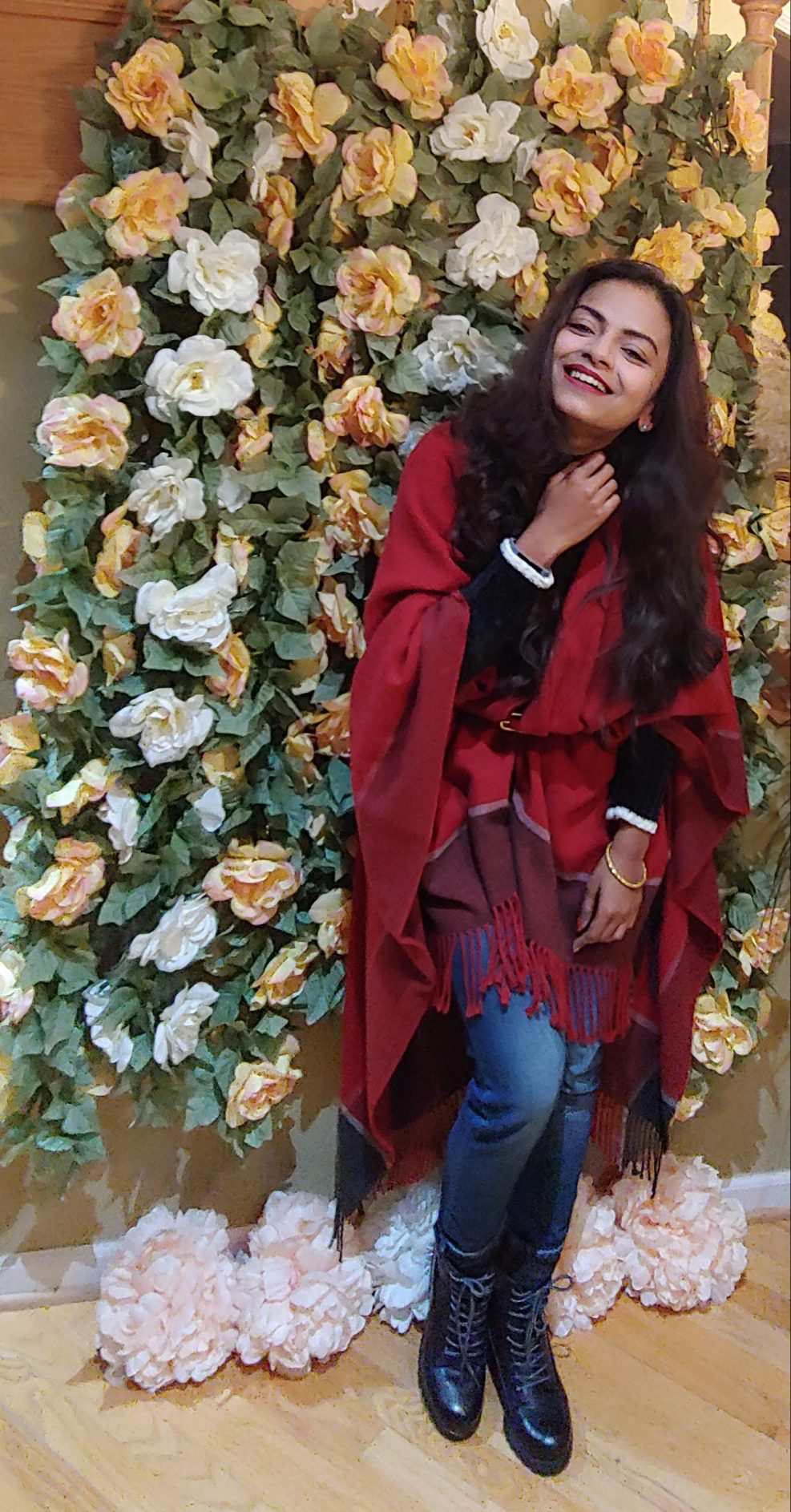 Shawl from Lord and Taylor / Chenille pullover from T.J.Maxx / 
Boots from JustFab /  Jeans from Target / Belt from Amazon
In look #1, a loose fitted oversized wine colored shawl has been used to add warmth to the entire look. A shawl is a cozy yet full of utility item. To add to that, it can be dressed up or down. On top of a chenille knit pullover, the shawl has been wrapped and locked with a red, sleek belt so that the shawl stays in place. Basic denim and leather boots have helped to bring in balance by giving harmony in the color contrast, as the perimeter of the wrap also has a similar hue of blue in it.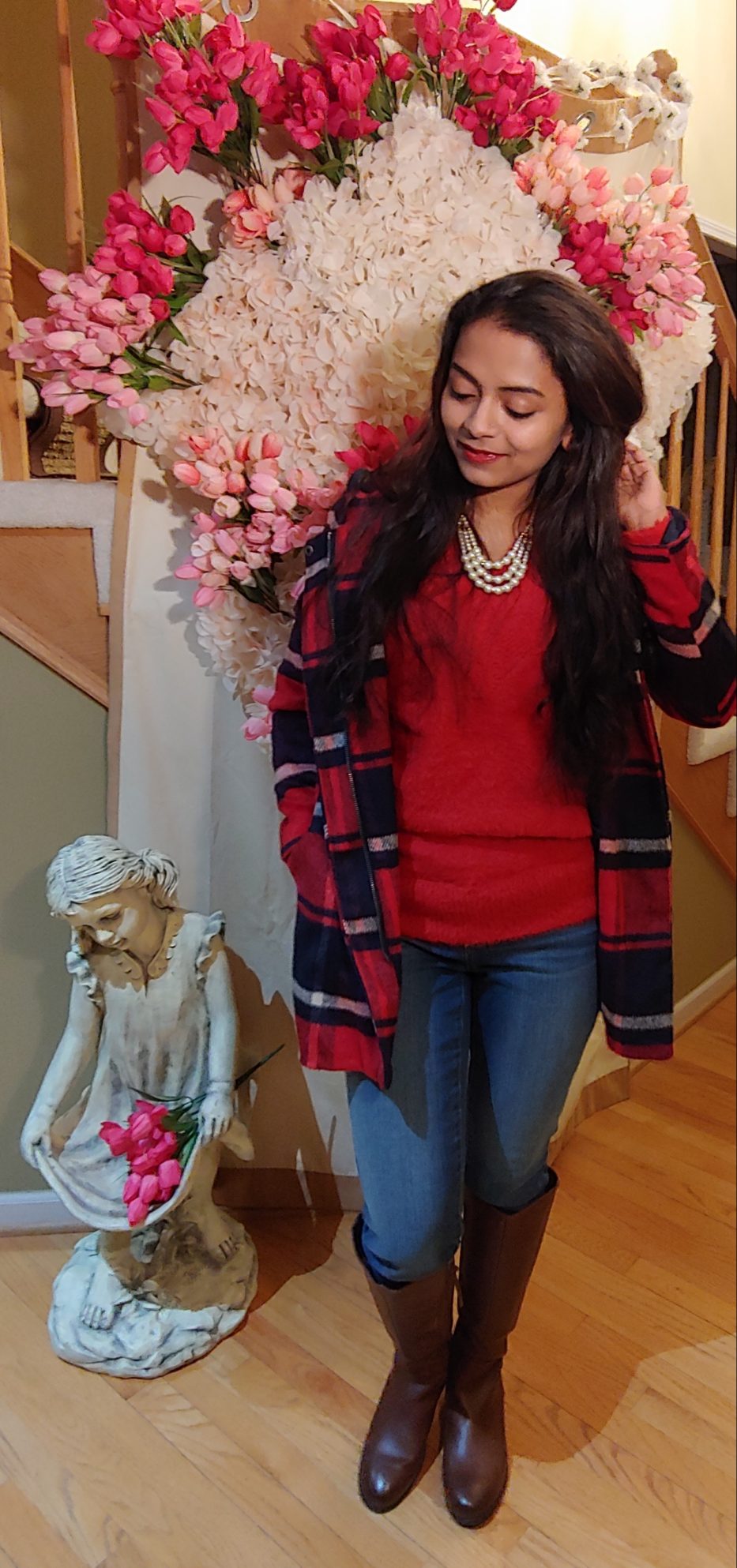 Hoodie jacket from Maxwell (available at Walmart) / Red pullover from Target / Boots by Universal Thread (available at Target) / Jeans from Levis / Jewelry from Rutba Creations (Novi, MI)
Next, in look #2, there's more inclination towards red. A flannel velvet long hoodie jacket can add a hint of a sporty element, but the v neck red eyelash pullover sweater underneath will bring in the feminine side. It is indeed essential to feel comfortable to radiate the sense of passion or affection. So, such outfit will not only make one look presentable for the season of romance but also emphasize the practicality – as wearing a sexy backless body con dress on Valentine's Day may not be a good idea when the temperatures are continually dropping.
Disclosure – This post may contain affiliate links. By clicking and shopping, you help support Detroit Fashion News and allow us to keep reporting on all things fashionable.