Green Fashion Makes the Perfect Style Statement
There are certain colors in the palette which people hardly consider at first go. Green is one such color! But strangely enough, there comes a time when the weather itself pushes us towards this particular shade just to break the monotony. Even on the red carpet, often celebrities go for out of the box attire with exceptionally bold shades to pull the crowd's attention and establish the perfect style statement.
Coming back to the Midwest weather, the reality is- our eyes at times become tired of seeing blankets of snow everywhere. It seems as if there's no end to this prolonged wait time. There's this unabating enthusiasm to see what lies beyond such unfinished narrative. Maybe it's time to color this blank canvas with vibrant colors. Spring is knocking the door, and our imaginations are set to get wild with fresh new plans, preparations and the loop for progression. The journey is never-ending, right? Green is like that fresh start, a sudden stimulus to keep moving ahead and never look back.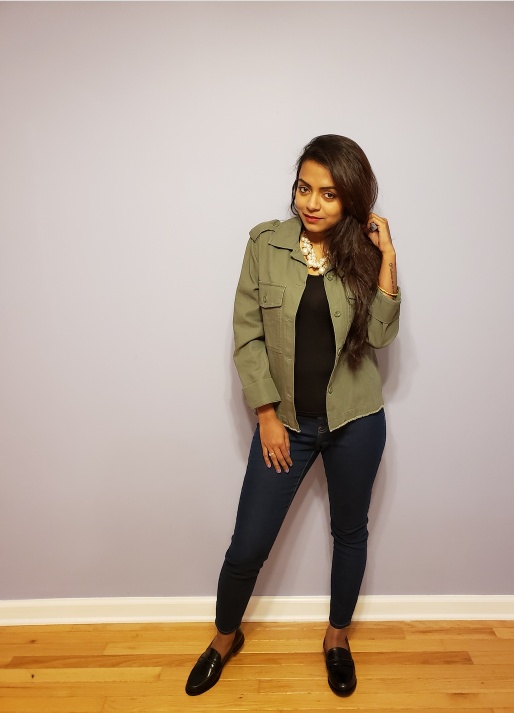 Jacket: Universal Threads
Denim: Wild Fable
Black Loafers: Universal Threads
Necklace: Flea Market in India (for less than $5).
Fashion should also have a similar forward-looking approach. For instance, a lightweight olive jacket may look like a subtle piece but, its versatility will transform any basic top, denim, and loafers to a stylish yet effortless outfit. Yes, its' that simple! And the best part is, any form of jewelry or accessory can be paired up depending on what vibes you want to create; Sporty or Chic- your call!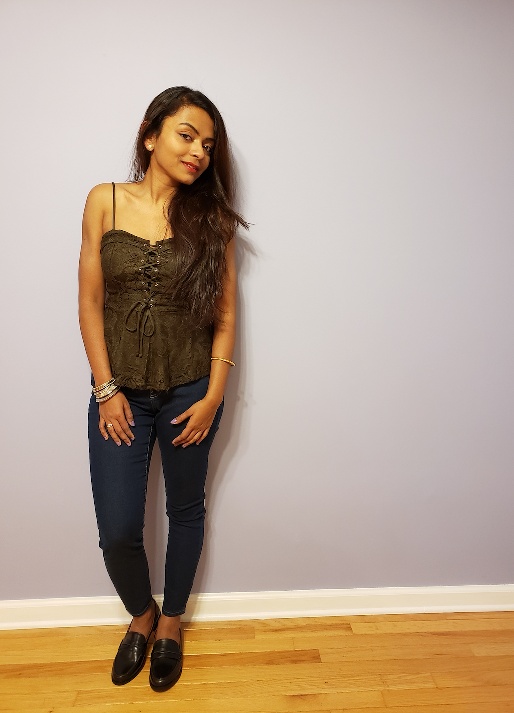 Peplum Top: EXPRESS
Silver Bangles: Flea Market in India (only $2)
Similarly, a deeper olive color is another versatile version of green. It's like a black shade lover indulging into the world of green for the first time! A sexy peplum top with the same combination of denim and loafers with some silver bangles can thoroughly add that oomph factor in just 2 minutes.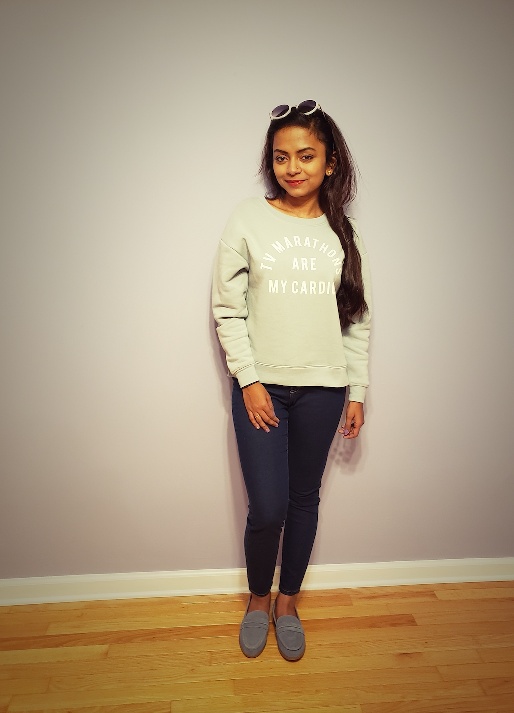 Mint Sweatshirt: Fifth Sun
Suede Loafer: Universal Threads
And if one is thinking to enjoy the crisp weather with a cup of coffee and endless conversations with friends, then this minty green sweatshirt will surely boost the comfort quotient. To add to that, the suede loafers with the same denim and round sunglasses will add the right mix of comfort with the relaxed demeanor. Make sure you keep your warm summer plans in mind.
Disclosure – This is a collaborative post & may contain affiliate links. By clicking and shopping, you help support Detroit Fashion News and allow us to keep reporting on all things fashionably related.